Banana bread gets a tropical twist with the addition of coconut in this delicious Banana Coconut Bread.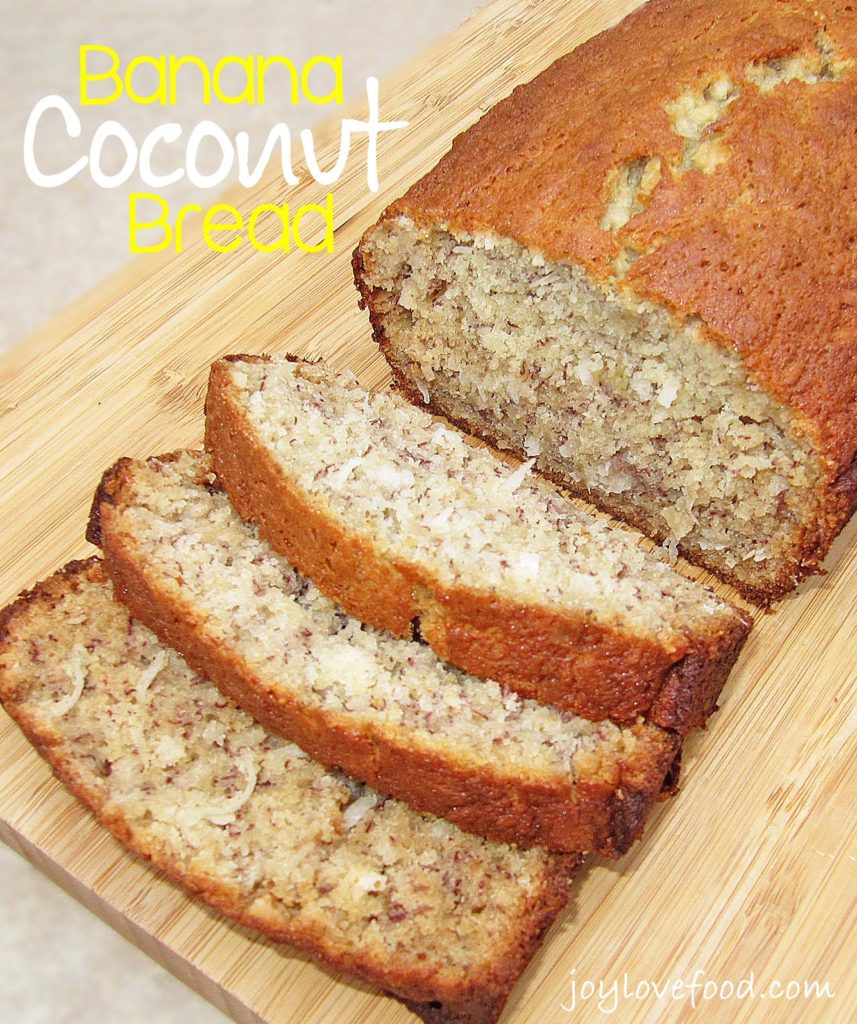 Baking with Bananas
It was a cold, rainy and dreary fall day, a day perfect for baking. I had a situation you may be familiar with – the black banana situation – I call it. There were four black bananas lurking in my freezer, 2 black bananas in my fridge and 2 bananas just on the other side of ripeness in the fruit bowl. So, I was baking something with bananas.
An inspection of my pantry yielded an open bag of shredded coconut, left over from the last time I made California Quinoa Salad with Black Beans. Bananas and coconut are wonderful together, so I could make Banana Coconut Bread – perfect!
I love coconut in pretty much anything and it is absolutely wonderful in this Banana Coconut Bread. The hint of almond from the almond extract complements both the banana and the coconut nicely. You can add toasted walnuts and/or chocolate chips to this bread if you like.
The recipe is for one loaf, you can double it to make two, which I often like to do. That way I can make one loaf nut free, for sending in with my son for his snack at school, where snacks need to be nut-free, and the other loaf can have nuts – for my nut-loving husband who loves any kind of baked good with nuts.
Do you have a favorite use for ripe bananas? Let me know in the comments below!
Banana bread gets a tropical twist with the addition of coconut in this soft, delicious Banana Coconut Bread.
Ingredients
1 ½ cups all-purpose flour
¾ cup shredded sweetened coconut
1 ½ teaspoons baking powder
1/2 teaspoon baking soda
½ teaspoon salt
2 eggs
1 cup white sugar
½ cup butter, melted
1 cup mashed ripe banana
½ teaspoon almond extract
Instructions
Preheat oven to 350°F. Lightly grease a 9x5x3 loaf pan.
In a medium bowl, whisk together flour, coconut, baking powder, baking soda and salt.
In another large bowl, whisk eggs until light and frothy. Add sugar and melted butter and whisk well. Add in mashed banana and almond extract and stir with a spoon to combine.
Add flour mixture to egg mixture and stir to combine.
Spoon batter into greased loaf pan. Bake in preheated oven for 60 minutes or until a knife inserted into the middle of the loaf comes out clean.
Cool pan on wire racks for 5 minutes. Remove loaf from pan, place on rack and cool completely.
Notes
You can add ½ cup toasted chopped walnuts, and/or ½ cup semi-sweet chocolate chips.
http://joylovefood.com/banana-coconut-bread/
copyright 2016 | joylovefood.com