Creamy and delicious, Irish Colcannon Soup with Cheddar Cheese Straws is perfect for St. Patrick's Day or anytime you're looking for an easy, warm and satisfying meal.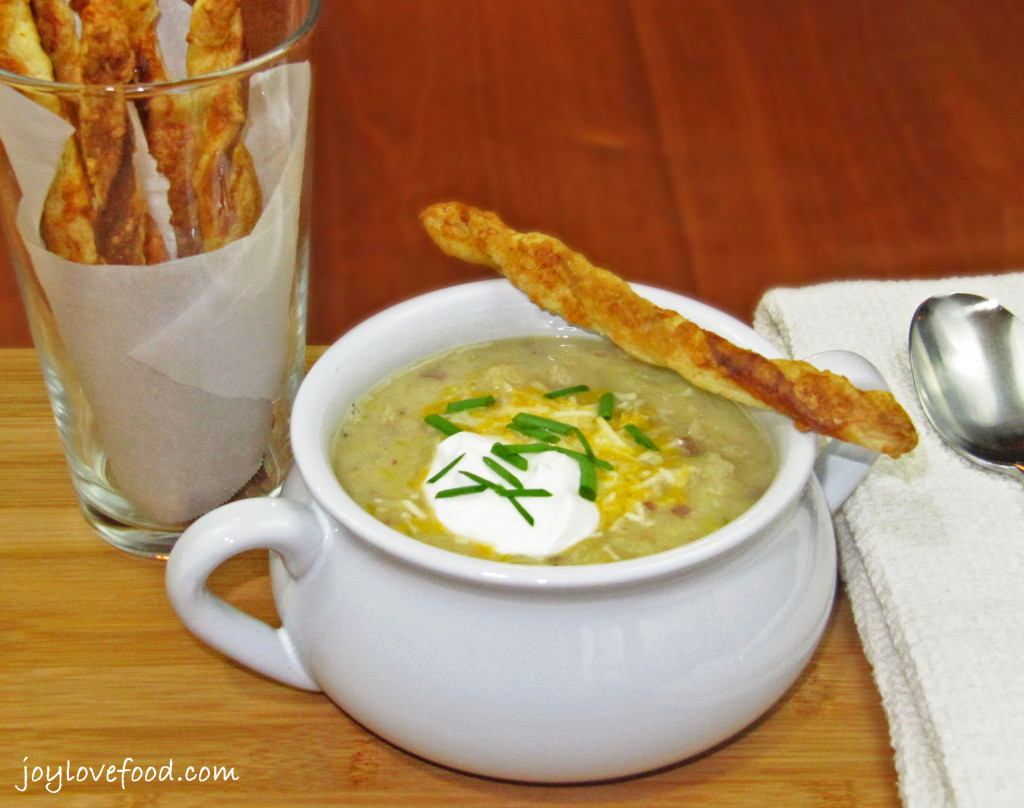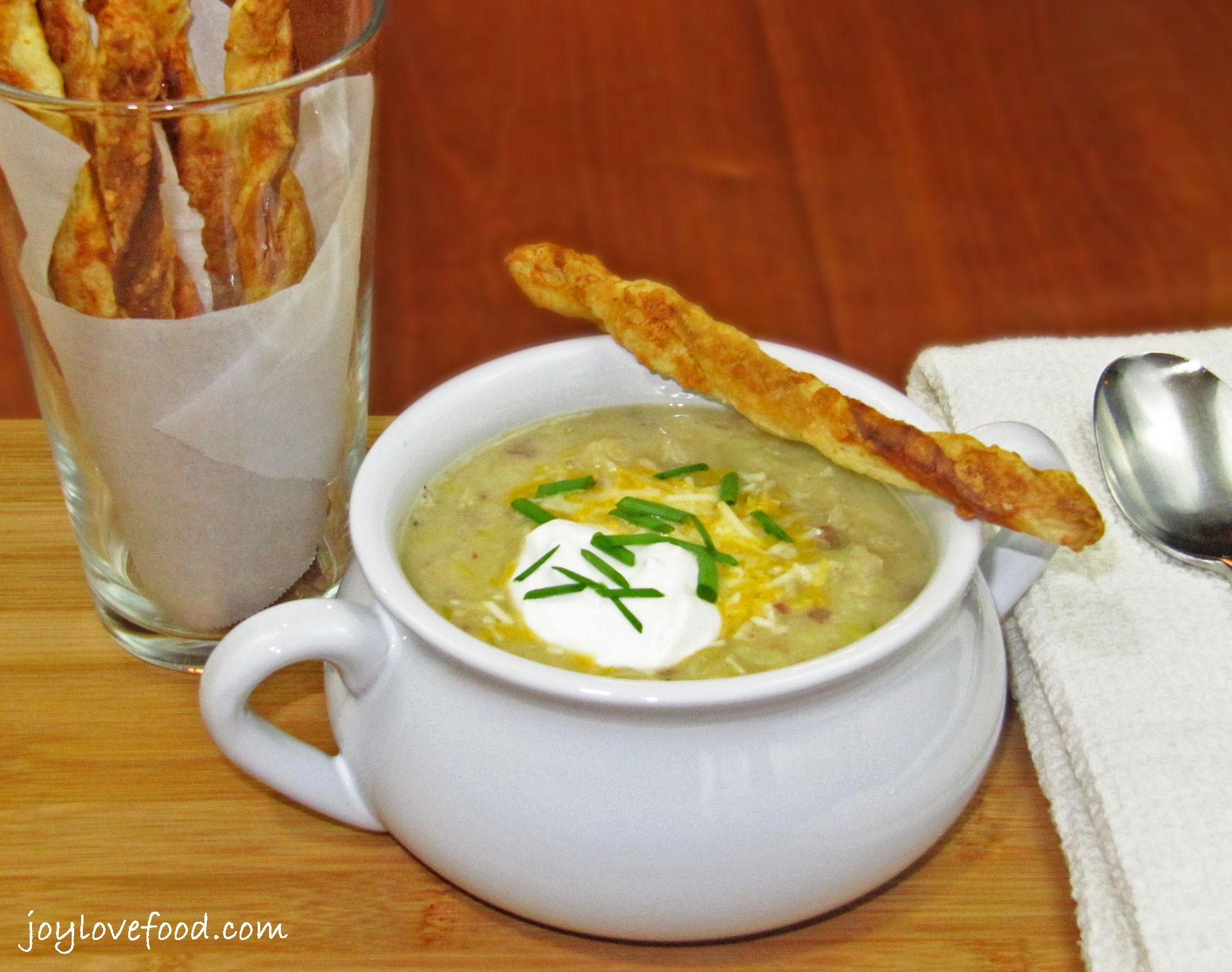 St. Patrick's Day is tomorrow here in the United States, so I thought I'd share another Irish recipe. I've been on a bit of an Irish kick these past couple weeks, and have shared Slow Cooker Guinness Steak and Black Bean Chili, Irish Soda Bread with Caraway Seeds and Raisins and Crock Pot Apple and Brown Sugar Corned Beef & Cabbage. Today I'm sharing Irish Colcannon Soup with Cheddar Cheese Straws.
I've been wanting to try colcannon, which is a traditional Irish dish of mashed potatoes with cabbage. I had some cabbage leftover from making Crock Pot Apple and Brown Sugar Corned Beef & Cabbage, so had the perfect opportunity to make it. I liked the idea of making colcannon as a soup and knew I wanted to add leeks, because I love the combination of potatoes with leeks, especially in soups; and bacon, because I thought that it would complement the other flavors nicely.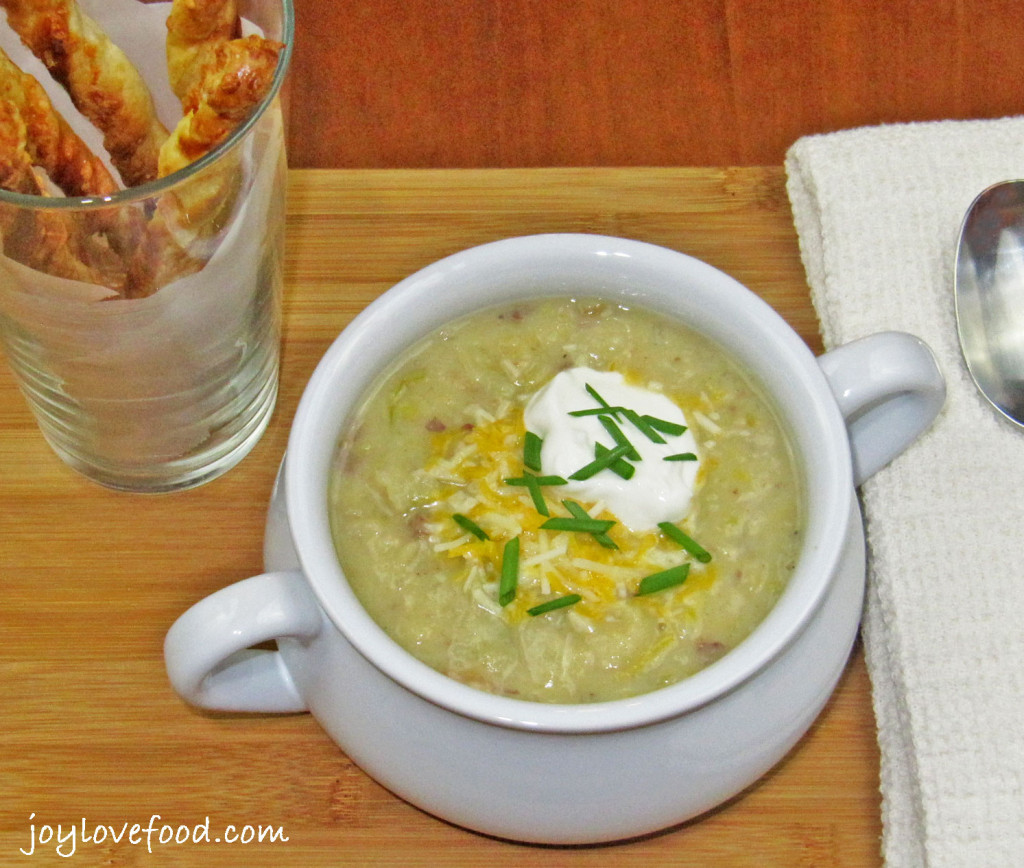 An Internet search yielded this recipe from Kevin Dundon, which I have adapted. The recipe contained all the ingredients I was looking for, plus as an added bonus, included a recipe for cheese straws, which I thought sounded like the perfect accompaniment.
The soup turned out beautifully — creamy, delicious and so satisfying. The Cheddar cheese straws were indeed a wonderful accompaniment. My 7 year old son loved them too, and easily polished off 5 or 6 in a sitting and has already been asking me to make more. I probably will make more soon, since they are so good and so easy to make.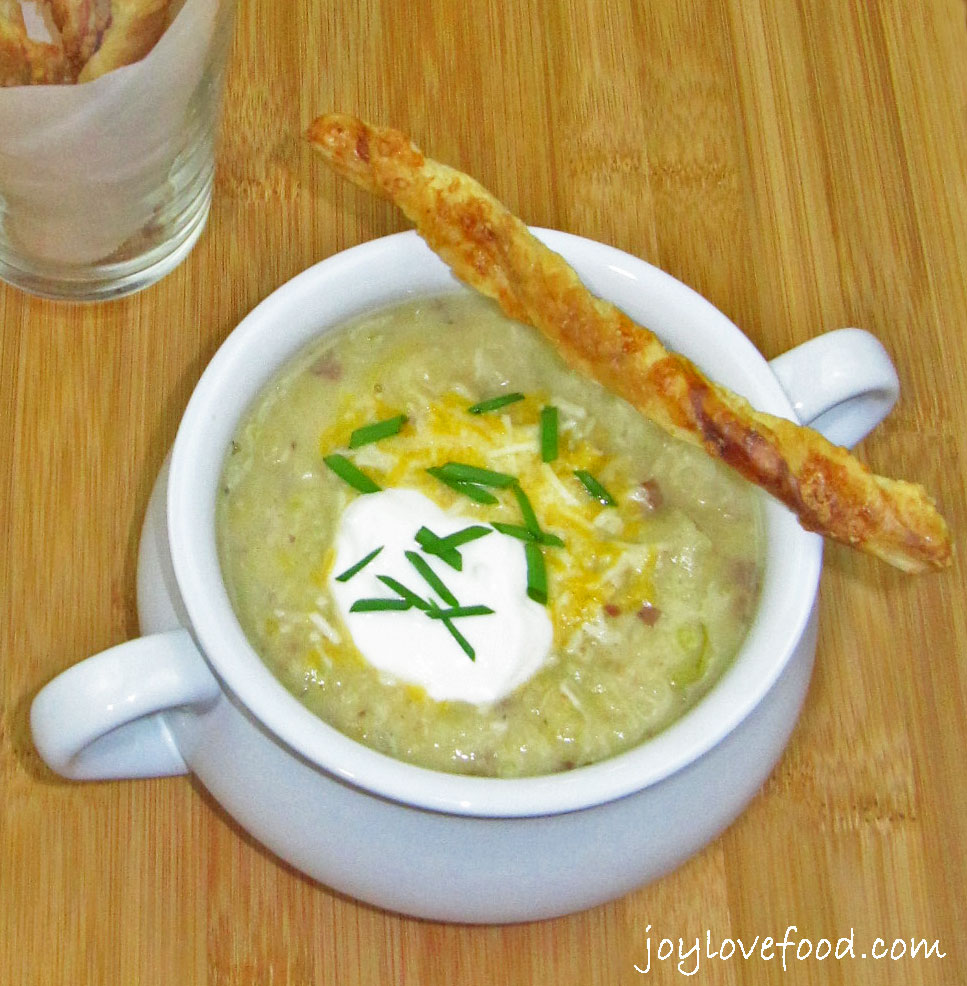 Recently, a post by me, would not be complete without some commentary on the weather here in lovely Carlisle, Massachusetts. I feel like Mother Nature has been having a bit of fun with us here in the Boston area this past winter. We've had snow storm after snow storm resulting in over eight feet of snow accompanied by below freezing temperatures.
This past weekend we finally had some above freezing weather and what does it do? It rains! And since this is March in New England, on Sunday afternoon, the temperatures dipped down low enough for the rain to turn into, you guessed it – SNOW!
We managed to accumulate just enough snow to finally beat the snow fall record for the area. Hooray! I guess it's exciting to be here in the area during such a historical moment, but I'm really hoping this means the end of snow for this season. Please, Mother Nature, I'm begging you – no more snow!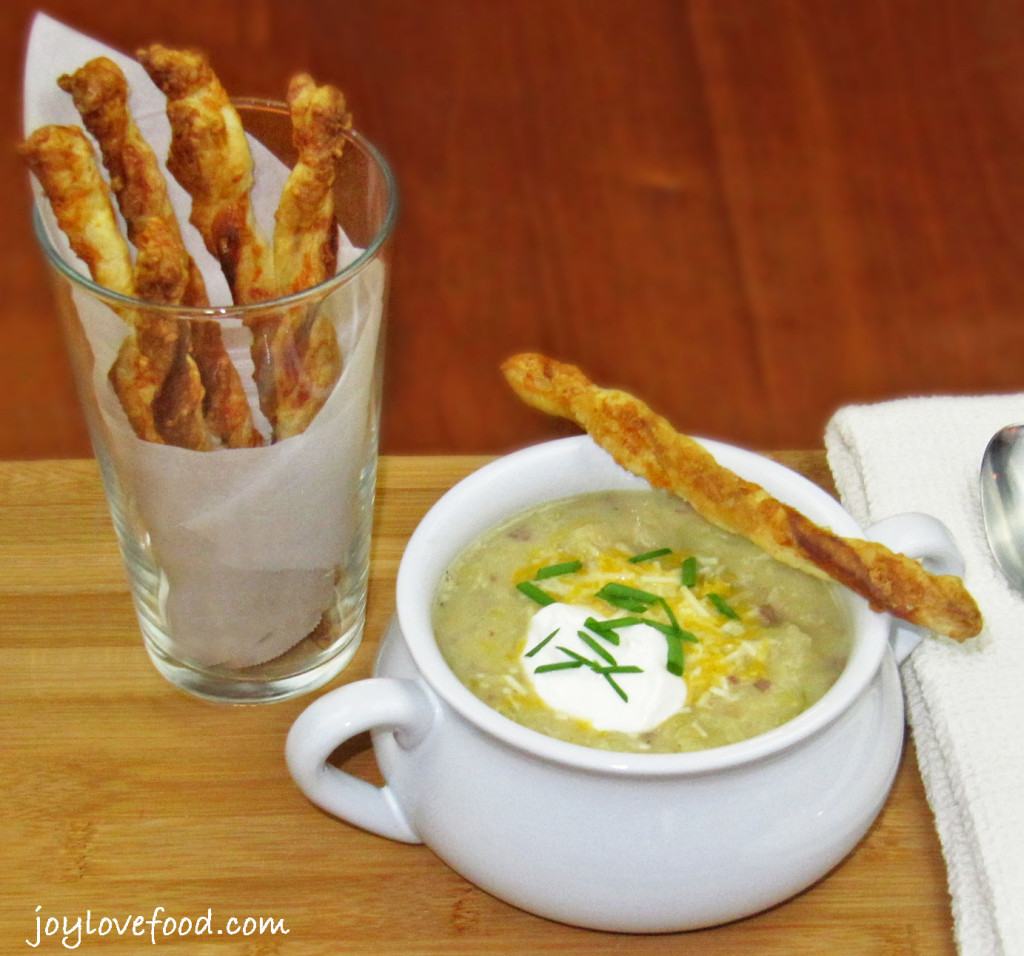 A bowl of this creamy, hearty soup, along with a savory Cheddar cheese straw, is perfect on a cold rainy day, or after a long day at a St. Patrick's Day parade or other celebration or anytime your craving some delicious comfort food.
This warm and satisfying Irish Colcannon Soup with Cheddar Cheese Straws would make a wonderful hearty weekend lunch or cozy supper anytime!
Irish Colcannon Soup with Cheddar Cheese Straws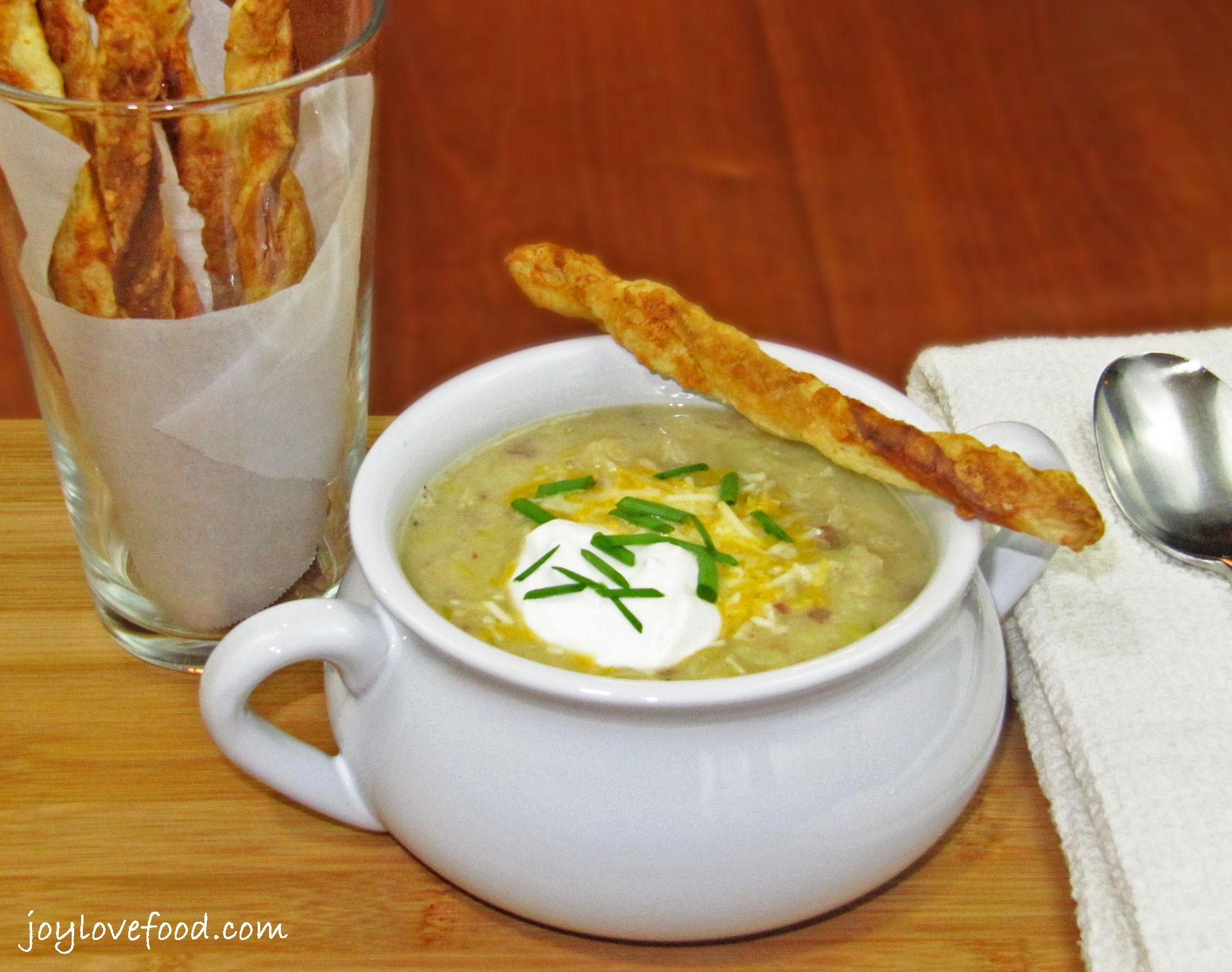 Creamy and delicious, Irish Colcannon Soup with Cheddar Cheese Straws is perfect for St. Patrick's Day or anytime you're looking for an easy, warm and satisfying meal.
Ingredients
for cheese straws

1 sheet (about 8 oz) puff pastry, thawed if frozen
flour for dusting
3 oz finely shredded Cheddar cheese
1 egg beaten
salt for sprinkling

for soup

4 slices bacon (about 4 oz)
1 medium onion, diced (about 1 cup)
8 red potatoes (about 1.5 pounds) cubed
4 cups of cabbage, thick stalks removed, chopped (about ¼ medium head)
3 leeks, trimmed and thinly sliced
2 (14.5 oz) cans chicken broth
¼ cup whipping cream
salt and freshly ground pepper to taste
shredded Cheddar cheese for topping (optional)
light sour cream for topping (optional)
sliced green onions for topping (optional)
Instructions
for the cheese straws:

Preheat oven to 350° F.
Place puff pastry on work surface that is lightly dusted with flour.
Sprinkle cheddar cheese on half of puff pastry.
Fold remaining half of puff pastry over half with cheese to enclose cheese completely. Roll out pastry to original size, dusting with flour as needed.
Brush all over the puff pastry with the beaten egg (you likely will have leftover egg), transfer pastry to a parchment lined cookie sheet or large plate, then place in the refrigerator for at least 15 minutes.
Once rested, remove the pastry from the refrigerator.
Cut pastry into 4 inch by ½ inch strips (you will get about 24 strips). Hold the ends of each strip between fingers and twist the ends in opposite direction.
Place twisted strips on parchment lined baking sheet. Sprinkle with salt.
Bake twists in preheated oven for 10 minutes or until crisp and golden brown. Transfer twists to a wire rack to cool.

for the soup:

Heat a large soup pot over medium high heat and sauté the bacon for 2-3 minutes or until the fat starts to come out.
Stir in the onions, potatoes, leeks and cabbage, then cover and sweat over medium heat for 10 minutes or until softened, stirring occasionally.
Add the chicken broth to the cabbage mixture and bring to a boil, reduce heat and simmer for 10 minutes or until potatoes are tender.
Using an emersion blender, puree soup, so that part of soup is creamy and thickened but still leaving some chunks of vegetables.
Stir whipping cream into soup and simmer for a few minutes. Season soup, to taste, with salt and freshly ground pepper.
Serve soup topped with a sprinkling of shredded Cheddar cheese, a dollop of sour cream and sliced green onions, if desired. Serve cheese straws on the side.
Notes
I use Pepperidge Farm Puff Pastry Sheets. A 17.3 oz (1.1 lb) box contains 2 sheets. You will need ½ of a (17.3 oz) box to make this entire recipe.
http://joylovefood.com/irish-colcannon-soup-with-cheddar-cheese-straws/
copyright 2016 | joylovefood.com