Light, creamy and refreshing, No Bake Blackberry Cheesecake is the perfect dessert for those hot summer days when you don't want to turn on the oven.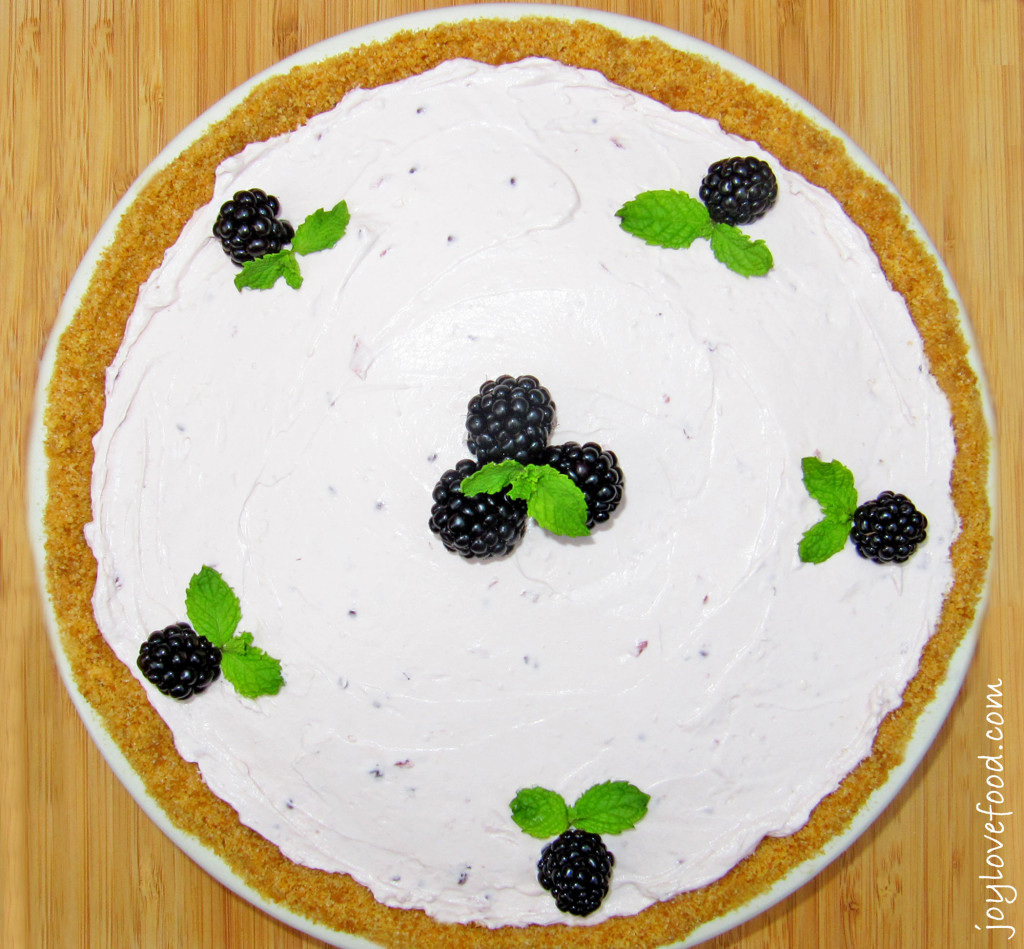 I've made regular blackberry cheesecake before, but this summer is the first time that I've tried a no bake version. I'm so glad that I did, it's creamy and delicious, but yet so easy to make, it has quickly become a new family favorite.
My parents are visiting us for a few days here in Carlisle, MA on their way home to Columbia, MD from their trip to St. John, NB and Bar Harbor, ME. It's my dad's birthday, so I thought I'd whip up our new favorite No Bake Blackberry Cheesecake. Happy Birthday Dad!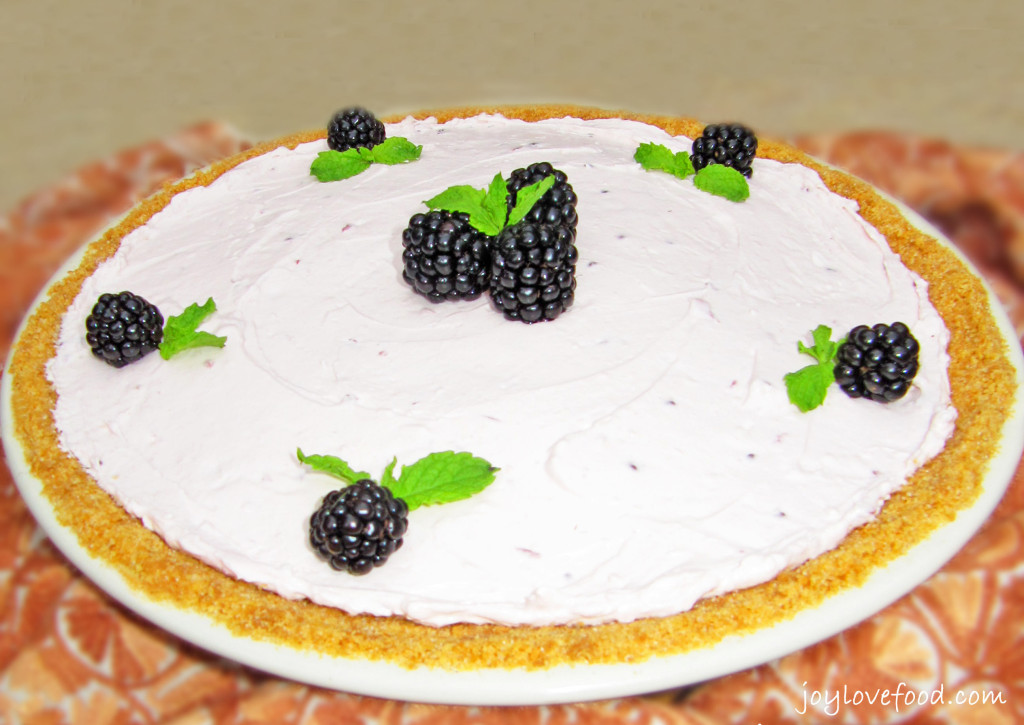 Blackberries are a favorite fruit in our house, we have our own blackberry bushes and the kids love to eat them straight off the bushes.
Another thing we all love is our homemade blackberry preserves, which my husband cans every summer. We give them as gifts to our family, friends, neighbors, the kids' teachers and bus drivers, but we still always end up with a ton of jars.
This No Bake Blackberry Cheesecake is a delicious way to make use of our extra blackberry preserves. Use any blackberry preserves that you like or substitute another type of fruit preserves such as strawberry or raspberry.
No Bake Blackberry Cheesecake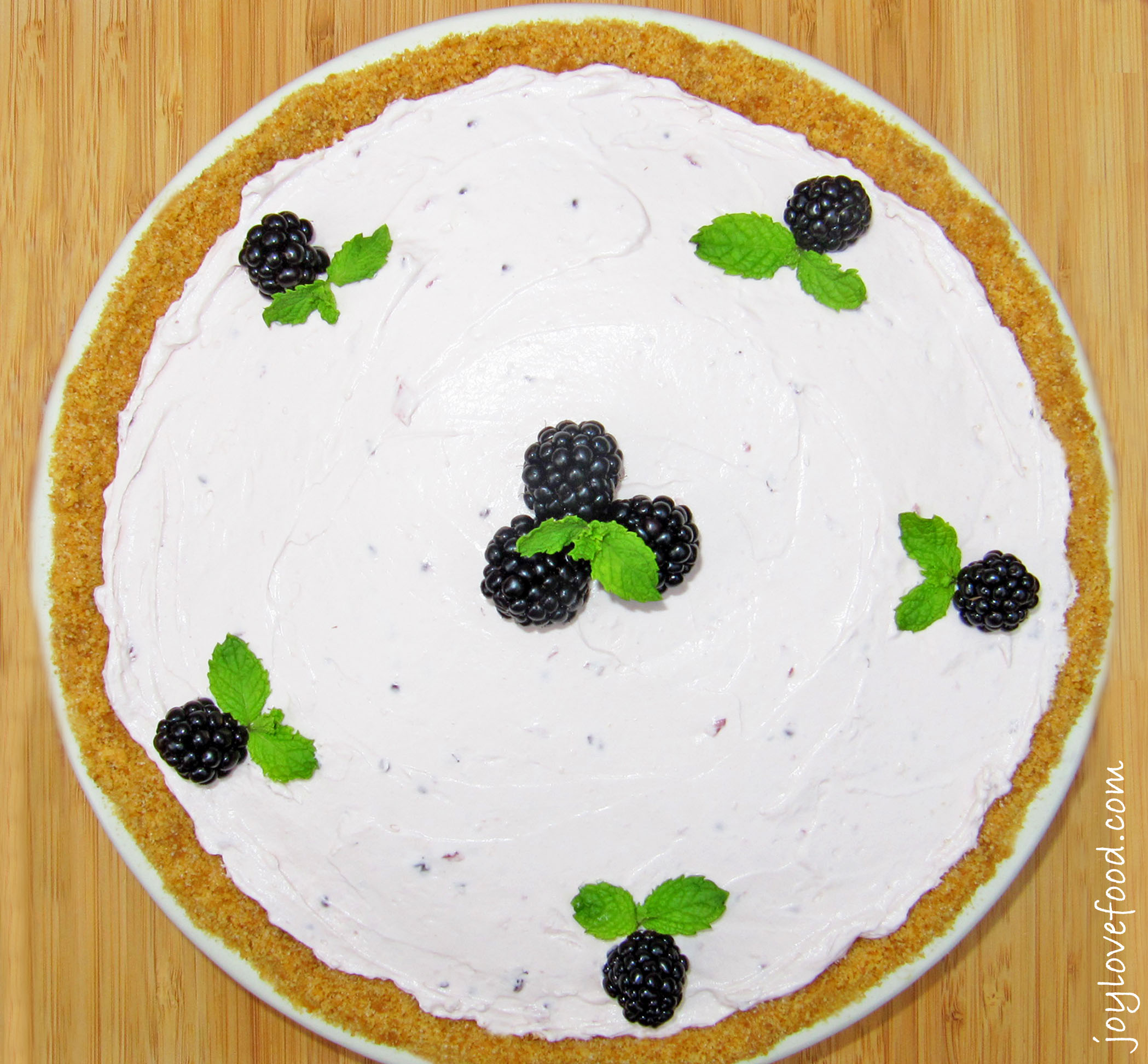 Ingredients
Crust

1 ¼ cup graham cracker crumbs
¼ cup sugar
5 tablespoons butter, melted

Pie

1 (8 oz) package cream cheese, softened
¼ cup sugar
¼ cup blackberry preserves
1 (8 oz) container of whipped topping (i.e. Cool Whip)
Fresh blackberries and mint for decoration (optional)
Instructions
In a medium bowl, mix together with a fork, ingredients for crust until well combined.
Transfer crust mixture to a 9-inch pie plate and press down evenly with fingers along the bottom and sides of the plate.
In a large bowl, beat with an electric mixer, cream cheese, sugar and blackberry preserves, until well combined.
Add in whipped topping and mix well.
Pour mixture into crust.
Chill in refrigerator or freezer for 3 hours or until set.
Decorate with fresh blackberries and mint if desired.
http://joylovefood.com/no-bake-blackberry-cheesecake/
copyright 2016 | joylovefood.com
Recipe adapted from babble.