Slow Cooker Beef Burgundy – a hearty stew of beef and vegetables simmered in a red wine sauce, perfect for a cozy meal on a crisp fall day.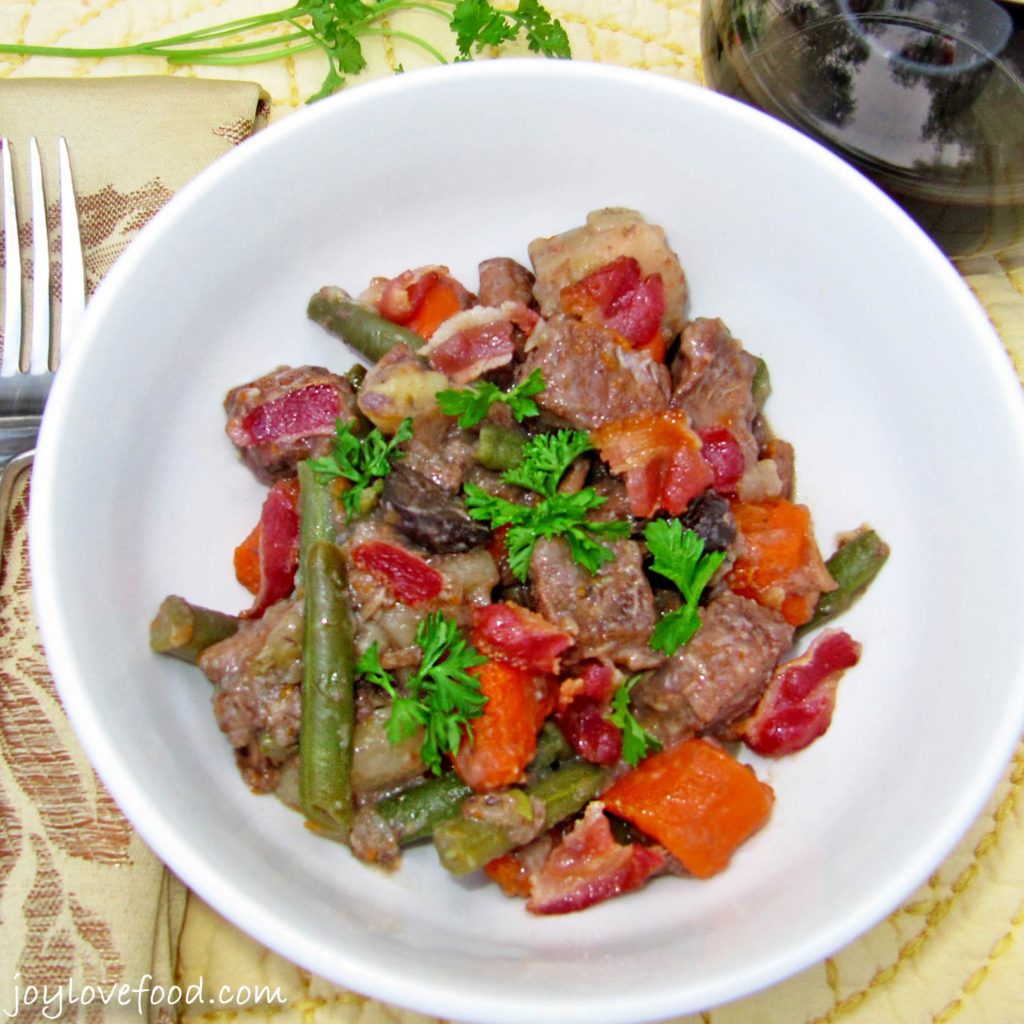 Sometimes there is nothing better than a comforting bowl of some good beef stew. This Slow Cooker Beef Burgundy is one of my favorites.
I first heard about the original version of this recipe about 5 years ago on the NPR radio program The Splendid Table with Lynne Rossetto Kasper. Lynne has this gift of describing food in such a way that you instantly start craving it.
So, there we were in our car, driving from our house in Massachusetts to New York City to visit my brother and sister-in-law, who were living there at the time. We were listening to Lynne describe this Slow Beef Burgundy. It didn't matter that it was only 10 o'clock in the morning. I thought "I want a bowl of this Beef Burgundy right now!"
I did have to wait until I got back home from our visit. Luckily, I had recently acquired my very first slow cooker, so I could make this dish. It was so good, especially with the addition of crumbled, crisp bacon on top.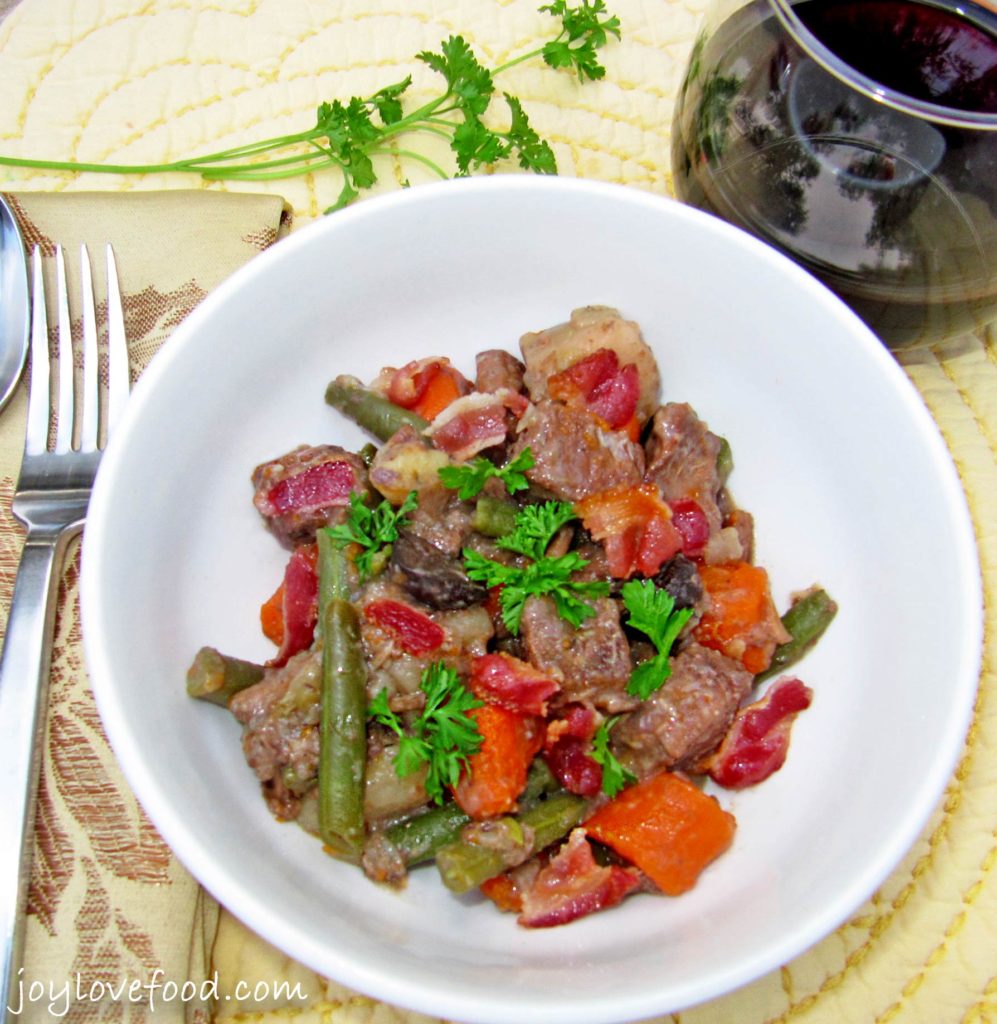 This past weekend, I made a batch of this delicious Slow Cooker Beef Burgundy. Here in Massachusetts, we were having some of that gorgeous fall weather where it still feels like summer, at least when the sun is out. On Sunday, we spent the day at Castle Island in South Boston. We picked up lunch at a little seafood shack, and sat at a picnic table overlooking the water. The kids ran around the playground and we took a long walk along the water and watched the boats come in and out of the harbor and the airplanes take off and land at the airport. It was a fun, tiring day.
So, I was happy to have this Slow Cooker Beef Burgundy to come home to for dinner. I had actually made it the day before, but this is one of those stews that gets better the longer they sit, so we were happy to have the leftovers again for dinner that night.
I love all the veggies in this stew — green beans, carrots, petite onions and baby bella mushrooms. Along with the beef and potatoes, and the bacon sprinkled on top, it is a delicious one pot meal.
Slow Cooker Beef Burgundy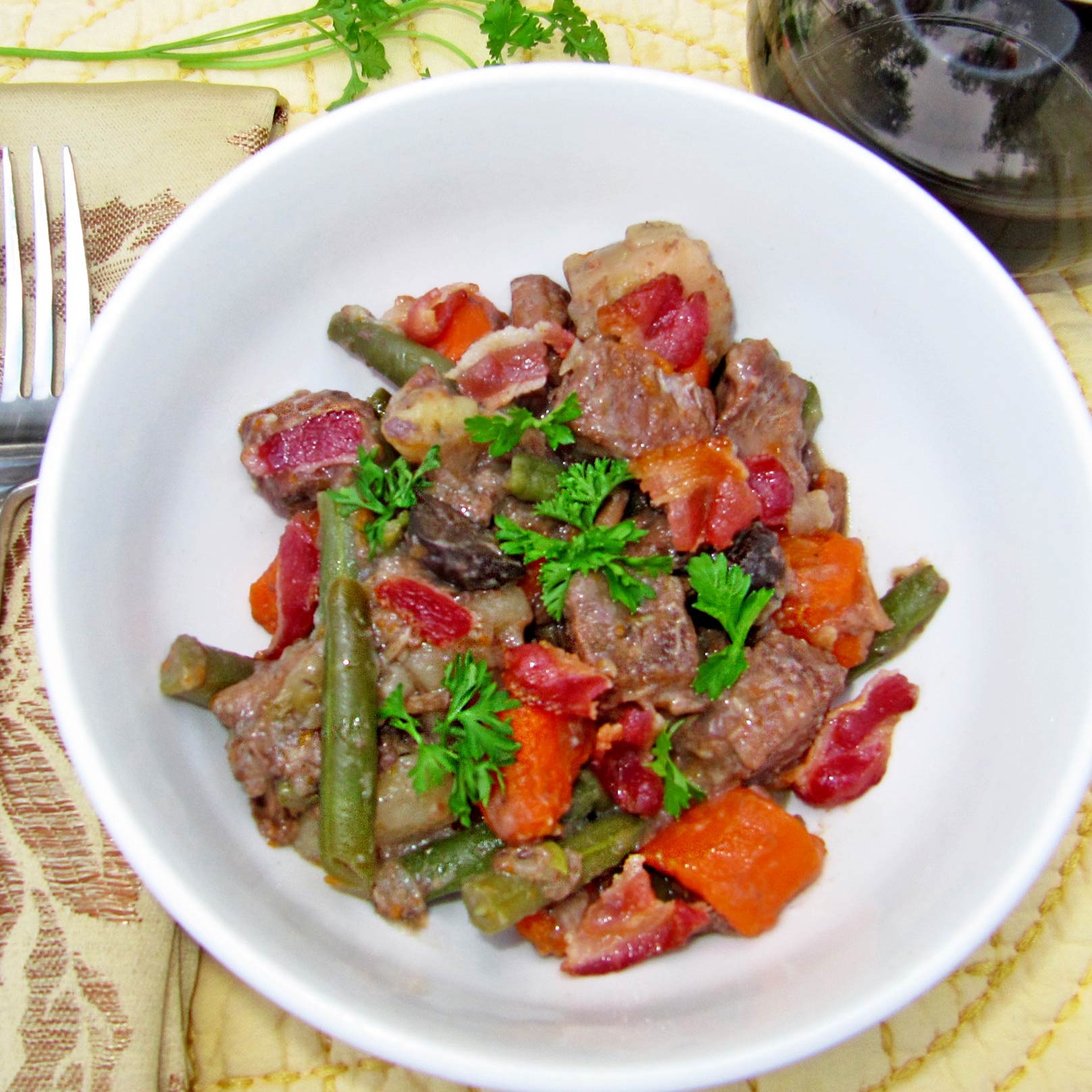 Ingredients
2 lbs London Broil or boneless beef top round steak
¼ cup flour
1 teaspoon salt
½ teaspoon freshly ground pepper
1 ½ lbs waxy potatoes such as Red Bliss or Yukon Gold, peeled and cut into 1-inch pieces
1 (14 oz) package frozen petite whole onions, thawed
1 lb carrots, peeled and cut into ¾ inch pieces
6 oz baby bella mushrooms, halved or quartered depending on size
1 teaspoon dried thyme leaves
1 cup dry red wine
1 (16 oz) package frozen green beans, thawed and cut into 1-inch long pieces
6 slices of bacon, cooked until crisp and chopped
chopped fresh parsley (optional)
Instructions
Trim excess fat from beef and cut into 1-inch cubes.
In a 6-quart slow cooker, combine the cubes of beef, flour, salt and pepper and toss to combine.
Add the potatoes, onions, carrots, mushrooms and thyme to the slow cooker.
Pour the wine over the mixture in the slow cooker.
Cover and cook on low heat for 6 to 8 hours or until beef and vegetables are tender.
Stir in the green beans, cover and cook on low for an additional 20-30 minutes or until beans are heated through.
Serve and top with chopped bacon and fresh parsley if desired.
http://joylovefood.com/slow-cooker-beef-burgundy/
copyright 2016 | joylovefood.com
Adapted from Slow & Easy Fast-Fix Recipes for Your Electric Slow Cooker by Natalie Haughton.