Slow Cooker Pork Ragu — Tender, juicy pork simmered in a luscious white wine sauce with diced veggies and Italian seasonings.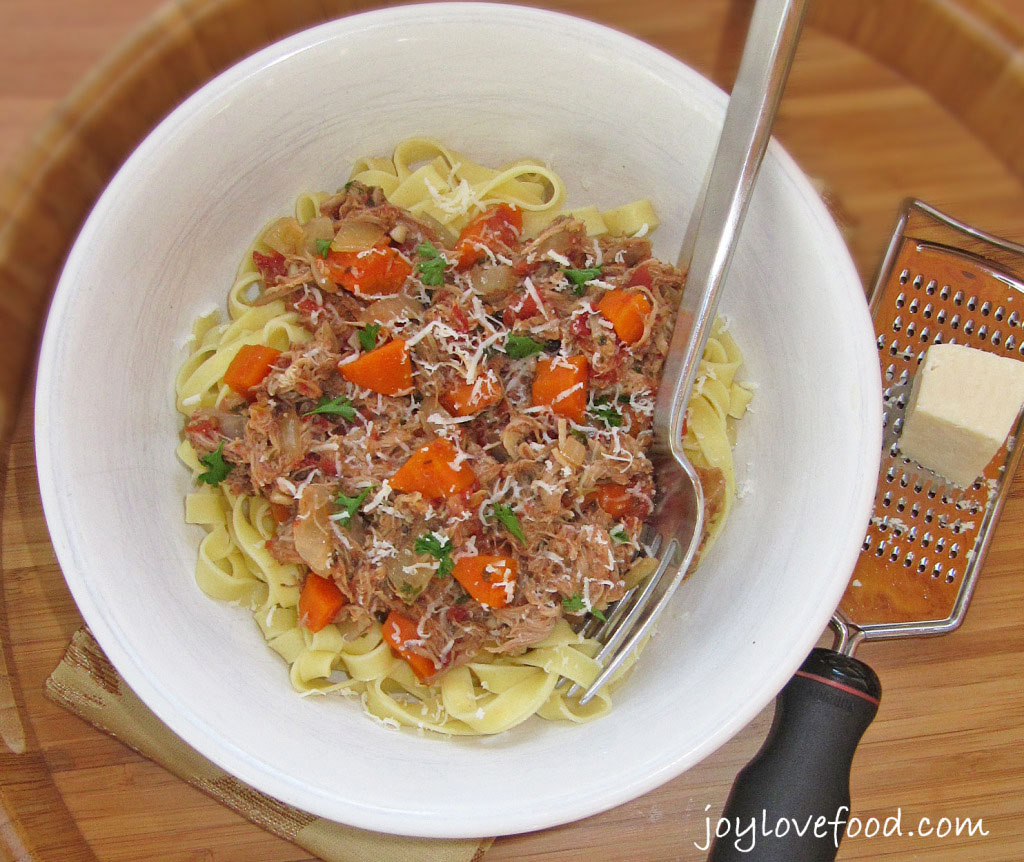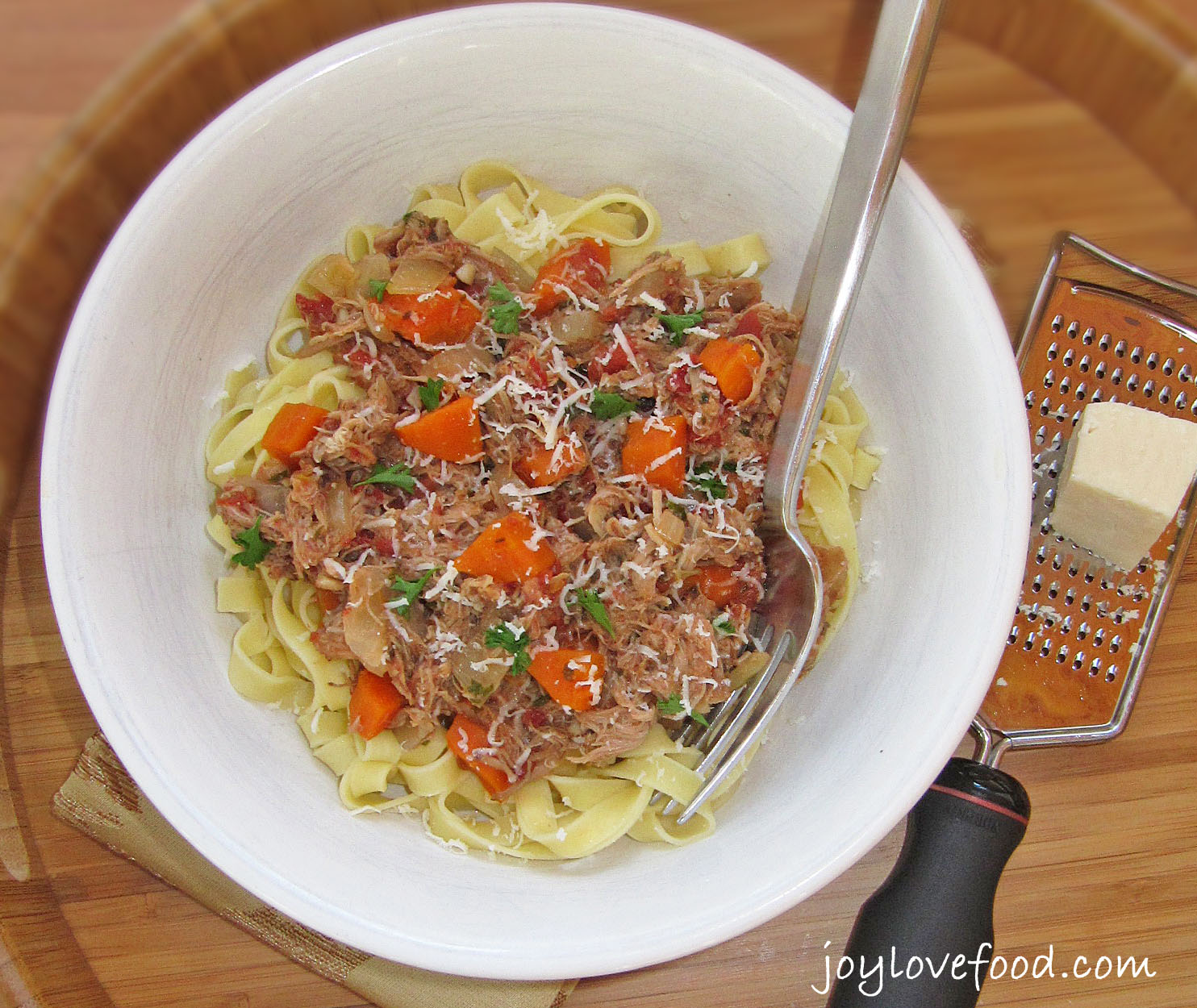 A ragu is an Italian sauce, typically tomato based, made with meat and diced vegetables simmered in a liquid such as wine or stock and seasonings. Ragu is typically served over pasta. My version is made with pork, tomatoes, carrots, onions, garlic and simmered in a white wine based sauce in the slow cooker. I like to serve it over fettuccine, but any wide noodle would work well.
One of my favorite things to make in a slow cooker is a boneless pork roast (often called pork butt, pork shoulder or picnic pork), especially when you can put the roast in whole, as you can with this recipe. It is so easy, and the amount of flavor you get is incredible, especially for so little work.
There are so many different recipes you can make with a boneless pork roast, this Slow Cooker Pork Ragu, Slow Cooker Pork Carnitas, pulled pork, the list goes on and on, and with the slow cooker, they are all so easy.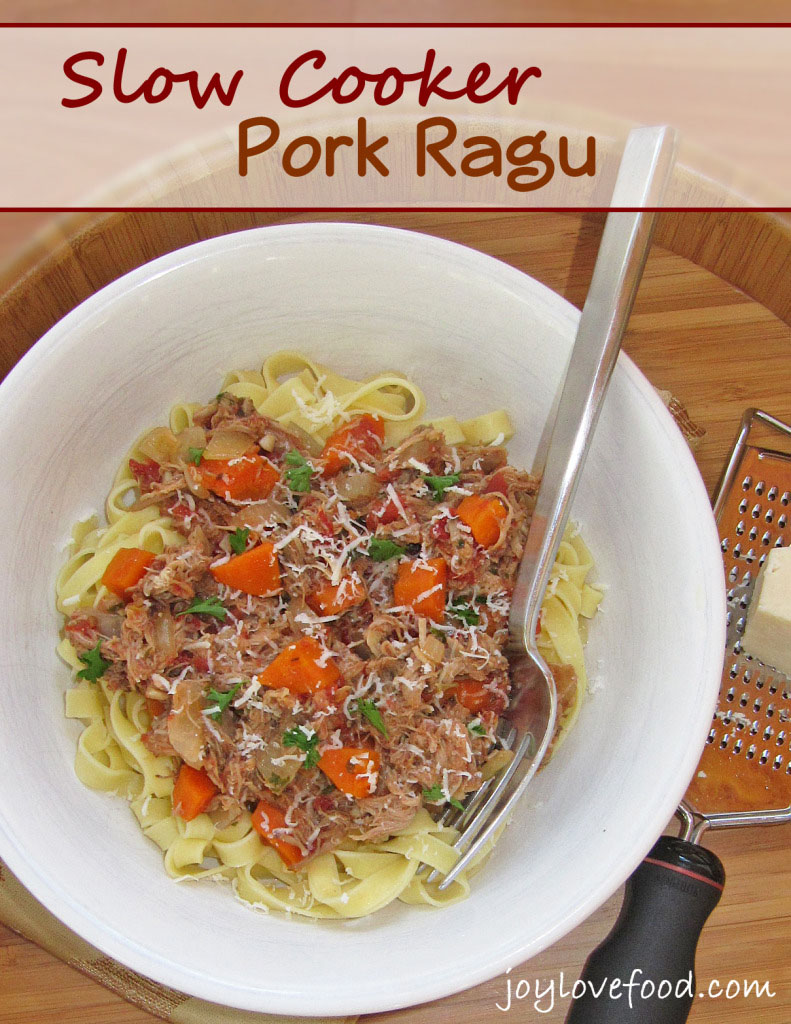 This Slow Cooker Pork Ragu is the perfect dish to make on busy days, there is minimal prep and you can do it all in the morning, the slow cooker does the rest! This recipe makes a lot, so it's great for when you're having guests.
It also freezes really well, so sometimes we have half for a family dinner one night, and freeze half for dinner at a later date.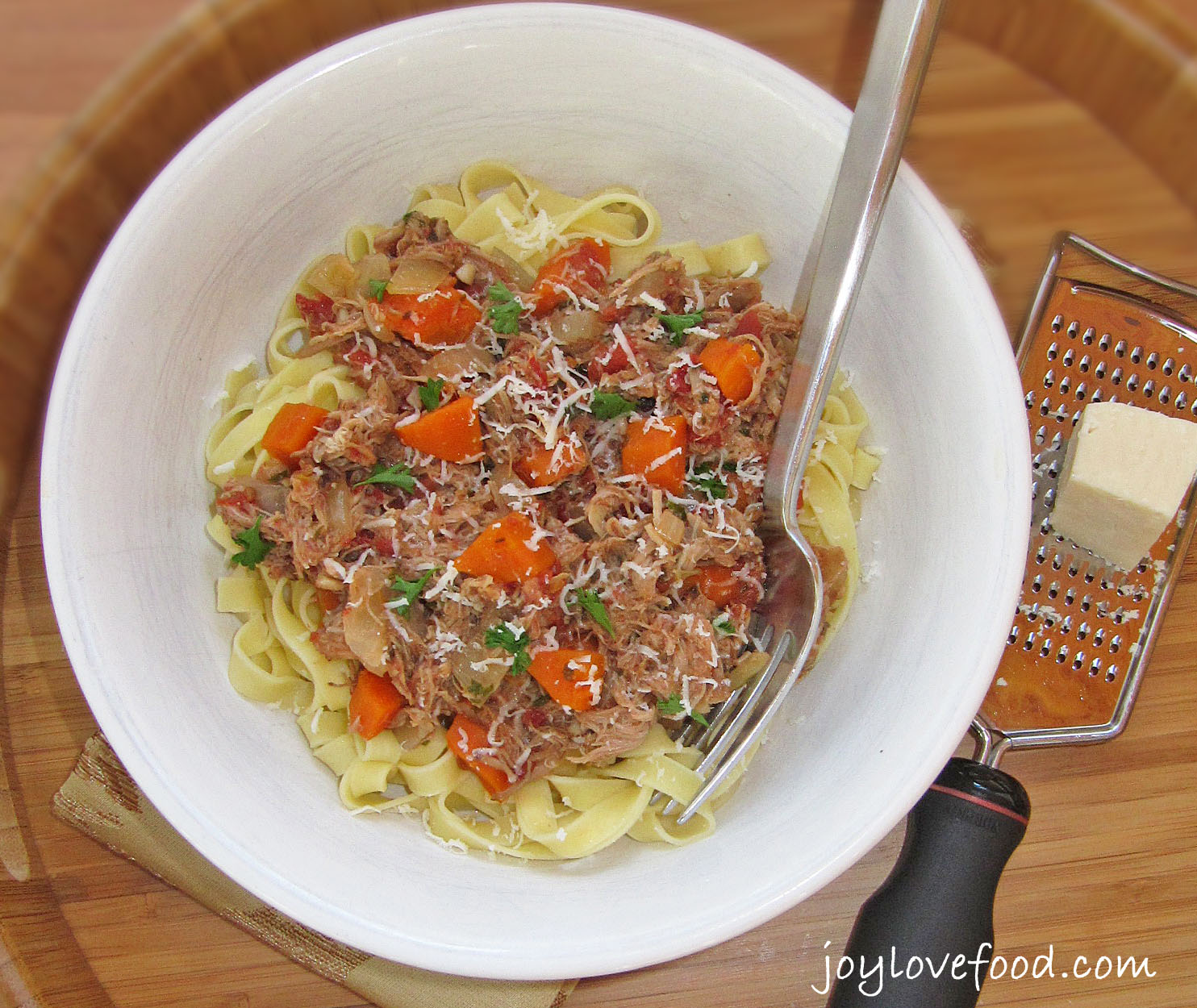 Tender juicy pork simmered in a luscious wine sauce with diced veggies and Italian seasonings.
Ingredients
1 (2 ½ - 3 pound) boneless pork butt roast
4 garlic cloves, minced
1 large onion, chopped
2 medium carrots, cut into ¼ inch pieces
½ cup fresh parsley, chopped
2 teaspoons dried oregano
½ teaspoon salt
¼ teaspoon freshly ground pepper
1 (28 oz) can diced tomatoes
½ cup dry white wine
12-16 oz fettuccine or other wide noodles, cooked
freshly grated Parmesan cheese and snipped fresh parsley for topping (optional)
Instructions
Place pork butt in 6-quart slow cooker.
Add garlic, onion, carrots, parsley, oregano, salt and pepper to slow cooker.
Pour tomatoes and white wine over mixture in slow cooker.
Cover and cook on HIGH heat for 4-5 hours or on LOW heat for 6-8 hours or until meat is tender.
Using 2 forks, break the meat into smaller pieces inside and stir to combine with sauce.
Serve pork ragu over cooked fettuccine, top with freshly grated Parmesan cheese and snipped fresh parsley if desired.
Notes
You can substitute ½ cup chicken stock for the ½ cup white wine.
http://joylovefood.com/slow-cooker-pork-ragu/
copyright 2016 | joylovefood.com
Joy Love Food is now a publisher at
Yummly
!
"Yummly is the ultimate kitchen tool for your computer, iPhone, iPad, and Android devices. Whether it's finding a recipe or going to the store, Yummly wants to make it easier for foodies to do what they love – cook, eat, and share!" (quoted from the Yummly website)
Please visit my publisher page to view and Yum my recipes. You can also Yum my recipes by using the Yum button on my left-hand share panel or on the share panel below my posts. Thank-you for supporting Joy Love Food at Yummly!