Chicken becomes fall apart tender when simmered for hours in a fragrant Thai inspired coconut and peanut sauce. Serve over rice for a delicious, easy meal the whole family will enjoy.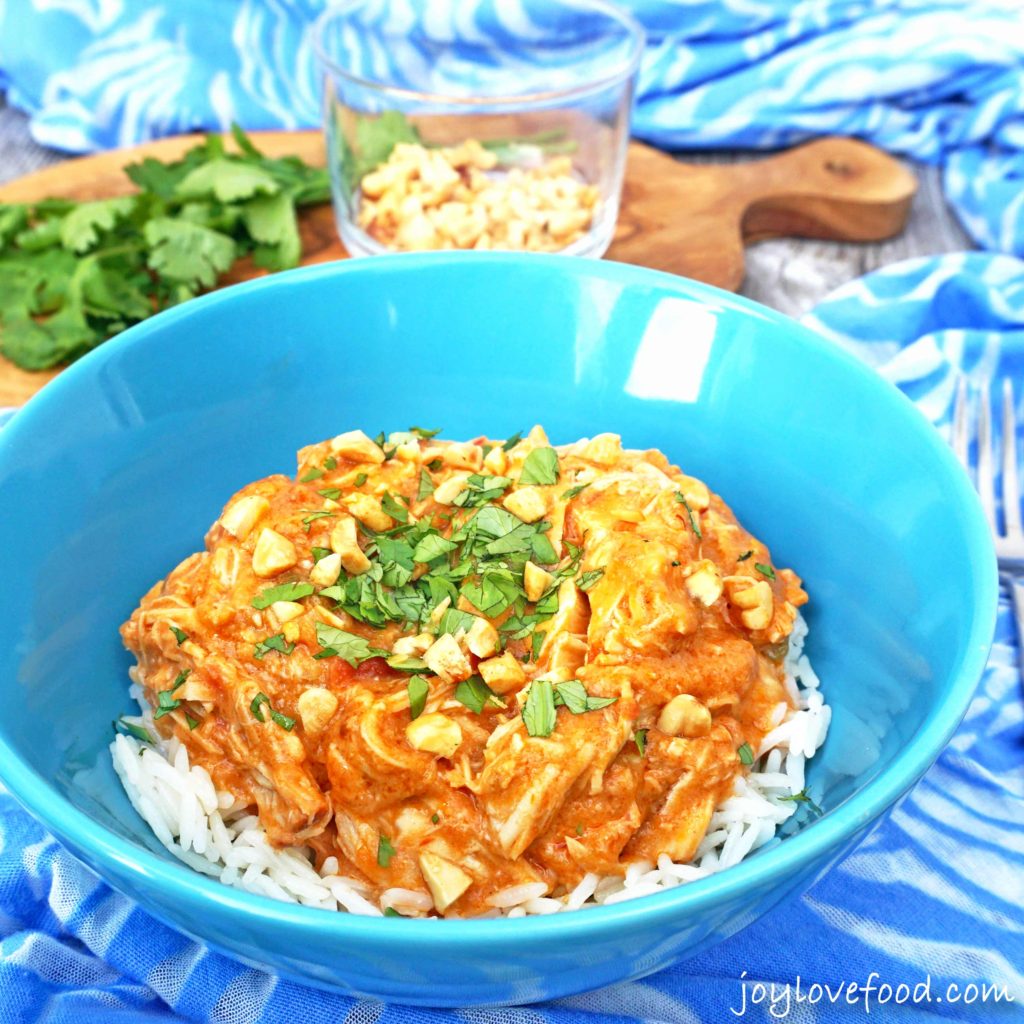 One of my favorite things about using my slow cooker, is coming home after a long day, and the house smells amazing, as it does when I make this Slow Cooker Thai Coconut Chicken.
This Saturday morning, I tossed the ingredients for this recipe in the slow cooker and then the whole family headed out to spend the day at the Harvard Fall Festival in Harvard, MA.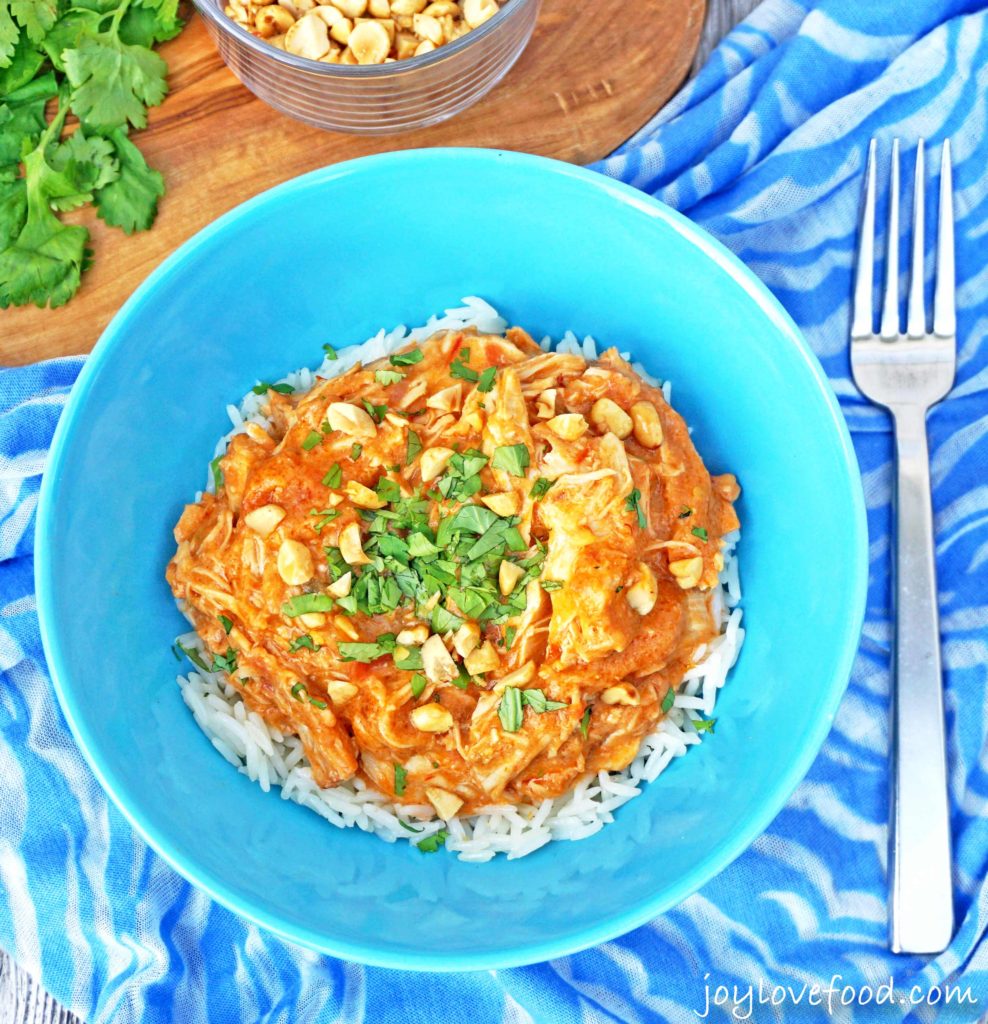 This is our third year attending the festival and it's always a good time. The kids wore themselves out bouncing around on the numerous bouncy structures. We also enjoyed the petting zoo, craft fair, live music, touch-a-truck, train rides, and medieval games – my husband and son got a kick out of the log jousting. We also enjoyed sampling sausages and chicken wings at the People's Choice BBQ contest, everything was so good.
Later, when we finally arrived home, happily exhausted and hungry, we were greeted with the wonderful aroma of simmering chicken with hints of creamy coconut and peanut butter. It was so nice to have a delicious, family favorite ready and waiting for us for dinner.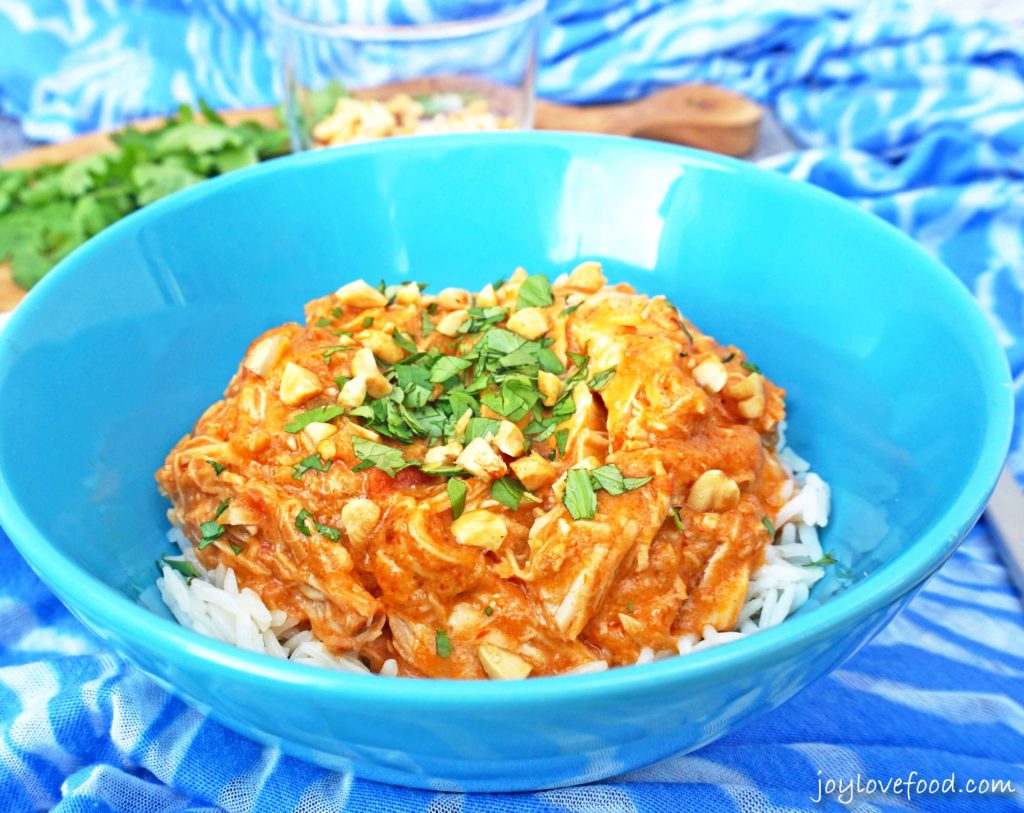 How to Make Slow Cooker Thai Coconut Chicken
This Slow Cooker Thai Coconut Chicken is so easy to make. First place boneless chicken thighs or breasts in the slow cooker. Then, in a mixing bowl, whisk together salsa, minced ginger, fresh lime juice, soy sauce, peanut butter and coconut milk.
Pour the peanut butter and coconut mixture over the chicken in the slow cooker. Put the lid on and set it to either low or high temperature, and that's it. In about four to eight hours, depending on the temperature setting, a delicious, fragrant meal is ready to serve.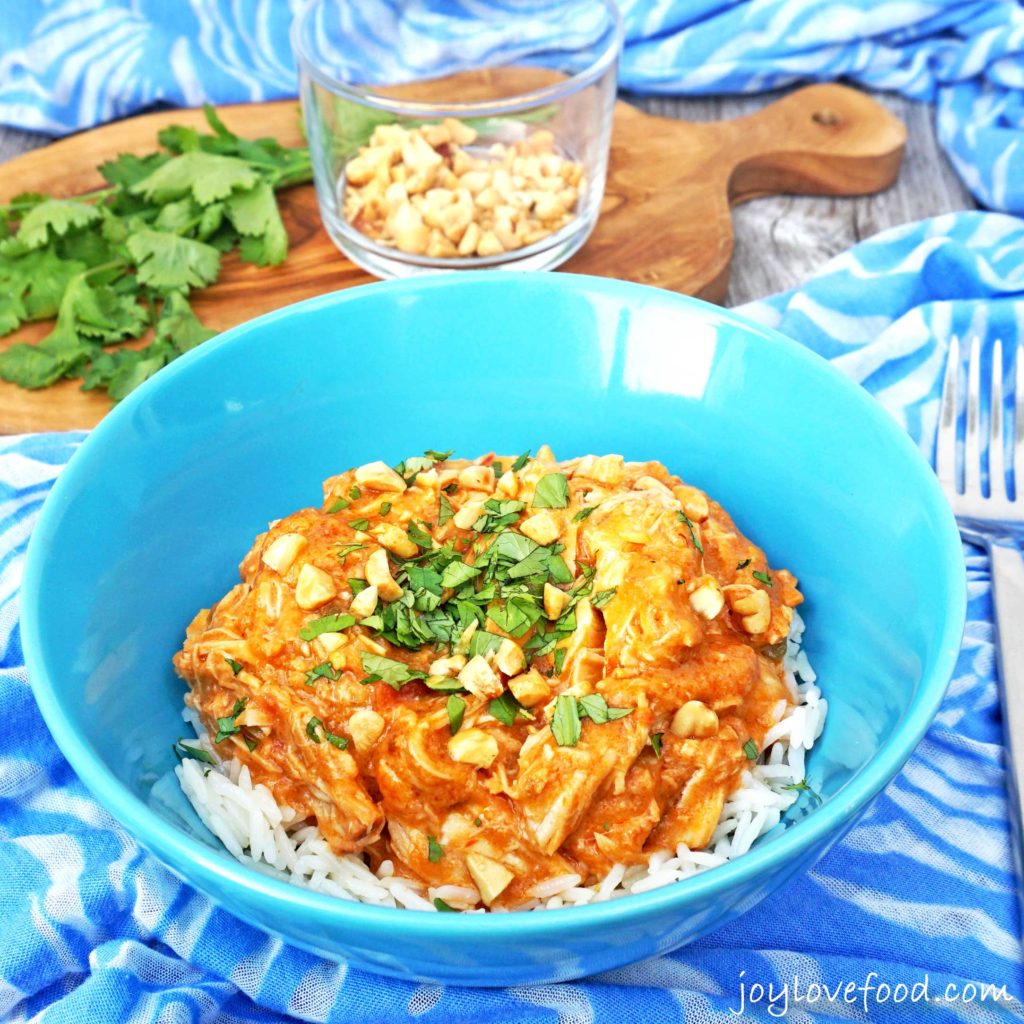 This flavorful Slow Cooker Thai Coconut Chicken is wonderful served over rice and topped with a sprinkling of chopped peanuts and fresh cilantro.
This recipe makes enough for two meals for our family of five (2 adults, 3 young kids). It's a family favorite so we'll often have it for dinner two nights in a row. It freezes well, so sometimes half goes in the freezer for dinner at a later date. It is also a great dish for a potluck or party.
Slow Cooker Thai Coconut Chicken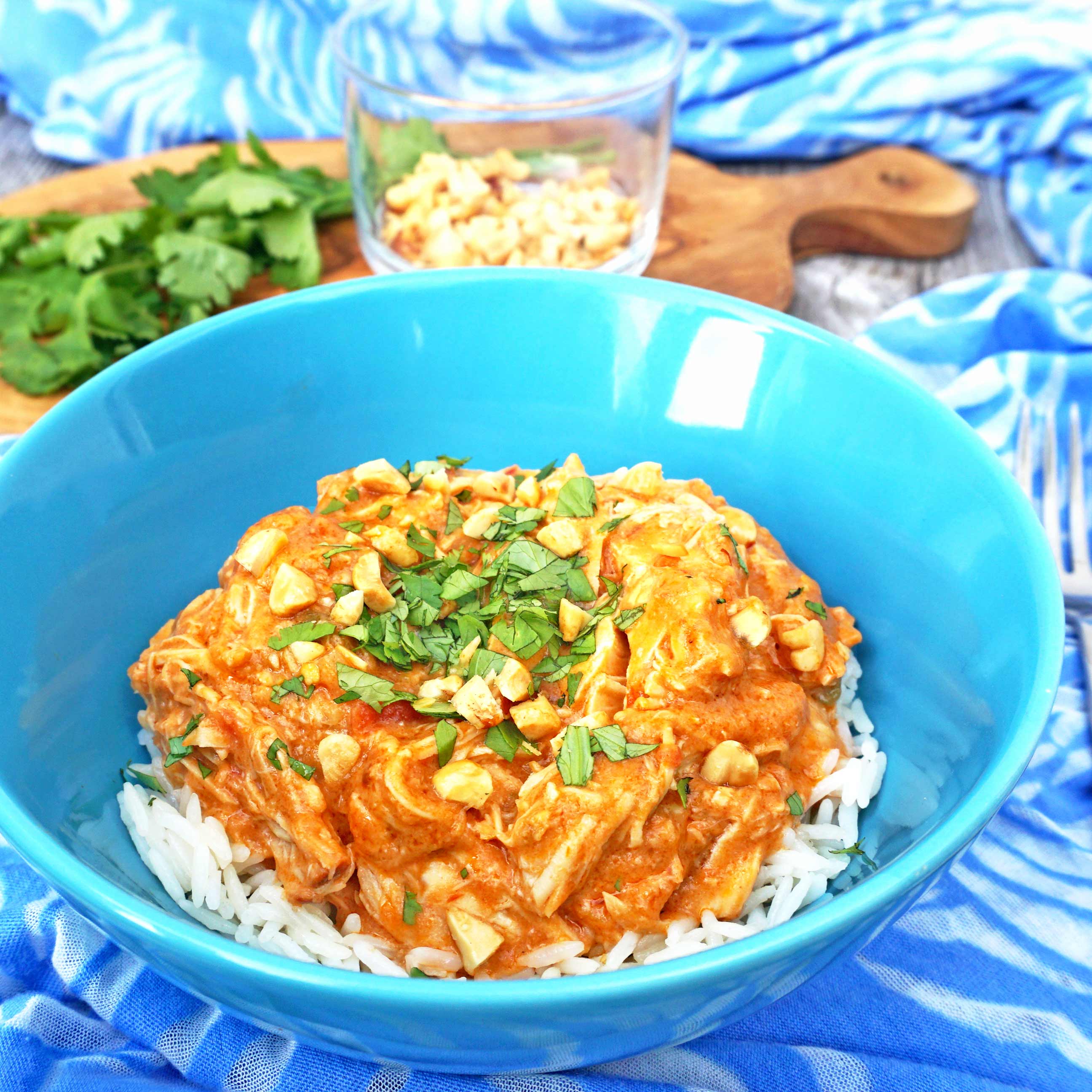 Ingredients
3 pounds boneless chicken thighs or breasts
1 cup medium salsa
¼ cup peanut butter
2 teaspoons minced fresh ginger
2 tablespoons freshly squeezed lime juice (from about 1 lime)
1 tablespoon soy sauce
1 (13.5 oz) can coconut milk
2 tablespoons cornstarch (optional)
2 tablespoons water (optional)
hot cooked rice for serving
chopped peanuts and fresh cilantro for topping (optional)
Instructions
Trim fat from chicken and place in 5-6 quart slow cooker.
In a medium bowl, whisk together, salsa, peanut butter, ginger, lime juice, soy sauce and coconut milk. Pour mixture over chicken in slow cooker.
Cover and cook on low heat for 8-9 hours or high heat for 4-5 hours or until chicken is fork tender.
Remove chicken from slow cooker and cut into pieces. If you'd like a thicker sauce, in a small bowl whisk together cornstarch and water to create a slurry. Add slurry to sauce and whisk to combine. Put lid on slow cooker and set temperature to high, allow sauce to thicken for about 10 minutes.
Return chicken to slow cooker and stir to combine with sauce.
Serve chicken and sauce over rice and top with chopped peanuts and fresh cilantro if desired.
http://joylovefood.com/slow-cooker-thai-coconut-chicken/
copyright 2016 | joylovefood.com