These delicious Apple Banana Mini Muffins with Vanilla Cream Cheese Frosting are a wonderful little treat for breakfast, brunch or any time of day!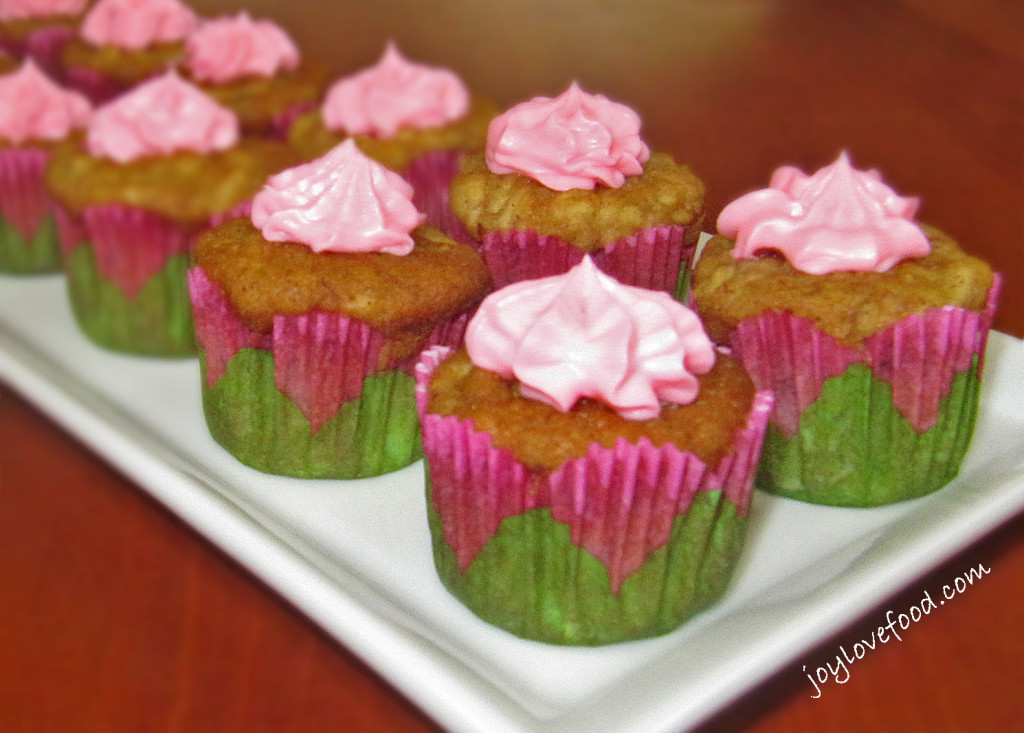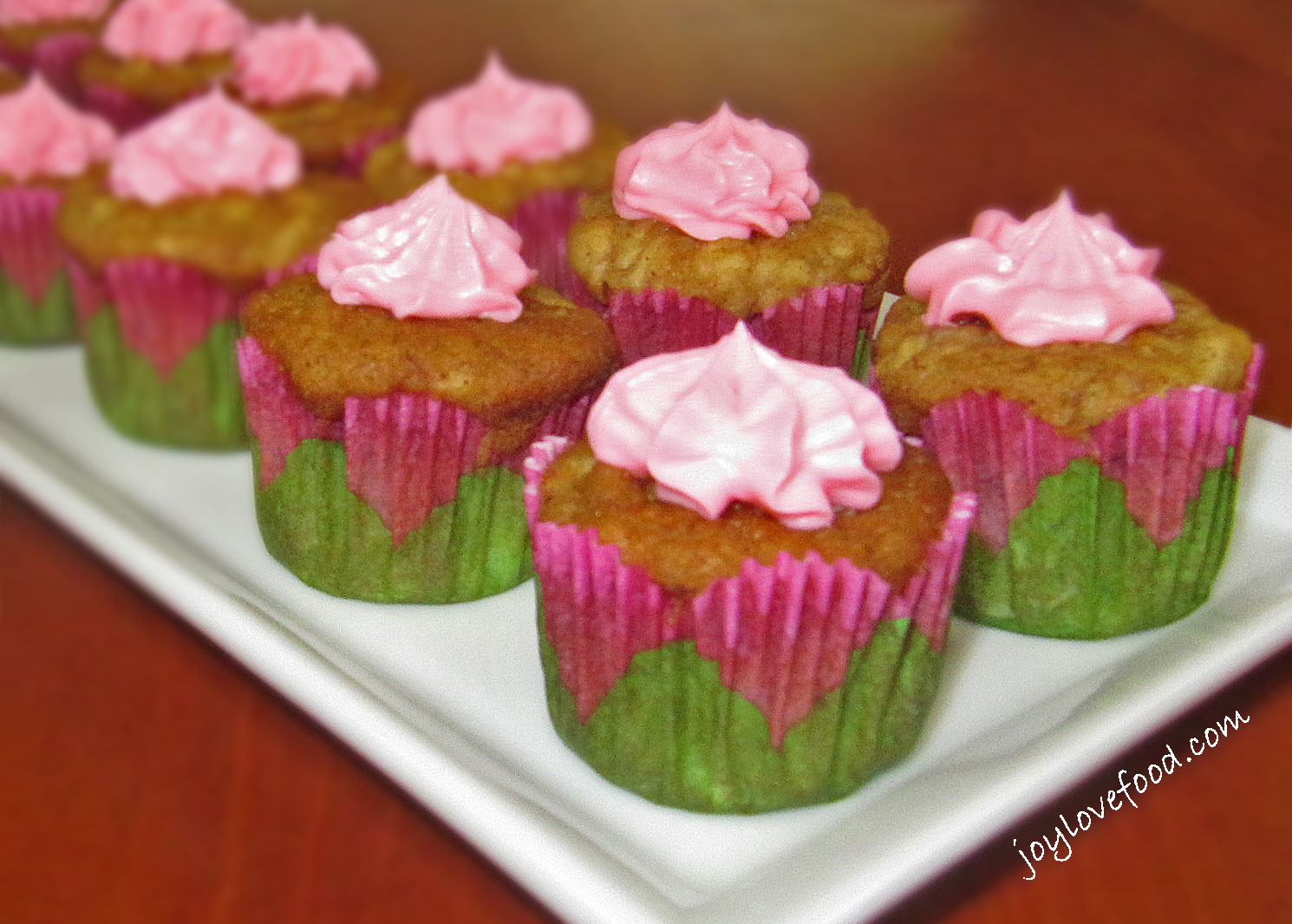 Spring has finally sprung here in Carlisle, Massachusetts and today I thought I'd share a little treat, perfect for spring time, these delicious Apple Banana Mini Muffins with Vanilla Cream Cheese Frosting.
I found these pretty pink petal shaped mini baking cups
at the store and when my son saw them at home he was all excited and asked if we could make Spiced Pumpkin Mini Muffins. Now, I love pumpkin and happily bake with it year round, but I wanted to make something that fit more with the flower theme, so I asked him for another choice. He requested something with apple. As usual, we had a bunch of perfectly ripe bananas in the fruit bowl, so I decided to make a mini version of our favorite Apple Banana Muffins.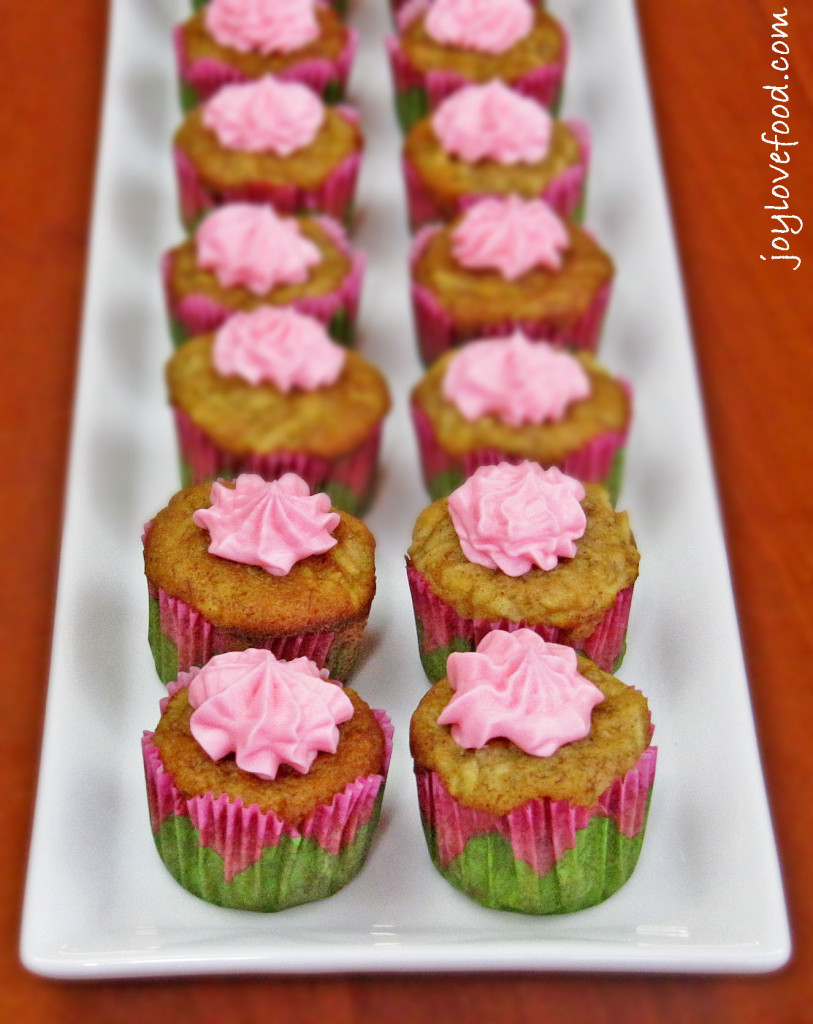 These Apple Banana Mini Muffins are packed full of shredded apples and banana and are spiced with nutmeg and cinnamon, they are so good.
I wanted to add a little pink flower to each muffin, so I decided to make some frosting. I thought cream cheese frosting would go well with these muffins. My son isn't usually a fan of cream cheese frosting, but he does love vanilla frosting, so, I decided to make vanilla cream cheese frosting. The Vanilla Cream Cheese Frosting did indeed go really well with the muffins and best of all, my son absolutely loved it.
This recipe makes enough frosting to make a little drop flower on each mini muffin. If you'd like more frosting per muffin, you can double the frosting recipe. These little muffins are also wonderful on their own, without any frosting.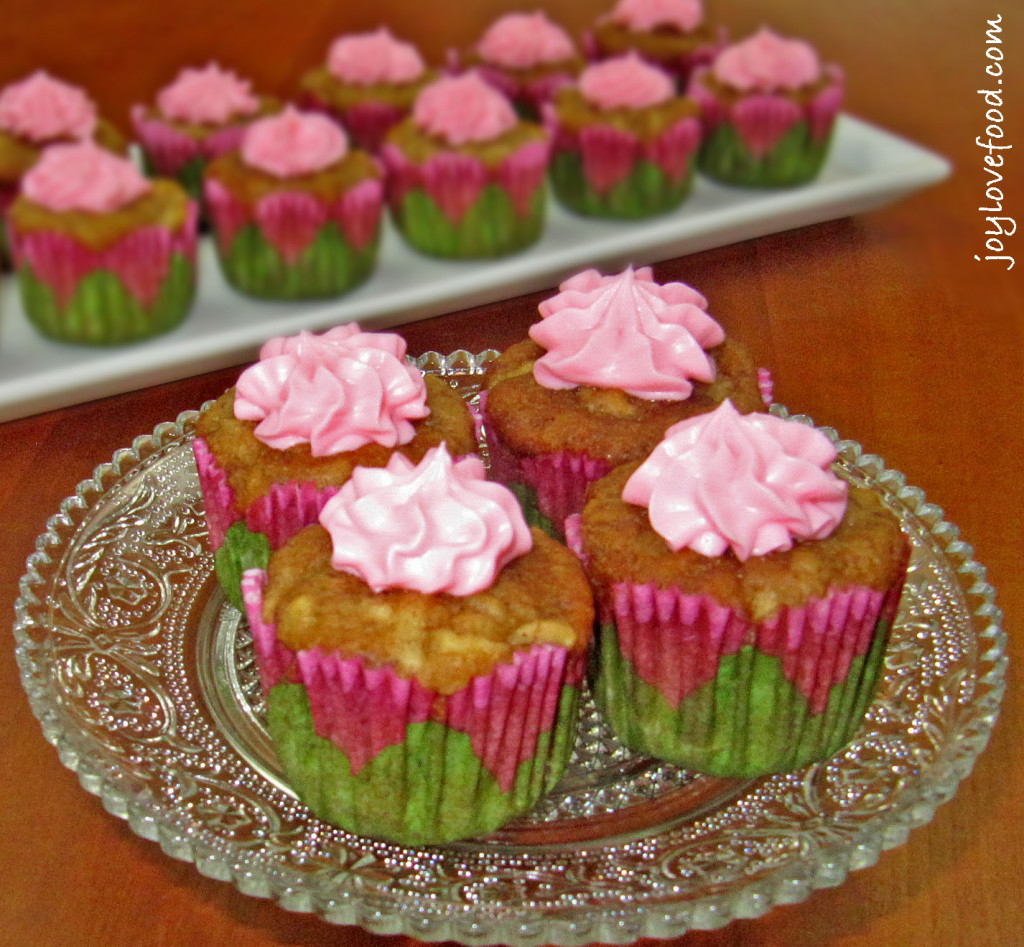 This past Monday, we had some beautiful spring like weather, the sun was shining and temperatures made it into the upper 60s°F. I took my almost 3 year old twin girls to the nearby cranberry bog, they had a great time watching the ducks and tossing rocks in the water. Eventually they started to walk into the water and asked if they could go swimming. I had to say no, it wasn't quite warm enough to go in the water, plus the bog isn't appropriate for swimming.
So, as a compromise, when we got home, I let them put on their bathing suits and play outside. They had a great time running around our yard, which at this point was still half covered in snow. They loved it, they stomped, bare footed, in the snow and made snow balls with their bare hands, they had a great time.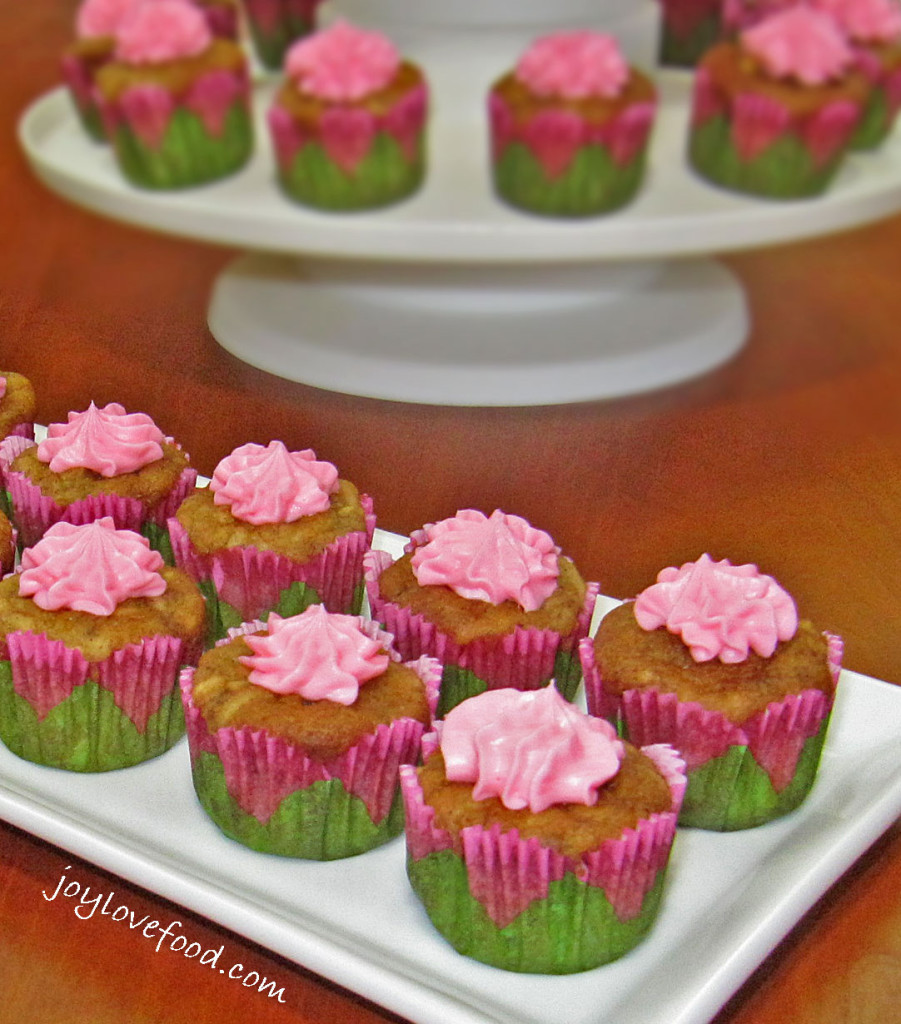 These delicious little Apple Banana Mini Muffins with Vanilla Cream Cheese Frosting are a wonderful treat for breakfast, they also make a great snack any time of day. My son has been taking a couple of these little muffins to eat with his lunch at school every day so far this week.
These pretty Apple Banana Mini Muffins with Vanilla Cream Cheese Frosting would also be a wonderful addition to a brunch buffet for Mother's Day or any day!
Apple Banana Mini Muffins with Vanilla Cream Cheese Frosting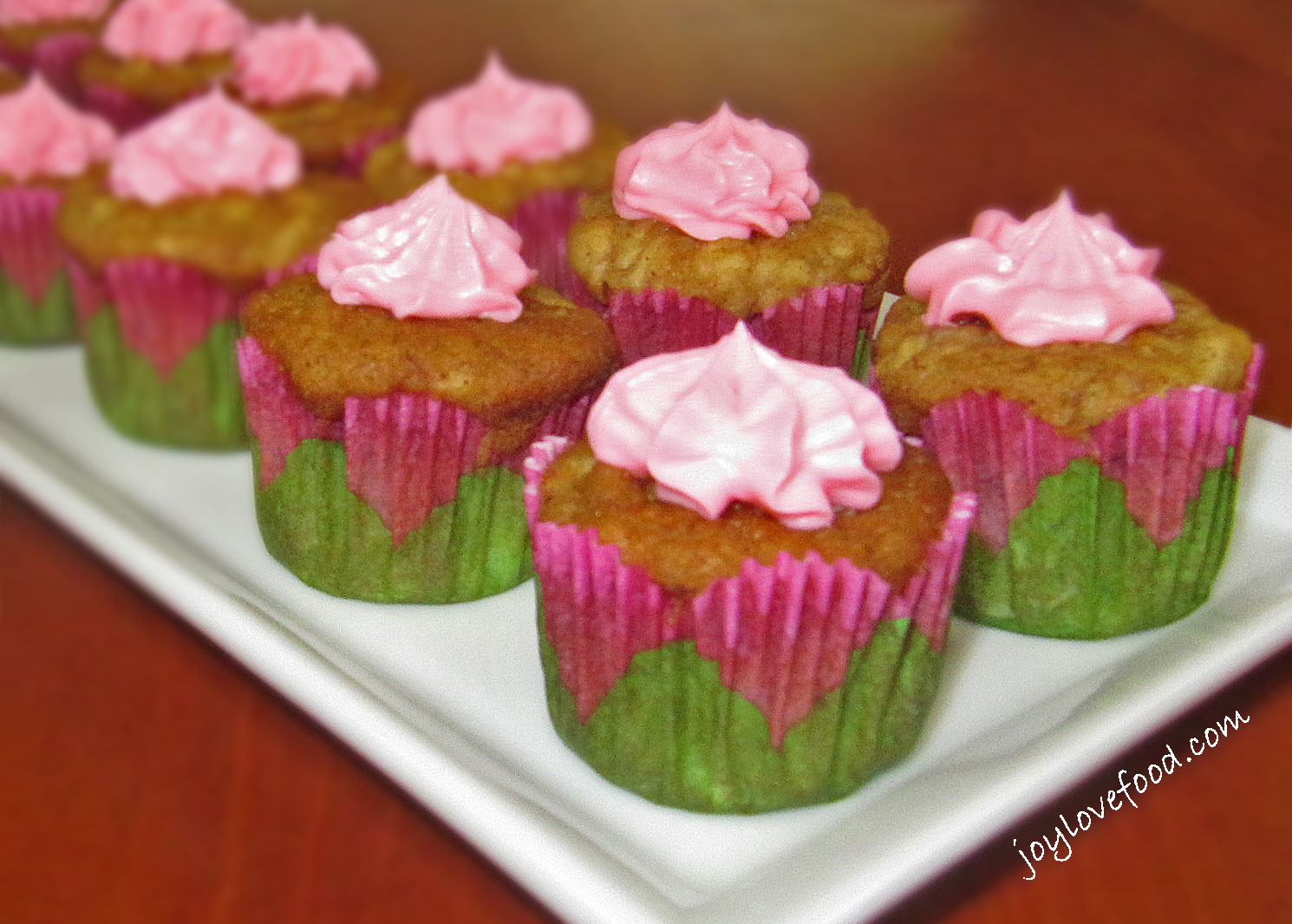 Ingredients
for the mini muffins:

1 ¼ cups sugar
½ cup butter (1 stick), softened
2 large eggs
¼ cup buttermilk
1 teaspoon vanilla extract
2 cups all-purpose flour
1 teaspoon baking soda
1 teaspoon salt
½ teaspoon ground cinnamon
½ teaspoon ground nutmeg
2 apples, peeled, cored and shredded
1 cup mashed ripe bananas (about 3 bananas)

for the vanilla cream cheese frosting:

¼ cup unsalted butter, softened
4 ounces cream cheese, softened
¼ teaspoon pure vanilla extract
2 cups powdered sugar
½ teaspoon milk
icing color(s), preferably in gel/paste format, of choice (optional)
Instructions
Preheat oven to 375°F. Lightly grease or place muffin liners in two 24 cup mini-muffin tins (or if you have just one, you can bake in batches)
In a large bowl, using an electric mixer, beat sugar and ½ cup of butter until fluffy.
Add in eggs, one at a time, and beat to combine.
Add in buttermilk and vanilla and beat to combine.
In another large bowl, whisk together flour, baking soda, salt, cinnamon and nutmeg.
Add flour mixture to egg mixture in 2 or 3 additions, beating after each addition until just combined.
Add in shredded apples and banana and stir to combine.
Spoon batter into mini muffin tins, filling nearly to the top of each cup. Bake in preheated oven for 18 – 22 minutes or until a toothpick inserted into the middle of a muffin comes out clean.
Cool muffin tins on wire racks for 5 minutes. Remove muffins from tins, place on racks and cool completely.
While muffins are baking, in a large bowl, using an electric mixer, beat ¼ cup butter and cream cheese until well combined.
Add vanilla to bowl and beat to combine.
Gradually add powdered sugar and milk and beat on high until frosting is light and fluffy.
Add small amount of icing color to bowl (I use a toothpick), beat well until color is incorporated. Add additional coloring if needed to reach desired color. (optional)
Chill frosting in the refrigerator until ready to frost the muffins
Frost cooled mini muffins using a knife or pastry bag fitted with tip of choice.
http://joylovefood.com/apple-banana-mini-muffins-with-vanilla-cream-cheese-frosting/
copyright 2016 | joylovefood.com
Vanilla Cream Cheese Frosting recipe adapted from wilton.com

This post contains affiliate links for products that I personally recommend available at amazon.com. If you click on one of these links and end up making a purchase, your price will be unchanged, however I may receive a small commission. Please see my disclosure page for more information.