Tangy cranberries, sweet bananas and nutty pecans come together beautifully in these delicious Cranberry Banana & Pecan Mini Loaves.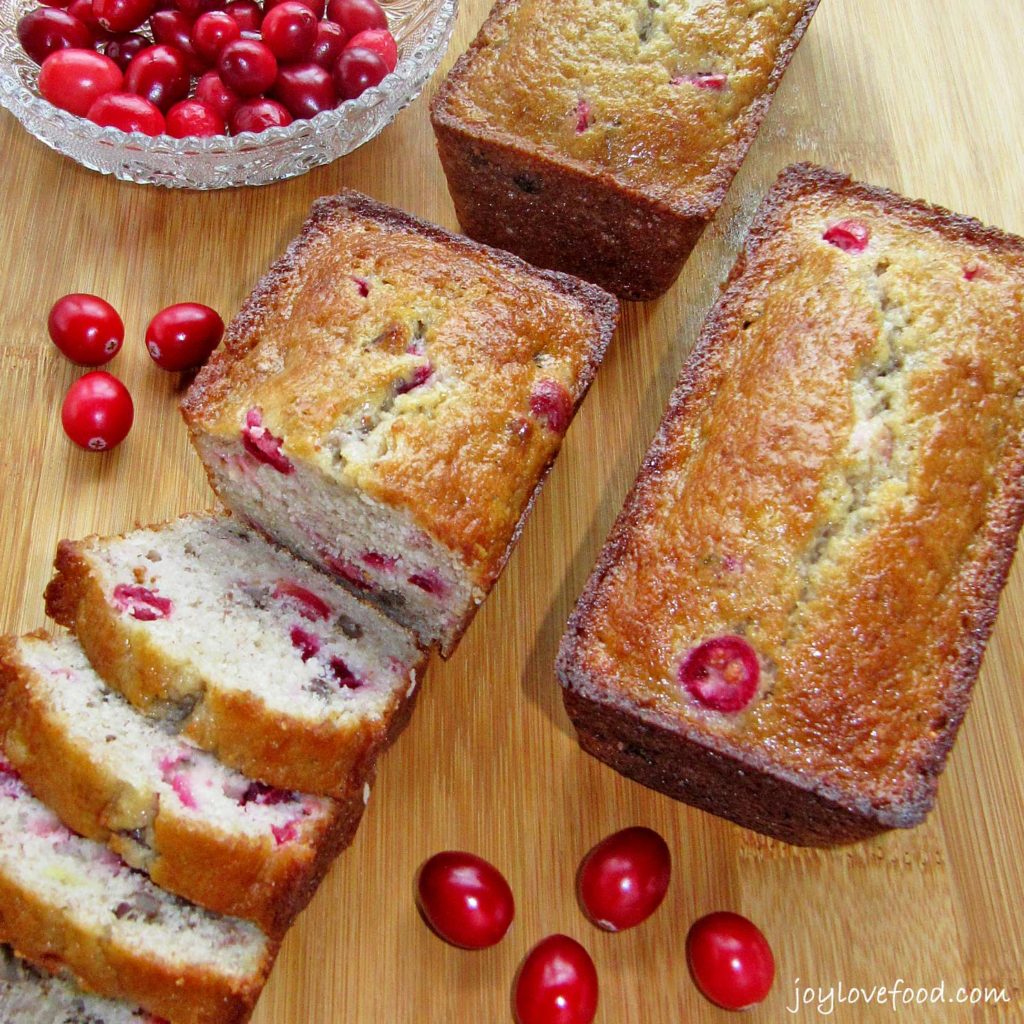 Our Local Cranberry Bog
I love cranberries. We actually have a cranberry bog here in our town of Carlisle, Massachusetts. It's only about a mile and a half from our house. The bog is a beautiful place for a walk or a jog. And, it's a lot of fun to watch the cranberry harvest each fall. My friend and fellow Carlisle resident, Karina, has some nice photos of this year's harvest on her website.
A small portion of the Carlisle cranberries are dry harvested, i.e. picked by hand, so there's no bruising. These beautiful fresh cranberries are available locally for purchase just after the harvest and you have to get there fast because they sell out quickly. This year, luckily, we managed to score a bag. I used most for making cranberry sauce, but did have a couple of cups still in my freezer earmarked for cranberry bread.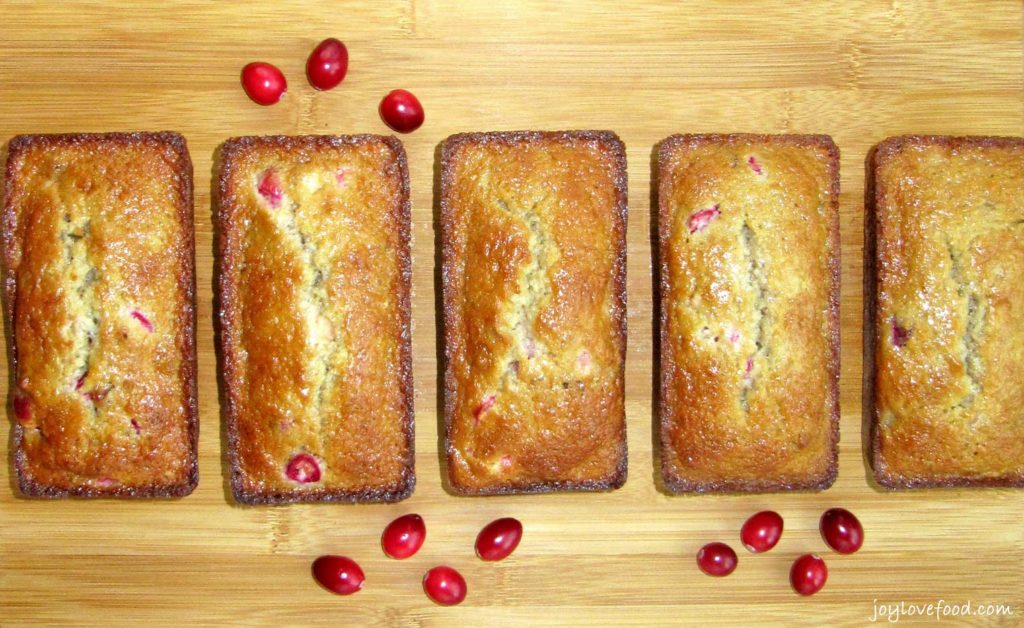 Yesterday, my kids polished off the last of the Spiced Pumpkin Bread that I had made for Christmas and immediately asked for more. I told them sure, but we'd have to bake some first. So, we were going to do some baking. And, since the oven was going to be on, I had the perfect excuse to make some cranberry bread as well.
Mini Loaves
I've recently become a bit obsessed with making mini loaves. I finally purchased some mini loaf pans
and made mini loaf versions of my Spiced Pumpkin Bread and Banana Coconut Bread to give as gifts this holiday season. They make the perfect gift and are just so darn cute. So, I thought I'd make some mini cranberry bread loaves.
A search of the Internet yielded a version of this recipe for Cranberry Banana & Pecan Mini Loaves. It sounded like a wonderful combination and the loaves turned out beautifully and taste amazing. There is a nice balance of sweetness from the bananas with the tangy tartness from the cranberries. The pecans give it just the right amount of crunch.
The only changes to the original recipe that I made were to increase the amount of cranberries and to use fresh cranberries rather than dried. I also used light sour cream as opposed to regular. I find in baking you can't tell the difference and it reduces the fat content.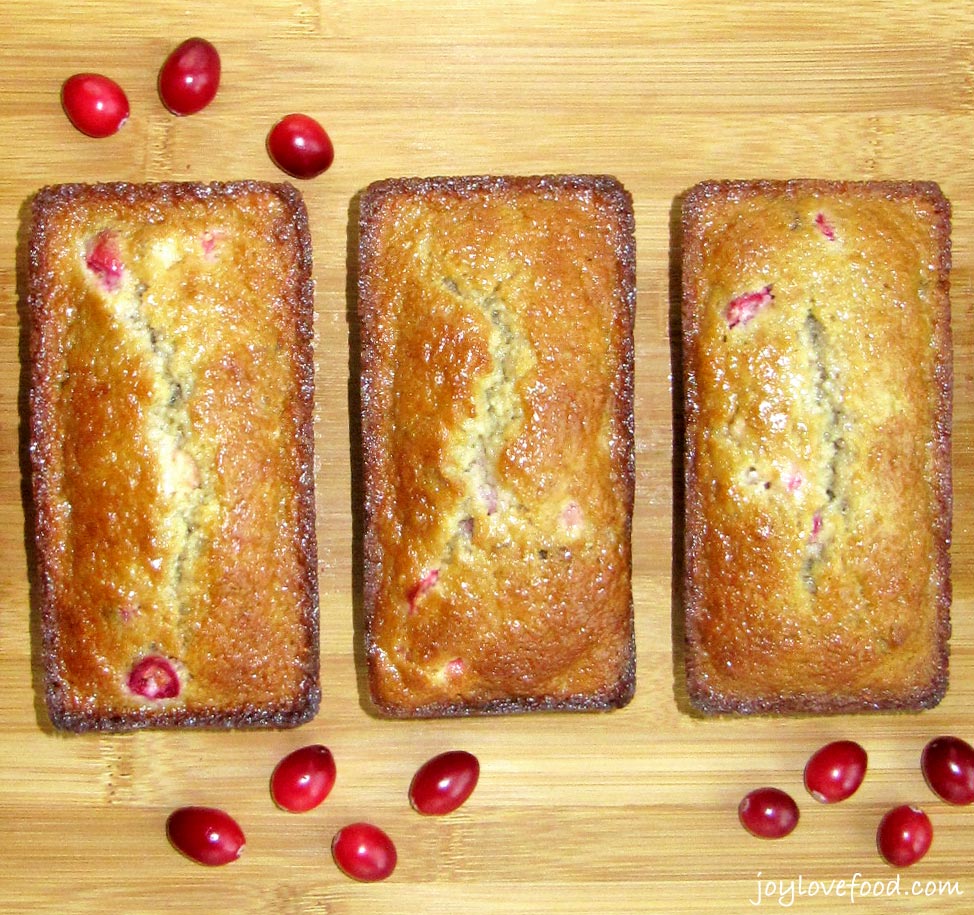 A slice or two of these delicious Cranberry Banana & Pecan Mini Loaves is wonderful at breakfast or as a snack any time of day. I like to put a couple loaves in the fridge for immediate enjoyment and the rest in the freezer for use at a later date.
These Cranberry Banana & Pecan Mini Loaves also make great gifts and would be the perfect hostess gift for a New Year's Eve or New Year's Day party. These loaves would also look beautiful on a buffet for a brunch or open house.
Cranberry Banana & Pecan Mini Loaves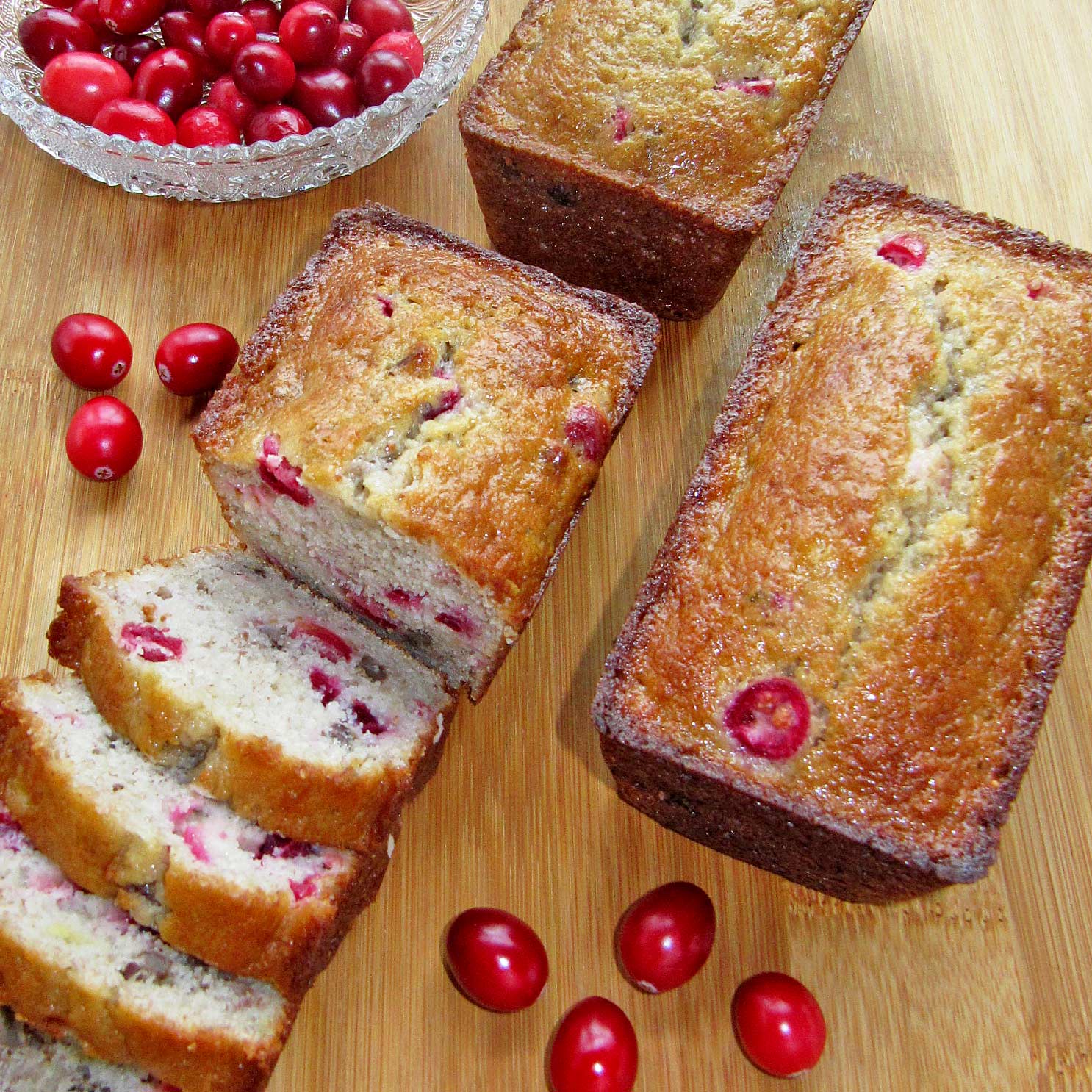 Tangy cranberries, sweet bananas and nutty pecans come together beautifully in these delicious Cranberry Banana & Pecan Mini Loaves.
Ingredients
1 1/3 cups sugar
¼ cup (½ stick) unsalted butter, room temperature
2 large eggs
1 teaspoon vanilla extract
2 cups all-purpose flour
1 teaspoon baking powder
1 teaspoon baking soda
¾ teaspoon salt
¼ teaspoon cinnamon
1 cup light sour cream
1 ½ cups mashed ripe bananas (about 4-5 bananas)
1 ½ cups chopped fresh cranberries
1 cup chopped pecans
Instructions
Preheat oven to 350°F. Lightly grease five (5) 5 ¾ inch x 3 inch loaf pans.
In a large bowl, using an electric mixer, beat together sugar and butter until light and fluffy.
Add the eggs and vanilla and beat to combine
In a medium bowl, whisk together flour, baking powder, baking soda, salt and cinnamon.
Add flour mixture alternating with mashed bananas and sour cream, to egg mixture in three additions, stirring after each addition.
Add in cranberries and pecans and stir to combine
Spoon batter into greased loaf pans, filling each pan about ¾ of the way full. Bake in preheated oven for 35-40 minutes or until a tester inserted into the middle of a loaf comes out clean.
Cool pans on wire racks for 10 minutes. Remove loaves from pans, place on rack and cool completely.
http://joylovefood.com/cranberry-banana-pecan-mini-loaves/
copyright 2016 | joylovefood.com
Adapted from The Houston Chronicle.

I love my mini loaf pans! You can find them at Amazon: