Pumpkin Turkey Goulash – a lighter, yet still hearty and delicious, version of the classic Hungarian stew. Perfect for a cozy fall dinner.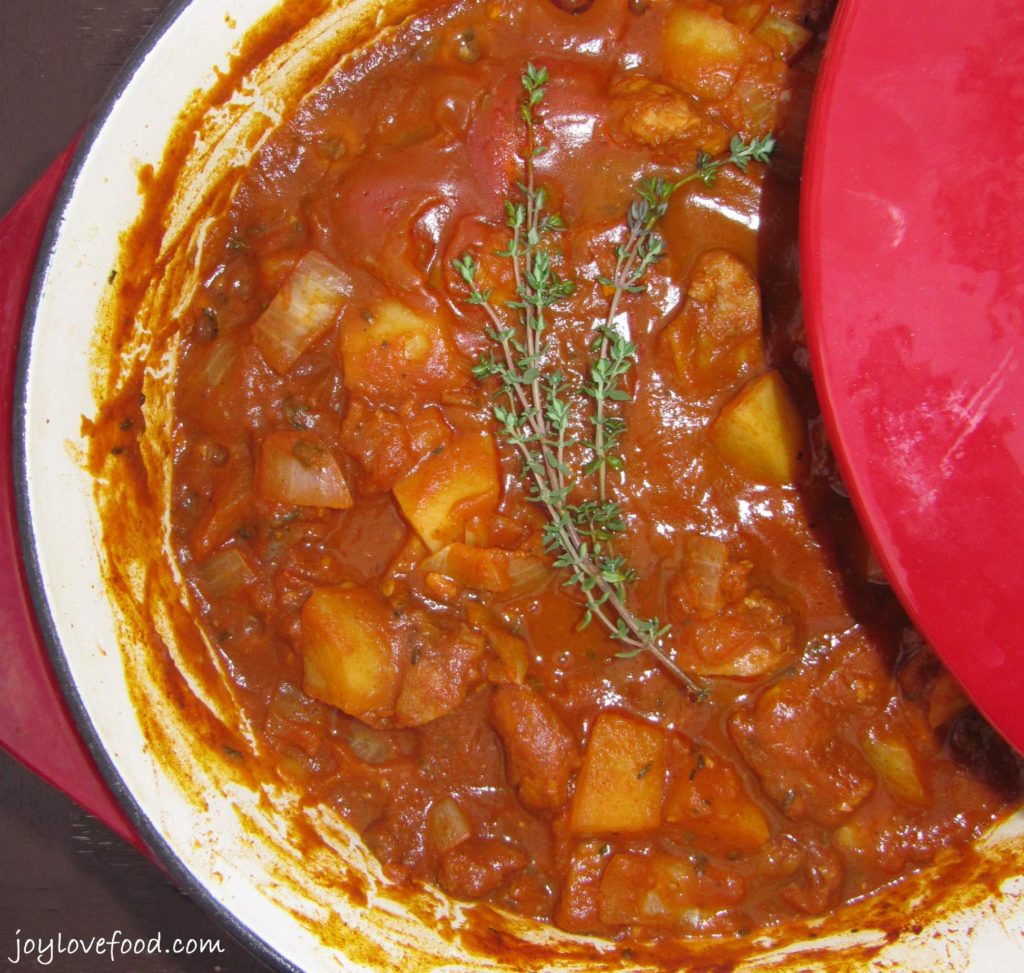 A Lighter Take on Goulash
Goulash is a Hungarian stew of beef and vegetables seasoned with paprika and other spices. This lighter take on the traditional dish, uses turkey, instead of beef, and includes pumpkin.
I love using pumpkin in savory dishes. It adds a wonderful richness to this dish, with no additional fat, and complements the turkey nicely. Using boneless skinless turkey thighs makes this an easy dish to prepare. If you can't find boneless skinless turkey thighs, boneless skinless chicken thighs are a great substitute.
Paprika and thyme are the star spices of this Pumpkin Turkey Goulash. They go beautifully together and are so delicious with the pumpkin and turkey.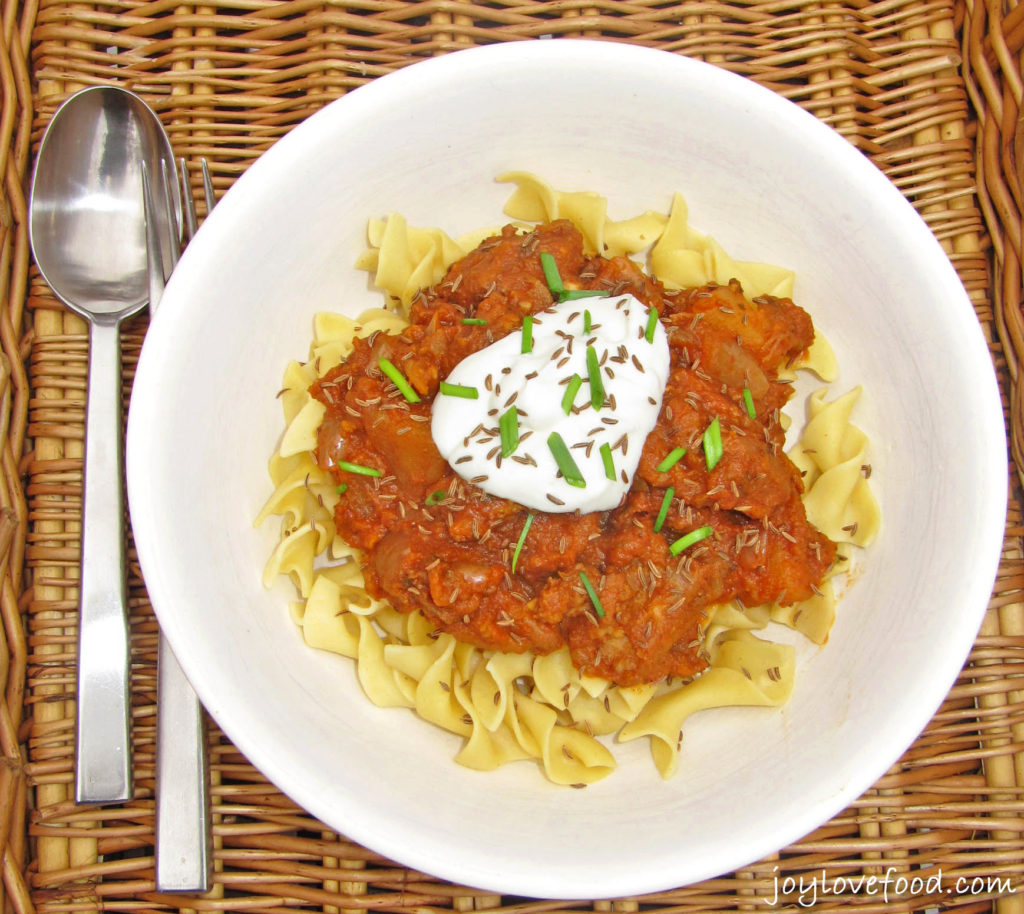 This Pumpkin Turkey Goulash has a wonderful sauce. I like to serve it over egg noodles. A dollop of sour cream and a sprinkling of caraway seeds and sliced green onions are the perfect toppings.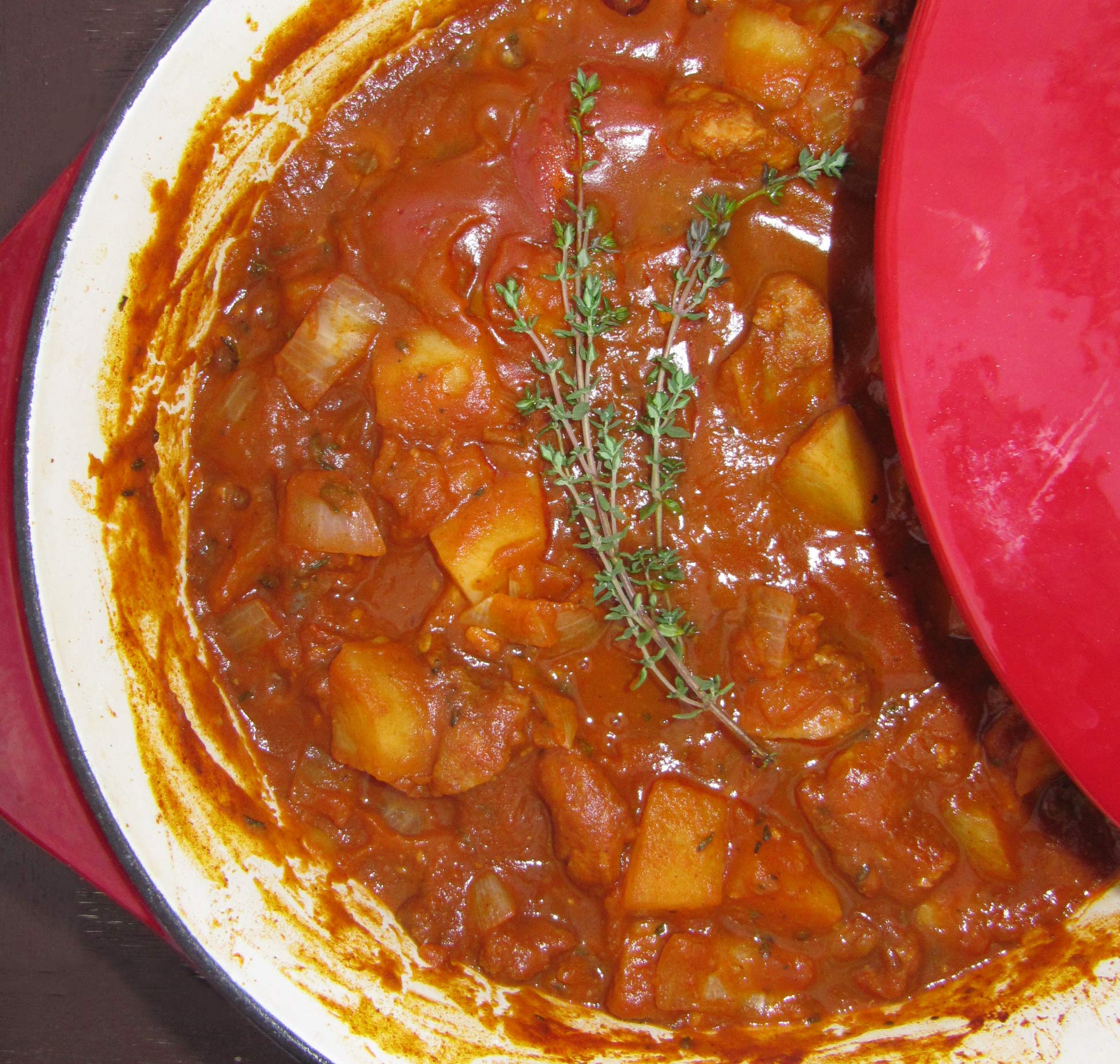 Ingredients
2 lbs boneless skinless turkey thighs, cut into 1-inch pieces
¼ cup sweet Hungarian paprika
1 teaspoon salt
2 tablespoons olive oil
2 large onions, chopped (about 3 cups)
2 medium russet potatoes, peeled and cut into 1-inch pieces
2 cups chicken broth
1 (15 oz) can pure pumpkin
4 garlic cloves, minced
1 bay leaf
1 large fresh thyme sprig plus 2 tablespoons chopped fresh thyme
cooked egg noodles for serving (optional)
caraway seeds, light sour cream and sliced green onions for topping (optional)
Instructions
Place turkey, paprika and salt in a large Ziploc bag. Seal bag and shake to coat turkey with seasonings.
Heat oil in a large heavy pot over medium-high heat. Add turkey to pot and cook for 5 minutes.
Add onions and potatoes to pot and cook for 5 minutes, stirring occasionally.
Add broth, pumpkin, garlic, bay leaf, thyme sprig and chopped thyme. Bring to a boil, then reduce heat and cover. Simmer for about 1 hour or until potatoes are tender.
Serve over egg noodles and top with caraway seeds, light sour cream and sliced green onions, if desired.
Notes
You can substitute boneless skinless chicken thighs for the turkey thighs.
You can substitute regular paprika for the sweet Hungarian paprika.
http://joylovefood.com/pumpkin-turkey-goulash/
copyright 2016 | joylovefood.com
Adapted from epicurious.com