Jump to recipe
Cream of Sweet Potato Soup – rich and velvety, creamy and smooth, this pretty soup is perfect for fall and the approaching holiday season.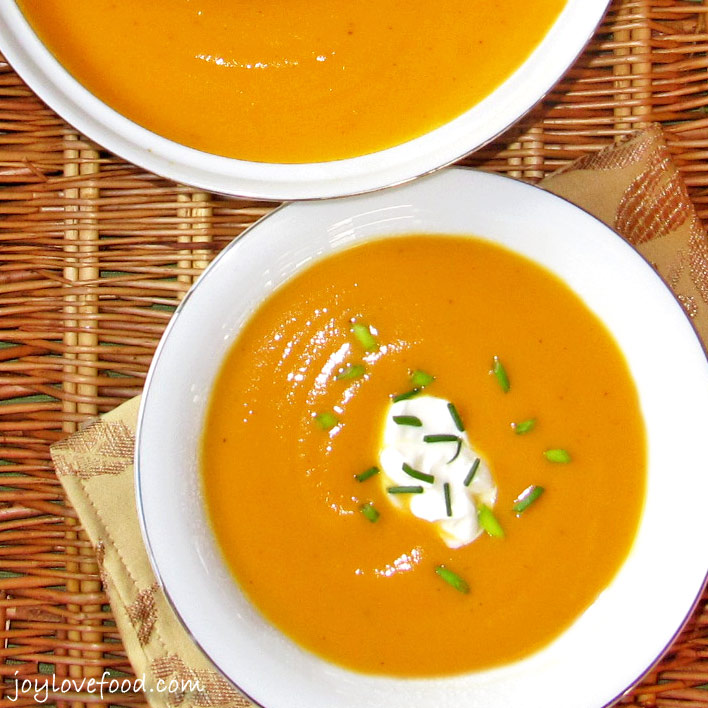 Shortcuts Make for Easy Preparation
This delicious Cream of Sweet Potato Soup is so easy to make with the help of a couple of shortcuts. The first shortcut is to use the microwave to cook the sweet potatoes. The second shortcut is to use a handheld emersion blend to puree the soup.
I love making creamy soups and used to rely on my food processer. I finally got around to getting the emersion blender, a couple of years ago, and am so glad that I did. It's so easy to use and clean. It saves so much time and I love that I don't have an extra multi-part appliance to wash.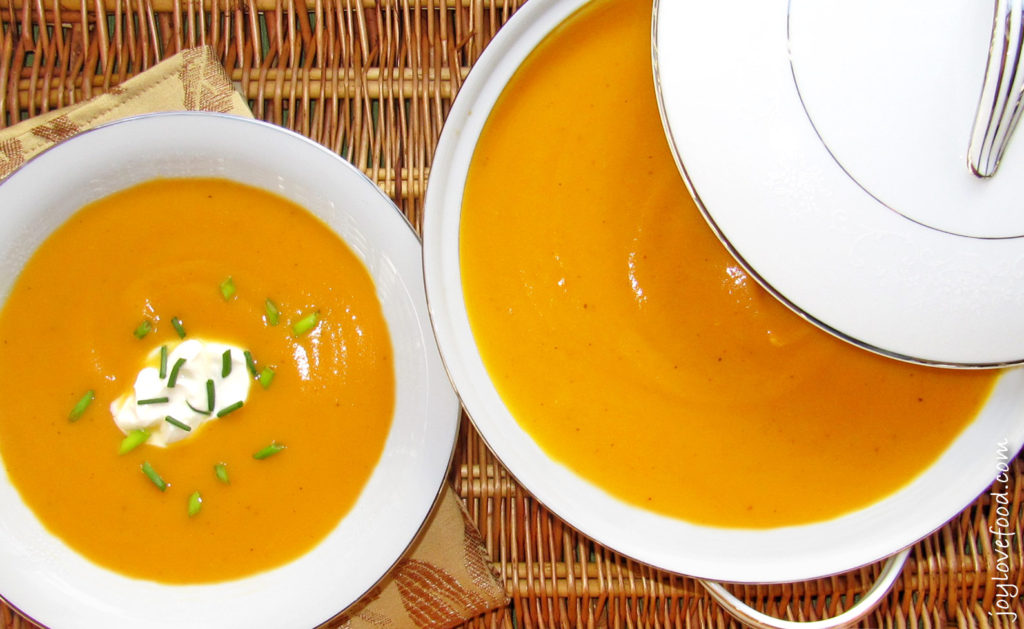 This soup has wonderful balance. Brown sugar gives it a touch of sweetness. Nutmeg and cayenne provide just the right amount of spice and a hint of heat.
A dollop of sour cream and a sprinkling of green onions on top give it a bit of tang and crunch.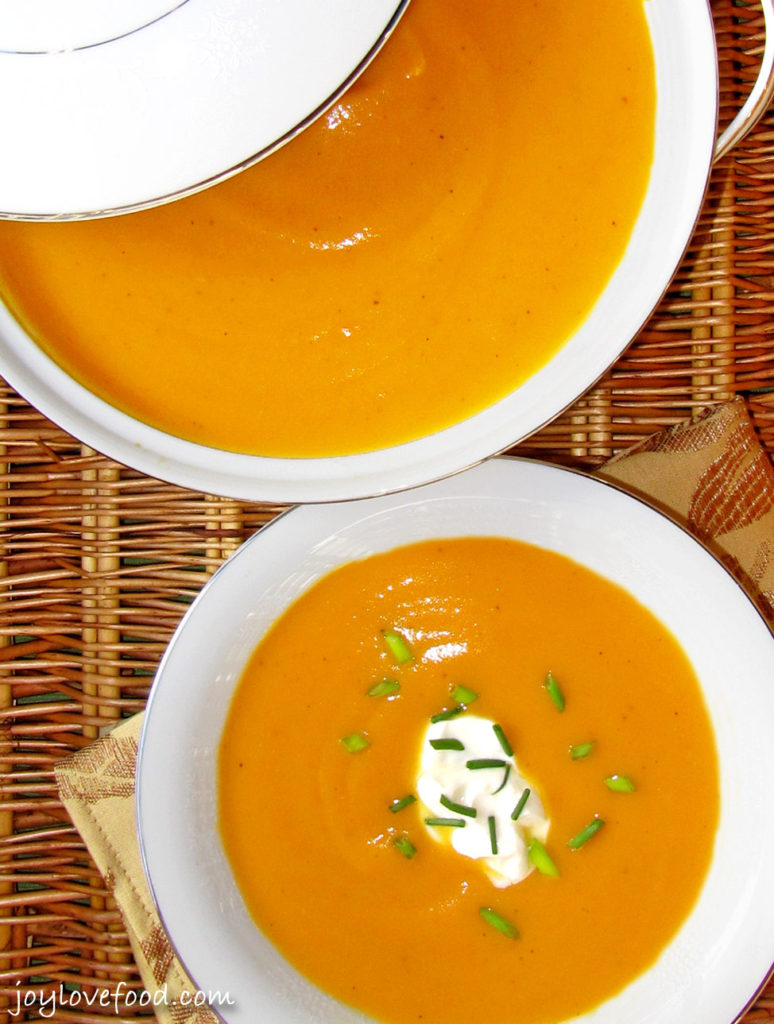 Great as a Main Dish or First Course
This Cream of Sweet Potato Soup is wonderful as a main dish for dinner. I like to serve it with a green salad and crusty bread.
This pretty soup also makes an elegant first course for a dinner party. It would also add brightness to a buffet for a holiday open house or potluck.
Cream of Sweet Potato Soup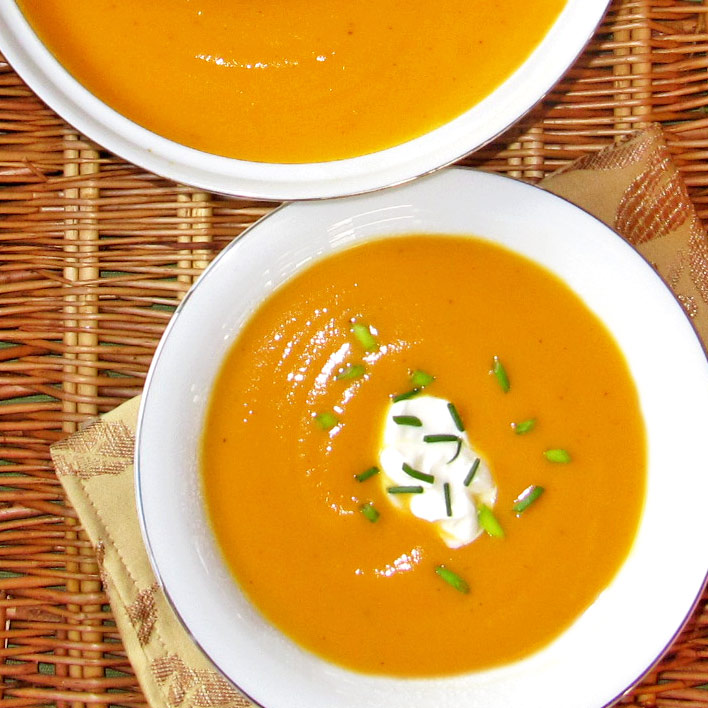 Notes
Instead of using the microwave, sweet potatoes can be baked in a 350°F oven for about 1 and ½ hours.
Rather than using a handheld emersion blender, you can puree the soup, in batches, in a food processor or blender.
You can substitute milk for the whipping cream, you can even leave it out entirely, still tastes great.

Ingredients
3 large sweet potatoes
6 cups chicken broth
¼ cup brown sugar
½ teaspoon salt
1/8 teaspoon freshly ground black pepper
¼ teaspoon nutmeg
1/8 teaspoon cayenne pepper
1/3 cup whipping cream
light sour cream and sliced green onions for topping (optional)
Instructions
Pierce each sweet potato several times with a fork. Place sweet potatoes on a microwave safe place and microwave potatoes for 10 minutes. Flip potatoes over and microwave for an additional 5-10 minutes or until potatoes are soft and cooked.
Remove potatoes from microwave and slit each potato in half lengthwise with a knife. Allow potatoes to cool slightly, until they are cool enough to comfortably handle.
Using a spoon, scoop flesh from potato skins and place flesh in a large soup pot or dutch oven.
Add 2 cups of chicken broth to soup pot. Using a handheld emersion blender puree potatoes and broth, adding additional 4 cups of broth in batches, until a smooth puree is formed.
Heat puree over a medium high heat until it bubbles slightly, about 10 minutes, reduce heat to medium low.
Stir in brown sugar, salt, black pepper, nutmeg and cayenne pepper; cover and simmer for 10 minutes.
Remove soup from heat and stir in whipping cream.
Serve soup topped with a dollop of sour cream and a sprinkling of green onions if desired.
© 2023 copyright 2016 | joylovefood.com