Fresh strawberries and cream are a delicious combination in these, tender, light and flaky Strawberry Shortcake Scones.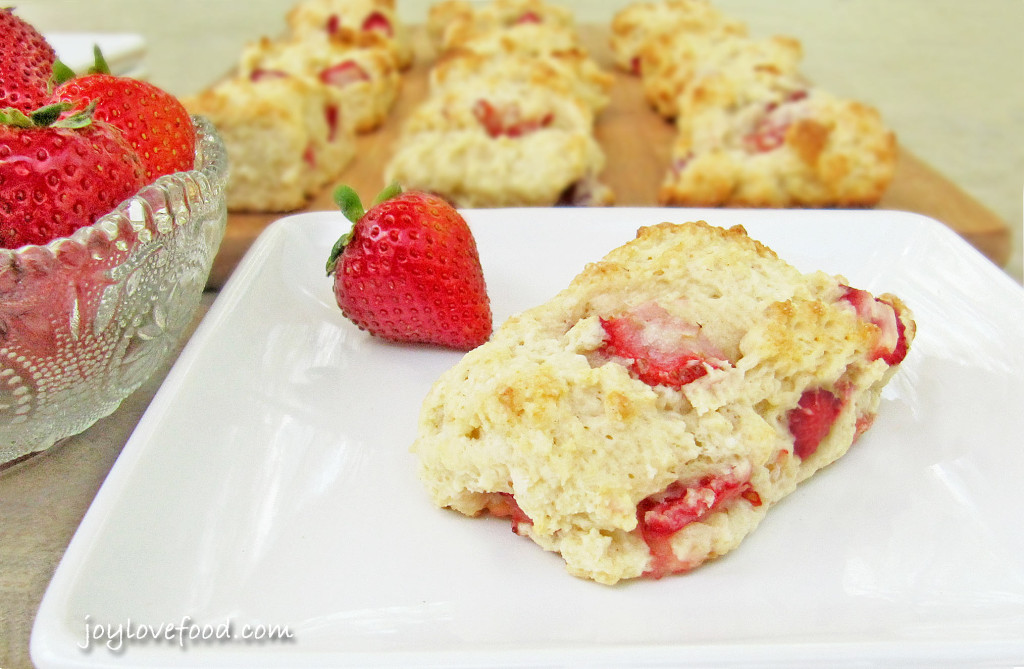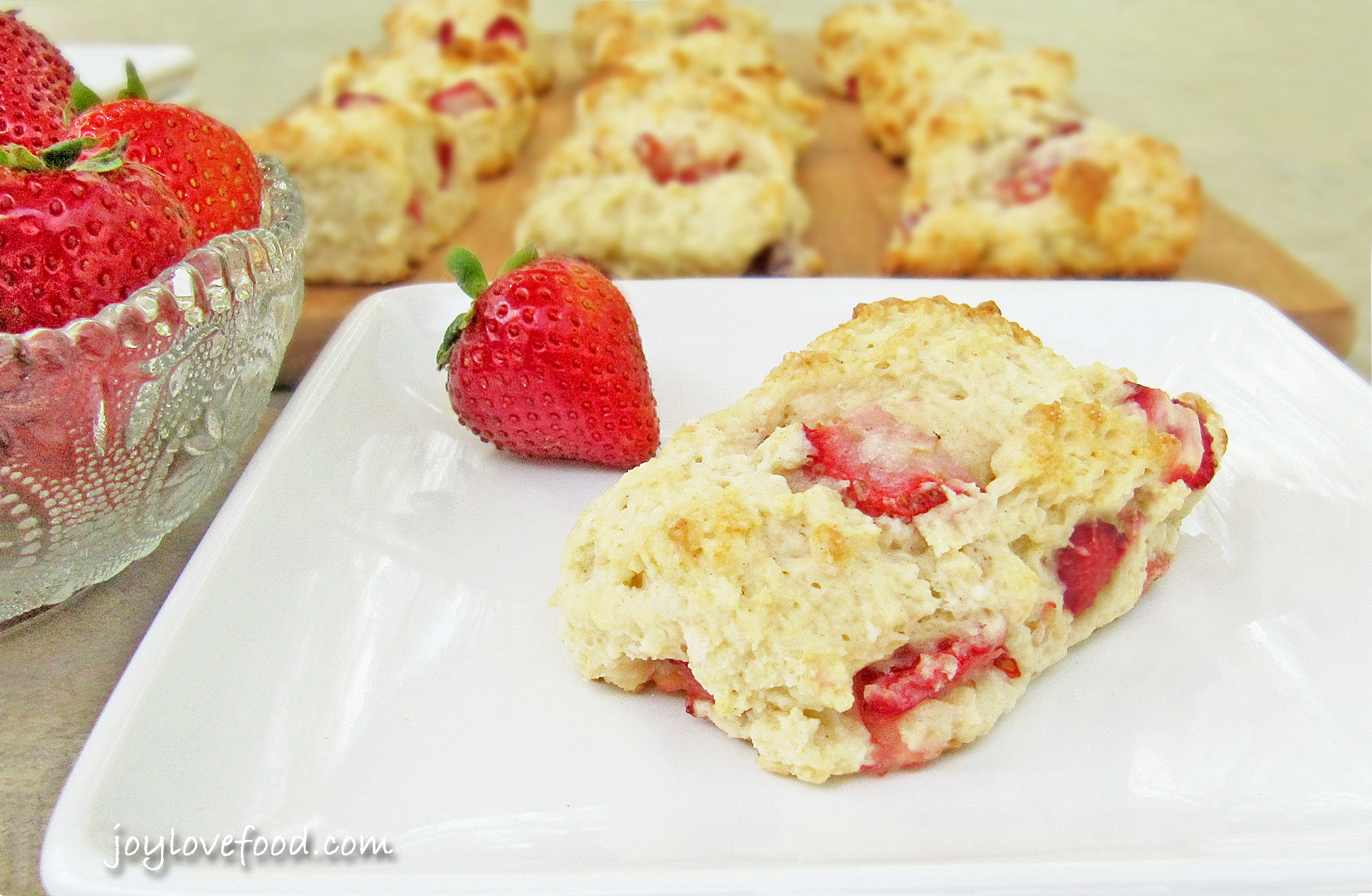 I absolutely love scones, they are one of my favorite things to bake. And, I love trying new combinations of ingredients for making scones. A couple of weeks ago I shared these delicious Roasted Grape and Thyme Scones. Today I'm sharing another scone recipe, perfect for spring and summer, these wonderful Strawberry Shortcake Scones.
Strawberry season doesn't start here in Massachusetts until June, but we are now starting to get some wonderful sweet strawberries from California in the supermarkets. My almost 3-year old girls love strawberries and we've been going through several 2 pound containers of strawberries each week. Luckily, I was able to set aside enough strawberries to make these scones, before my girls devoured them all.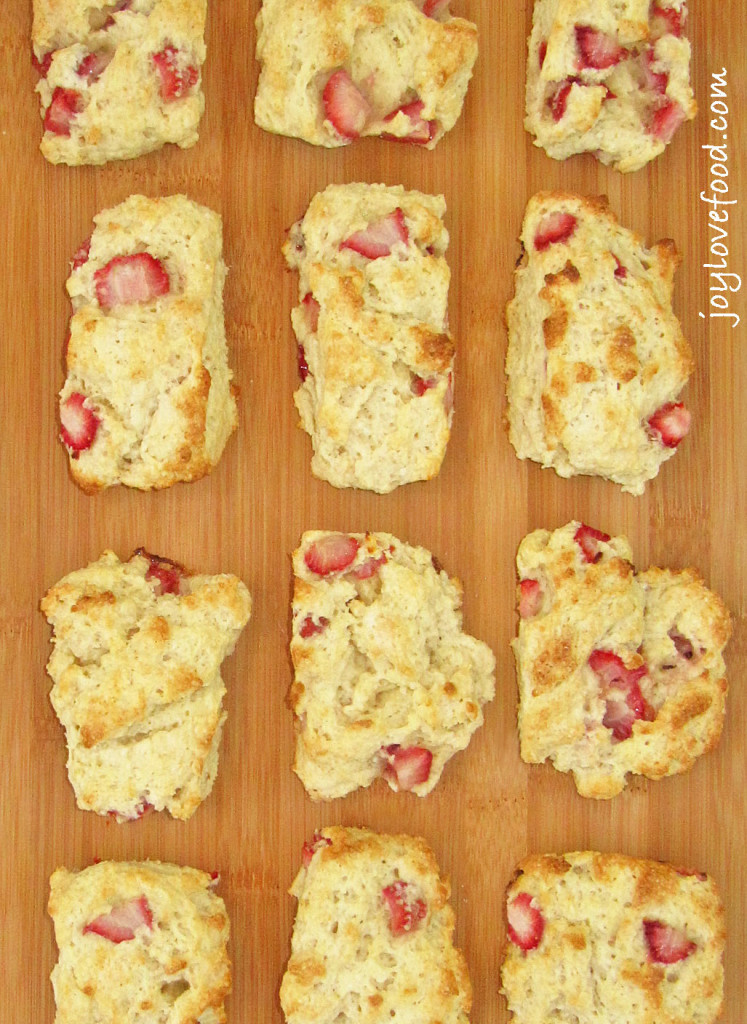 I came across this recipe for Strawberry Shortcake Scones in last's month's issue of Better Homes and Garden (the original recipe for my Roasted Grape and Thyme Scones is also from that issue), and couldn't wait to make them.
I love strawberry shortcake. It's such a classic summertime dessert and invokes so many wonderful childhood memories of family barbeques. I thought it would be a delicious in scone format, and it most certainly is.
These Strawberry Shortcake Scones turned out beautifully. The fresh strawberries along with the cream in these tender flaky scones, is definitely reminiscent of strawberry shortcake. The recipe also calls for ricotta in the batter which make the scones extra tender.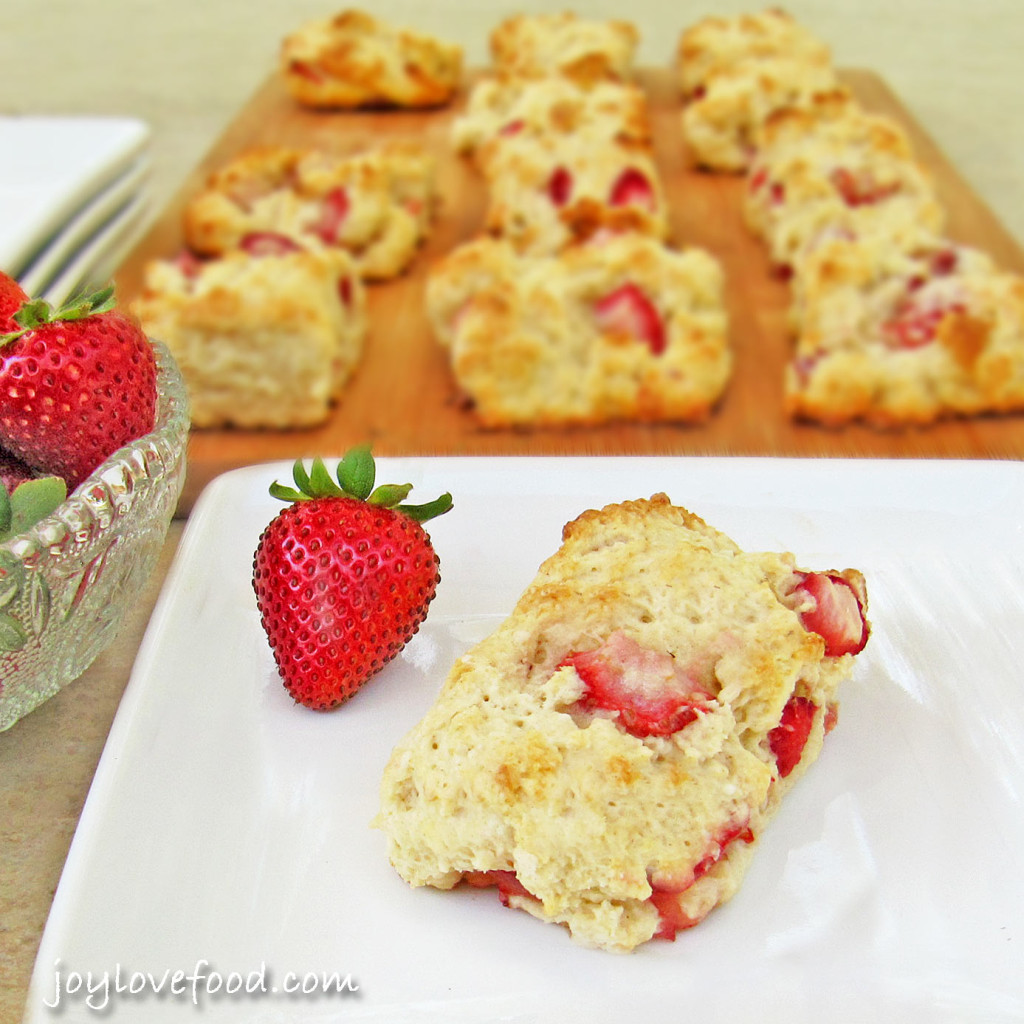 A Cute Story
On the subject of fresh berries, I have a cute story to share. Cereal is a favorite breakfast item in our house. When we go food shopping, I often let the kids pick out which cereals they would like (as long as they are low in sugar and don't contain artificial colors).
Last week, one of my girls picked out a new cereal, and when we got home she couldn't wait to try it. However, when I poured the cereal into her bowl, she became very upset and started crying. It turns out that there were fresh berries pictured on the box along with cereal. So, she was expecting fresh berries to be in the box along with the cereal. A reasonable expectation for an almost 3 year old, I think.
Luckily, I had some fresh strawberries, which I quickly added to her bowl and happiness was restored. And, now she's learned that just because something is pictured on the box, doesn't mean that it will be in the box!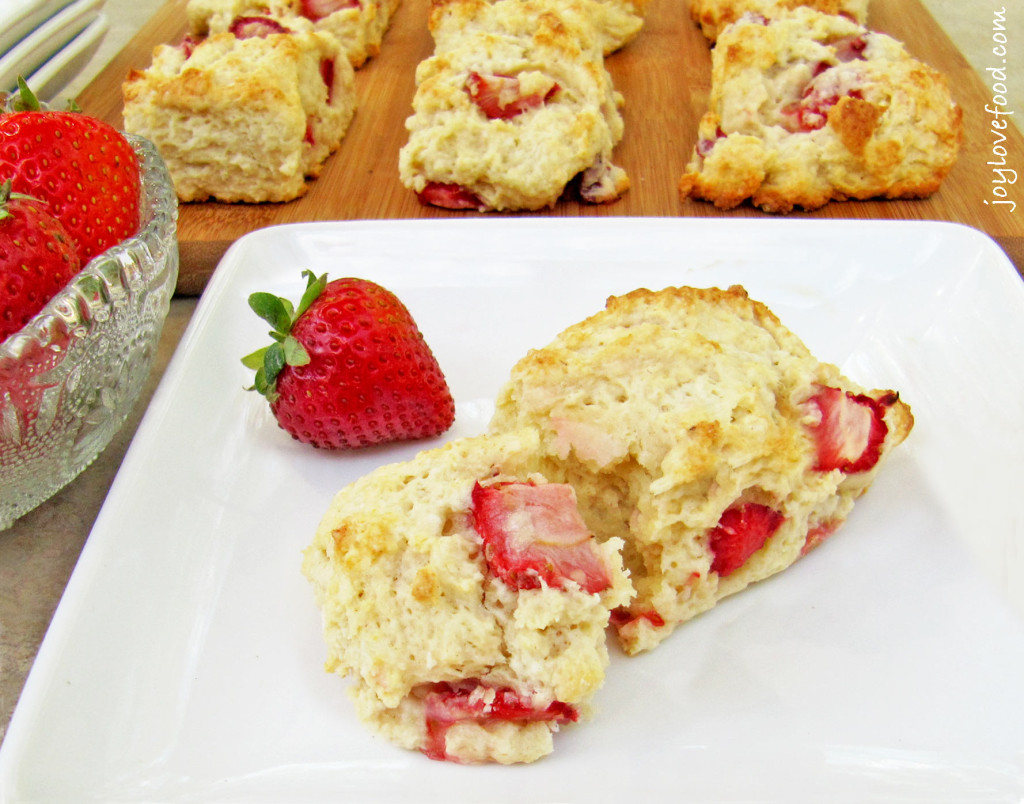 These Strawberry Shortcake Scones are delicious for breakfast with a cup of coffee. They are also wonderful as an afternoon snack along with a tall glass of iced tea or lemonade.
These pretty scones would also be a wonderful addition to a special brunch for a bridal shower, Memorial's Day or any day.
Strawberry Shortcake Scones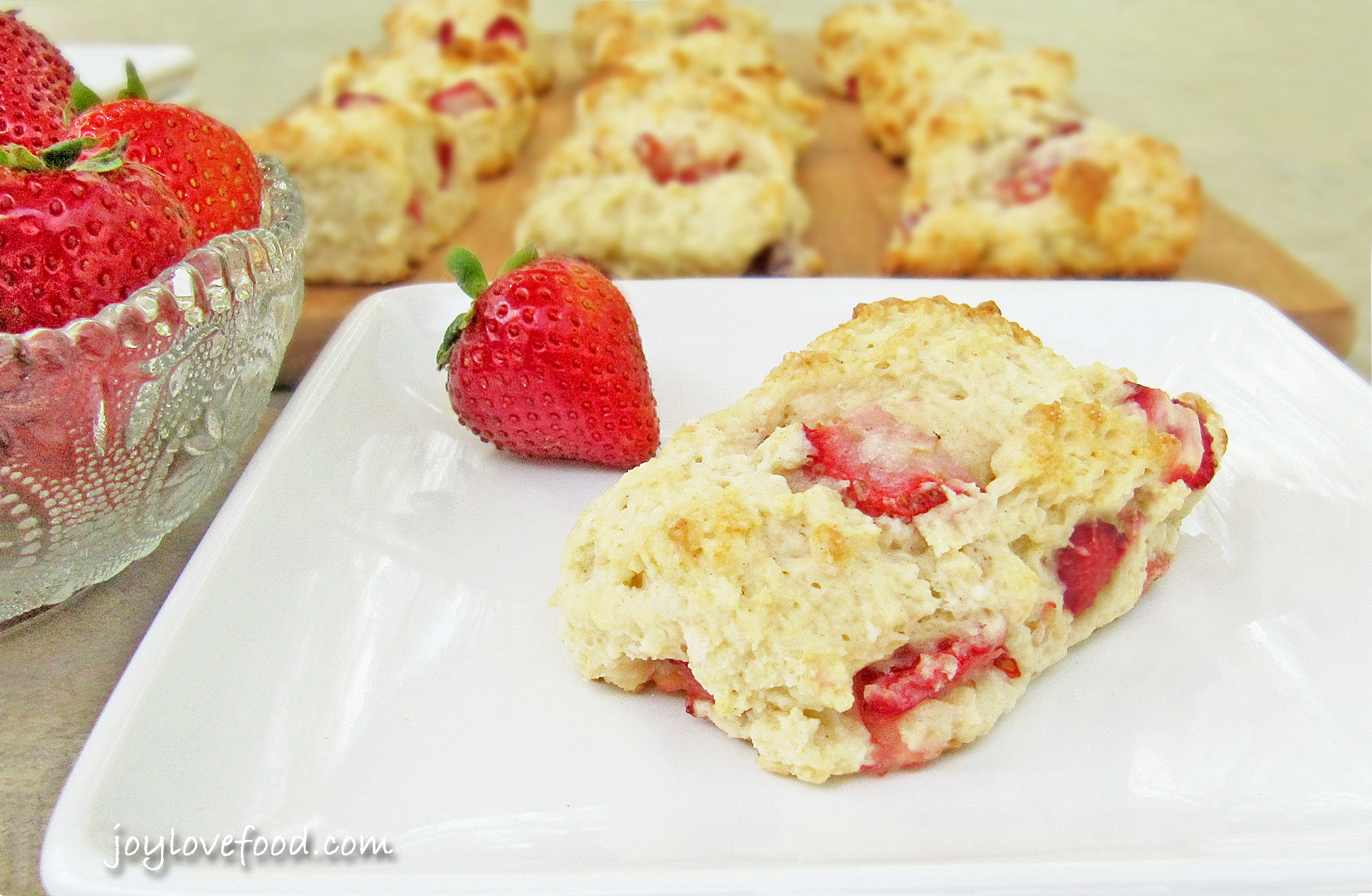 Strawberry Shortcake Scones -- the classic combination of strawberries and cream is delicious, in these tender, light and flaky scones.
Ingredients
1 cup chopped fresh strawberries
2 ½ cups plus 1 tablespoon all-purpose flour
3 tablespoons sugar
1 tablespoon baking powder
¼ teaspoon salt
6 tablespoons (3/4 stick) chilled unsalted butter, diced
1 egg
¾ cup whole milk ricotta cheese
¼ cup whipping cream
additional whipping cream for brushing
additional sugar for sprinkling
Instructions
Preaheat oven to 400°F. Line baking sheet with parchment paper.
In a small bowl, toss strawberries with 1 tablespoon flour.
In a large bowl, using a whisk, sift together 2 ½ cups flour, sugar, baking powder and salt.
Add butter and rub into flour mixture with fingertips until butter is reduced to the size of rice grains. Make a well in the flour mixture, set aside.
In a medium bowl, crack egg (discard shell), and lightly beat egg with a whisk. Whisk in ricotta cheese and whipping cream to blend.
Add egg mixture, all at once, to well in the dry ingredients; Add in strawberries and stir with a spoon until just combined.
Gather dough into ball with your hands and place on lightly floured surface. Knead for 10 – 12 strokes or until dough is nearly smooth.
Pat dough into an approximately 10 inch by 6 inch rectangle. Using a knife, cut into 12 approximately 2 ½ inch by 1 ½ inch rectangles.
Place rectangles, 2 inches apart, onto parchment lined baking sheet.
Brush scones with additional whipping cream and sprinkle with additional sugar.
Bake in the preheated oven about 15 - 20 minutes or until scones are golden brown and toothpick inserted into center comes out clean.
Remove scones from baking sheet, serve warm or cool to room temperature.
http://joylovefood.com/strawberry-shortcake-scones/
copyright 2016 | joylovefood.com