Jump to recipe
This pretty, bright green Chilled Sweet Pea and Mint Soup is perfect for a spring party or an easy and delicious light meal on a warm day.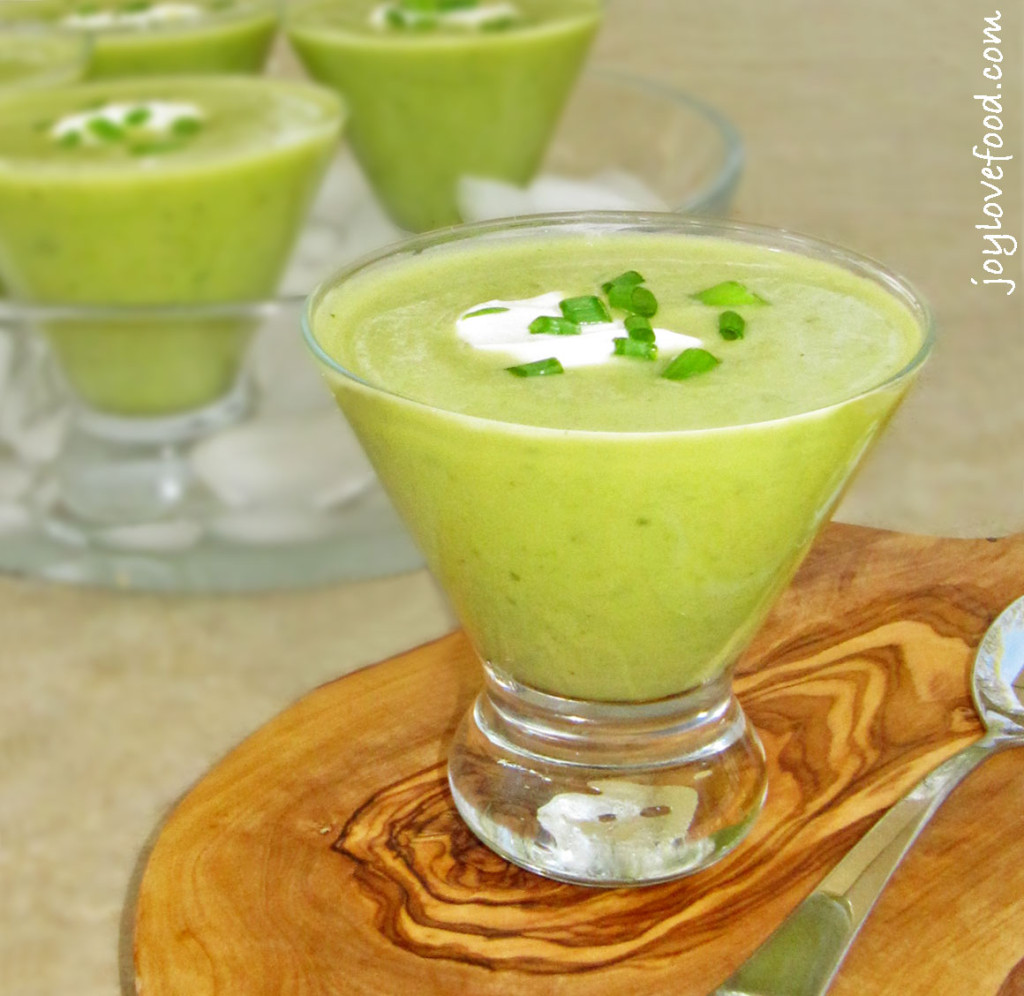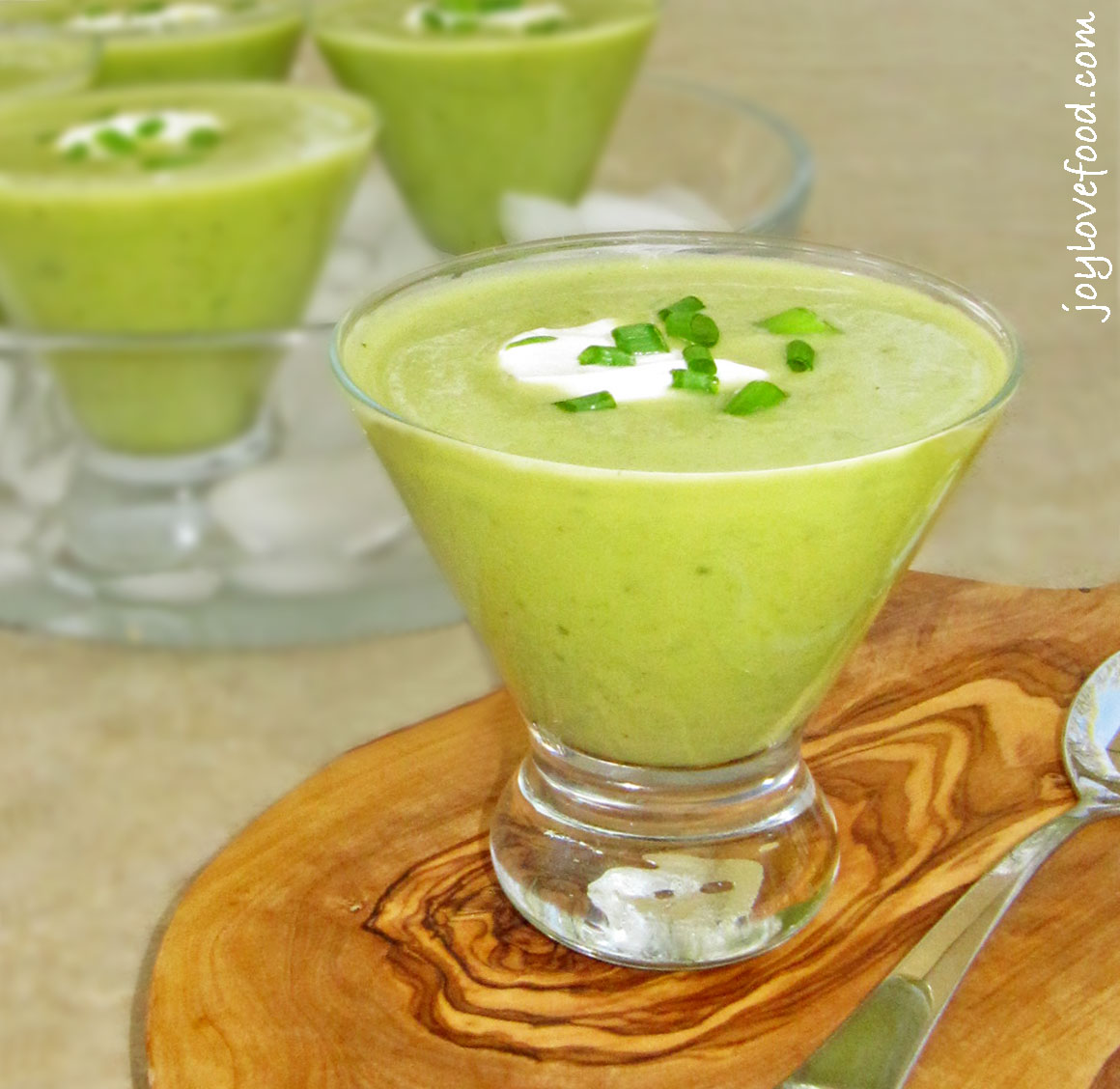 I'm delighted that the warm spring weather is finally here in New England and that it is now time for warm weather dishes. Last week, I shared one of my family's favorite pasta salads, this delicious Bacon Arugula Tomato and White Bean Pasta Salad. Another of my favorite warm weather dishes is chilled soups and today I'm sharing this wonderful Chilled Sweet Pea and Mint Soup.
This Chilled Sweet Pea and Mint Soup has a gorgeous vibrant green color, perfect for spring, and is light, refreshing, creamy and delicious.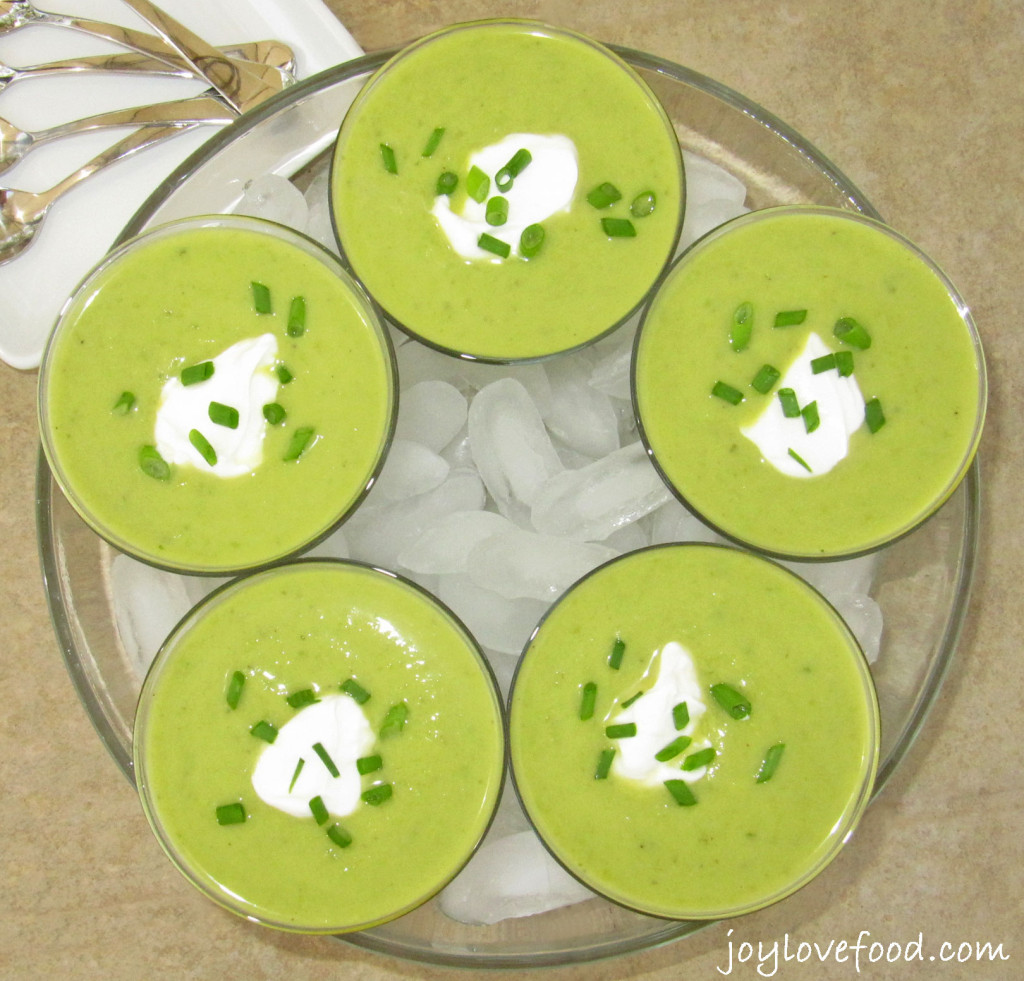 I came across the original version of this Chilled Sweet Pea and Mint Soup in this month's issue of Southern Living magazine. I love chilled soups and the combination of peas and mint, so I knew I had to make it. This Chilled Sweet Pea and Mint Soup was so easy to make and turned out beautifully.
The peas and mint complement each other nicely, sautéed leeks give the flavor a nice depth, and the addition of sour cream gives the soup a nice creaminess. Altogether this is a delicious, light, yet satisfying soup with a beautiful bright and inviting green color.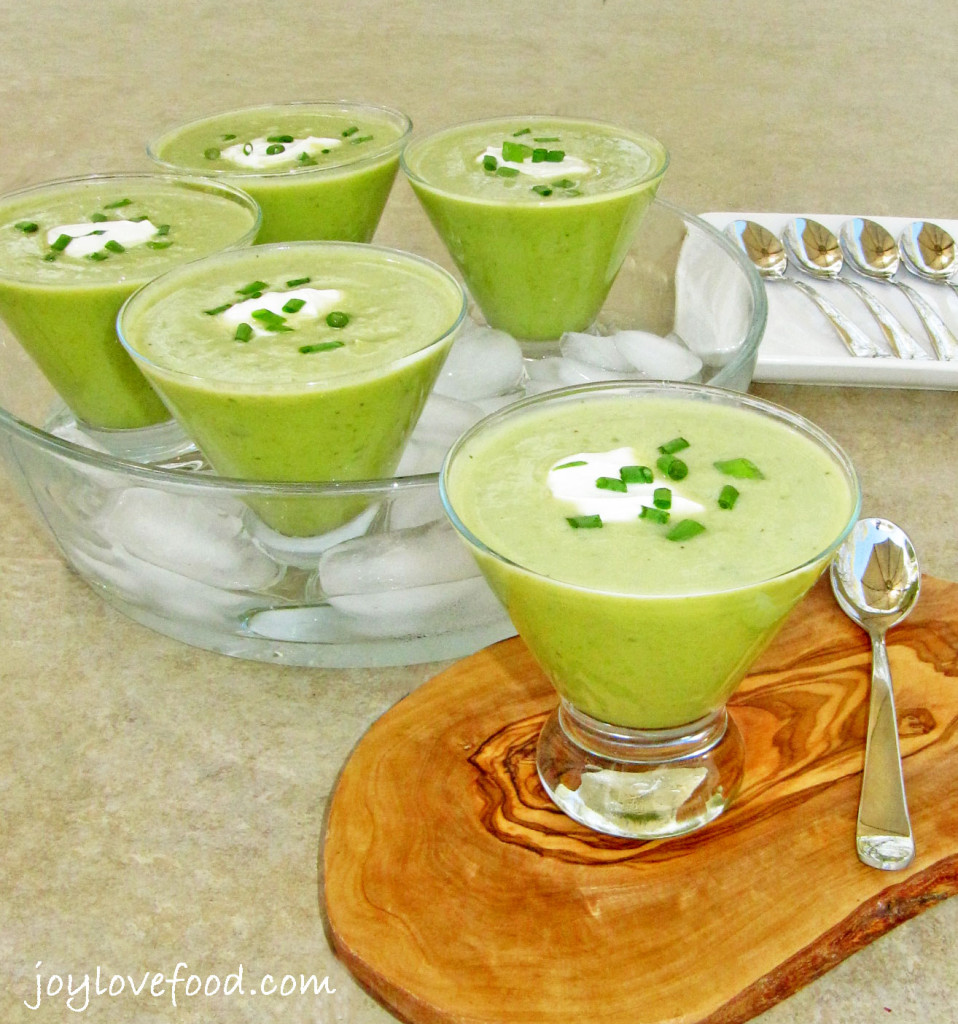 This Chilled Sweet Pea and Mint Soup looks so pretty served in small glasses and would add a nice pop of spring color to a buffet for a Memorial's Day barbeque, a graduation party or other spring event. Guests can easily hold the glasses and enjoy the soup while standing and mingling. If you do serve the soup this way, be sure to nestle the glasses in a shallow bowl filled with ice to keep the soup nice and chilled.
This pretty soup would also make an elegant first course for a sit down luncheon or dinner party. This Chilled Sweet Pea and Mint Soup is also wonderful for a light meal on a warm spring day or anytime!
Chilled Sweet Pea and Mint Soup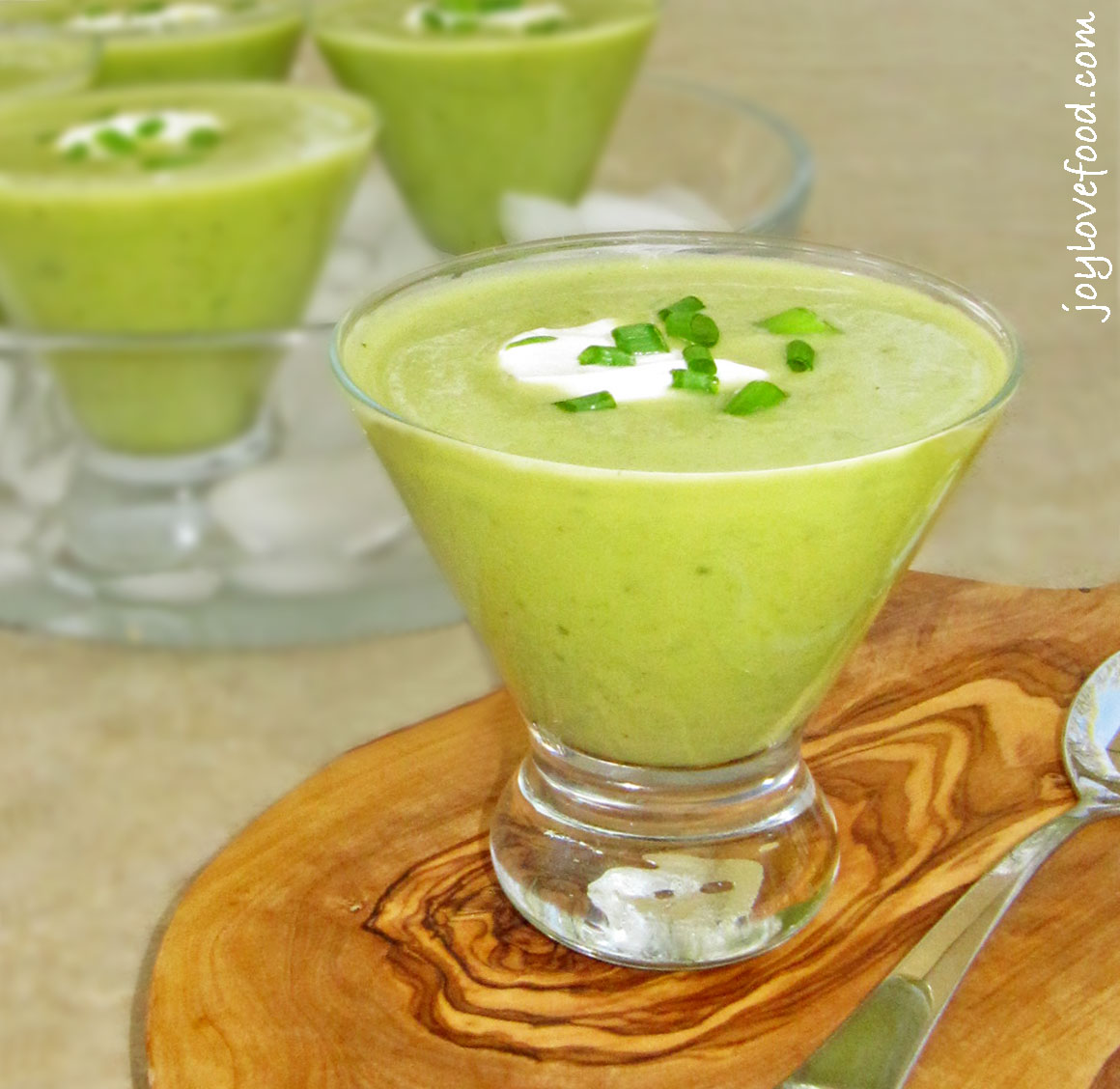 Notes
If you don't have a handheld emersion blender, you can transfer the soup to a blender or food processor to puree. Return pureed soup to sauce pan and continue with remaining steps.
Soup can be made up to 48 hours ahead of time.

Ingredients
2 tablespoons butter
4 leeks (white and light green parts only) rinsed, drained and chopped
1 (32 oz) container chicken broth or vegetable broth
1 (16 oz) package frozen sweet green peas
2 tablespoons fresh mint, chopped
2 teaspoons salt
¼ teaspoon freshly ground black pepper
1 cup light sour cream
additional light sour cream and sliced green onions for topping (optional)
Instructions
Heat butter in a large sauce pan or soup pot over medium-low heat, add leeks and cook, stirring occasionally, until tender, about 6-8 minutes.
Stir in chicken broth (or vegetable broth), increase heat to high and bring to a boil.
Add in peas and cook stirring occasionally, about 3 minutes or until peas are tender.
Remove pan from heat. Stir in mint, salt and pepper.
Using a handheld emersion blender, puree soup in slow cooker until smooth.
Add 1 cup sour cream and stir to combine.
Chill soup in refrigerator for at least 30 minutes, or until chilled
Serve soup and top each serving with a dollop of sour cream and a sprinkling of sliced green onions, if desired.
© 2023 copyright 2016 | joylovefood.com