Jump to recipe
Crock Pot Pork Posole with Cornbread Topping — a delicious hearty stew of pork, hominy and vegetables, with a wonderful cornbread topping that is made right in the slow cooker!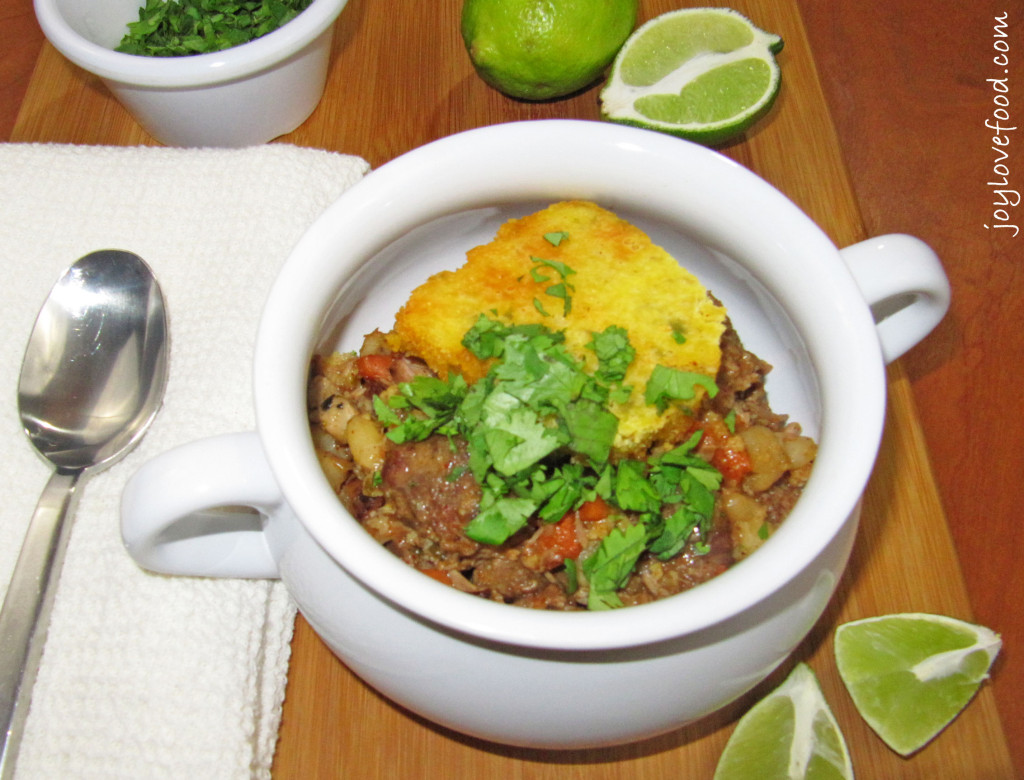 I took a break from comfort food with my last post to share a tasty healthy breakfast or snack option — Coconut Almond Chia Seeding Pudding. Today, I'm back to my comfort food theme with this wonderful and delicious Crock Pot Pork Posole with Cornbread Topping.
It is still very cold and snowy here in New England, so we certainly are still in need of some good comfort food. We had another snow storm this past Monday which brought us another foot of snow. Our snow total is now, since the initial Blizzard of 2015 two weeks ago, up to about 60 inches.
The best thing about all this snow, for me, is snow sports and other snow activities. This week I had the chance to go cross country skiing for the first time. We have cross country ski trails, right here in our town of Carlisle, at the Great Brook Ski Touring Center. The center is only about 5 minutes from my house, so it was about time I tried it out.
Cross country skiing was so much fun. It was a bright sunny day, and with all the snow, all the trails were open and the conditions were perfect.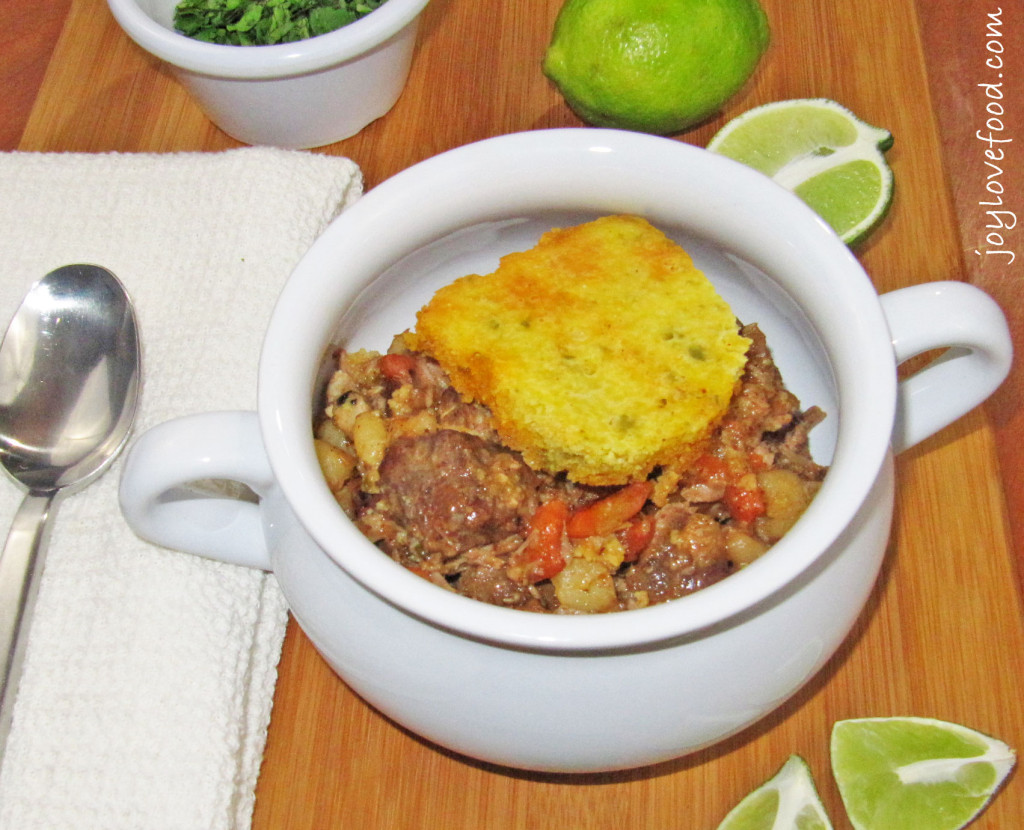 There is nothing better, after a long day of cross country skiing or other winter sport or activity, then coming home to a nice warm bowl of a delicious comfort food such as this Crock Pot Pork Posole with Cornbread Topping.
And, since this is a crock pot
meal, you can put everything together in the morning, it cooks all day and is ready for you when you come home. Even the cornbread topping is made right in the crock pot, so you don't have to bother with another pan or turning on the oven.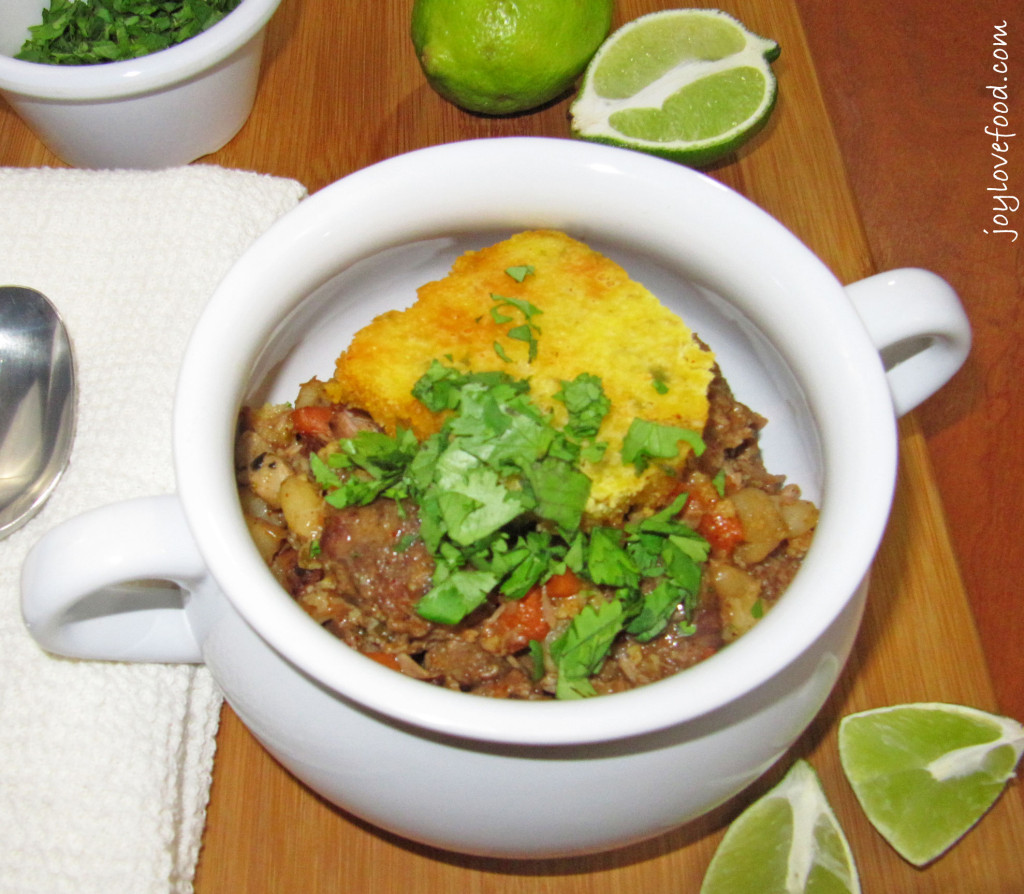 Posole is a traditional Mexican stew made with pork and hominy. Hominy is made from maize, or field corn. Hominy acts like a sponge and soaks up the flavors from whatever liquid that it's been cooking in, so it's wonderful in soups and stews like this posole.
This version of posole is made in the crock pot with pork, hominy, carrots, onions, and garlic and has a wonderful cilantro lime cornbread topping that cooks right in the slow cooker.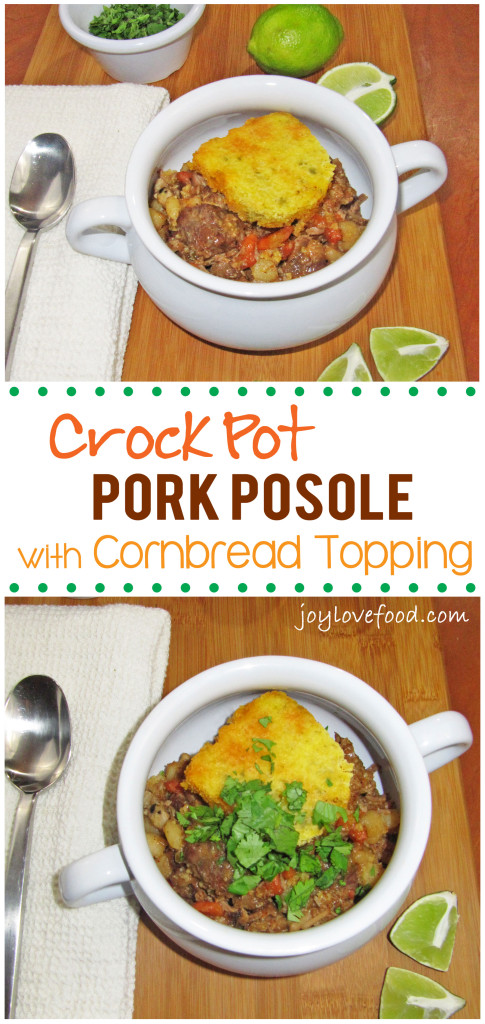 My whole family loves this Crock Pot Pork Posole with Cornbread Topping. The last time I made it, my 7 year old son gobbled up his first serving and immediately asked for seconds. One of my 2 1/2 year old daughters, kept saying, after each bite, "this is delicious!" and I have to agree, it really is so delicious.
This Crock Pot Pork Posole with Cornbread Topping is hearty, delicious and so satisfying, the perfect comfort food for a cold winter's day.
Crock Pot Pork Posole with Cornbread Topping

Cook Time
4 hours, 30 minutes
Total Time
4 hours, 30 minutes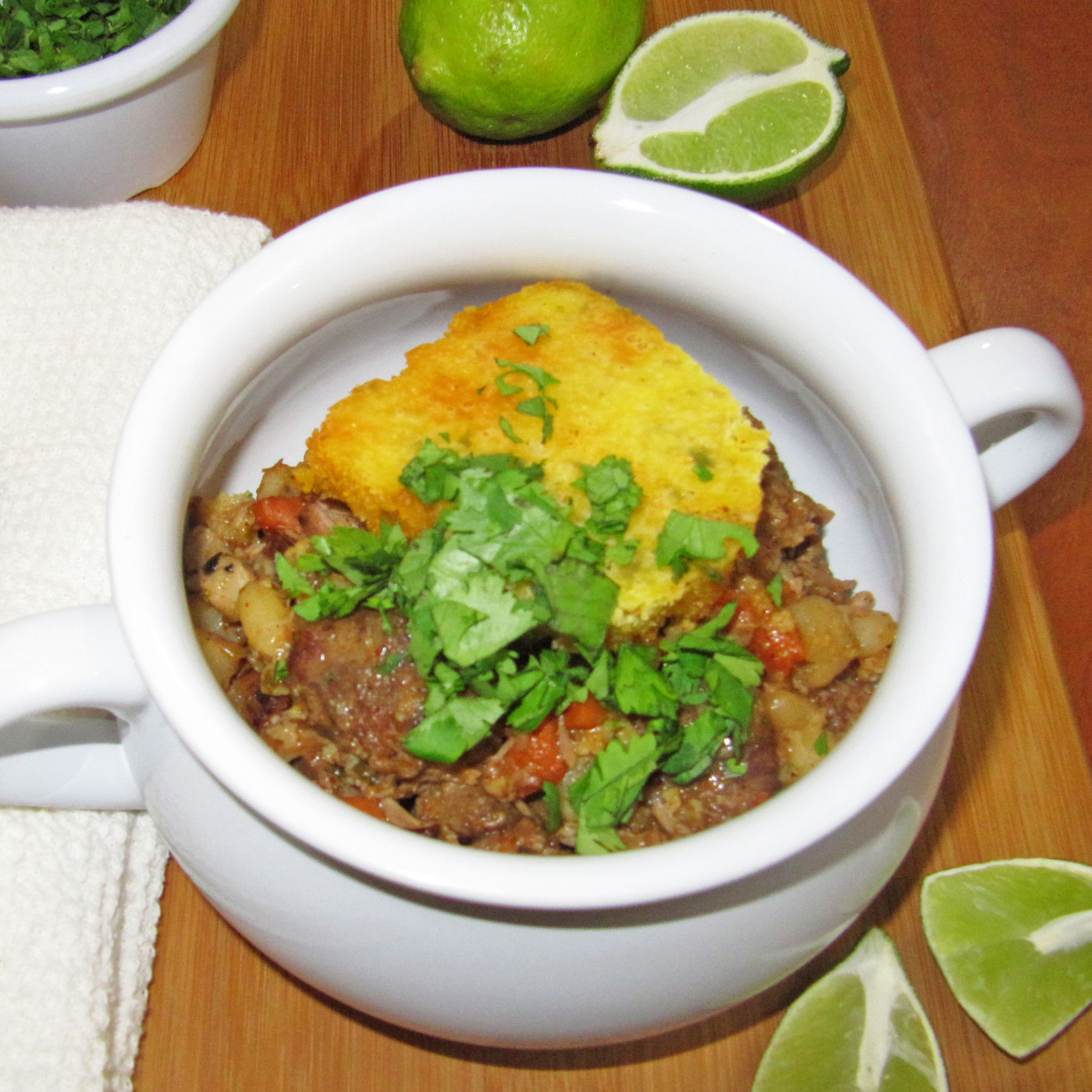 Ingredients
4 lb pork butt, trimmed and cut into 1 inch chunks
½ teaspoon salt
½ teaspoon freshly ground pepper
1 tablespoon vegetable oil
4 large carrots, cut into ¼ inch pieces
2 ½ cups diced onions (from about 1 ½ medium onions)
2 tablespoons flour
3 teaspoons chili powder
1 teaspoon dried oregano
4 garlic cloves, minced
1 ½ cups chicken broth
1 box (8.5 oz) corn muffin mix
2 eggs
¼ cup water
zest from 1 lime
1 teaspoon + 2 tablespoons chopped fresh cilantro, divided
juice from 1 lime (about 1 tablespoon)
1 (15 oz) can white hominy, drained and rinsed
additional chopped fresh cilantro for topping (optional)
Instructions
Pat pork chunks dry with a paper towel, to remove any excess moisture. Season pork with salt and pepper.
Heat oil in a large skillet over medium-high heat. Cook pork, in batches if necessary, stirring often for 5 minutes or until browned. Remove pork from skillet and place in 6-quart slow cooker.
Add carrots and onions to skillet, cook for 5 minutes stirring often.
Add flour, chili powder, oregano and garlic to skillet, stir to combine and cook for 1 minute. Remove carrot-onion mixture from skillet and add to slow cooker.
Pour chicken broth over mixture in slow cooker.
Cover slow cooker and cook on high heat for 4 ½ hours or on low heat for 6 ½ hours.
When there is 1 hour cook time remaining, in a medium bowl, stir together corn muffin mix, eggs, ¼ cup water, lime zest and 1 teaspoon cilantro.
Remove cover from slow cooker, add 2 tablespoons cilantro, lime juice and hominy to mixture in slow cooker and stir to combine.
Dollop corn muffin mixture over top of mixture in slow cooker. Drape a clean kitchen towel over slow cooker bowl then top with cover.
Cook for remaining hour or until cornbread topping is firm.
Serve pork posole with cornbread topping and top with additional chopped fresh cilantro if desired.
© 2023 copyright 2016 | joylovefood.com
Recipe adapted from Family Circle.
I love my 6-quart Crock Pot brand slow cooker! This is an affiliate link to similar models available at Amazon:
This post contains affiliate links for products that I personally recommend available at amazon.com. If you click on one of these links and end up making a purchase, your price will be unchanged, however I may receive a small commission. Please see my disclosure page for more information.