Jump to recipe
A cross between a French crepe and an American pancake, thin yet dense, Dutch Pancakes (Pannenkoeken) are a wonderful thing. This recipe comes courtesy of my husband, who was born and raised in Holland. He loves to make these Dutch Pancakes for a family breakfast on weekend mornings.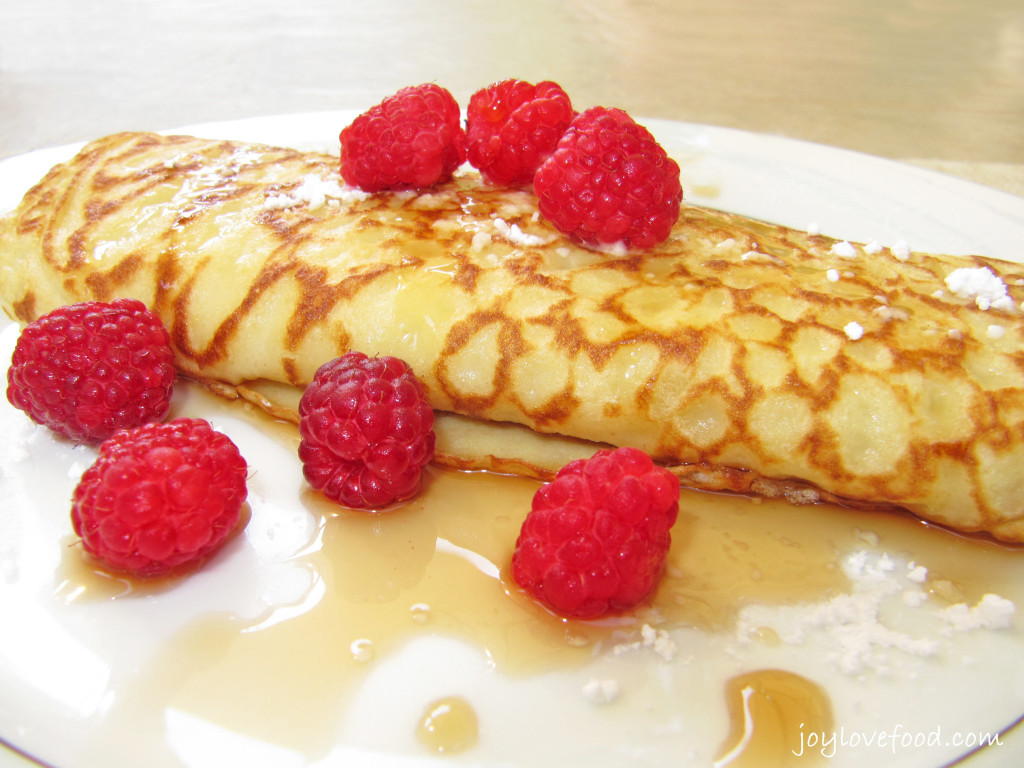 All of my husband's immediate family lives in The Netherlands. So, we've been over there a bunch of times to visit and to sightsee. One of our favorite things to eat, when we are over there, is Dutch pancakes and Holland is full of pancake restaurants. Pancakes in Holland are not just for breakfast, they have savory versions for lunch and even dinner.
One of the best things in the world to eat, is a savory Dutch pancake made with Dutch cheese and speck, served with a frosty mug of beer. You can't beat it, especially when enjoyed outside on the terrace on a sunny day.
They really should have Dutch pancake restaurants here in the US. But until then, you can make and enjoy your own Dutch pancakes at home. This recipe is for plain pancakes, with some suggested add-ins. My husband will often add apples or bananas to the batter. Or, you can go the savory route and add cheese (hard cheeses work best) and ham or bacon.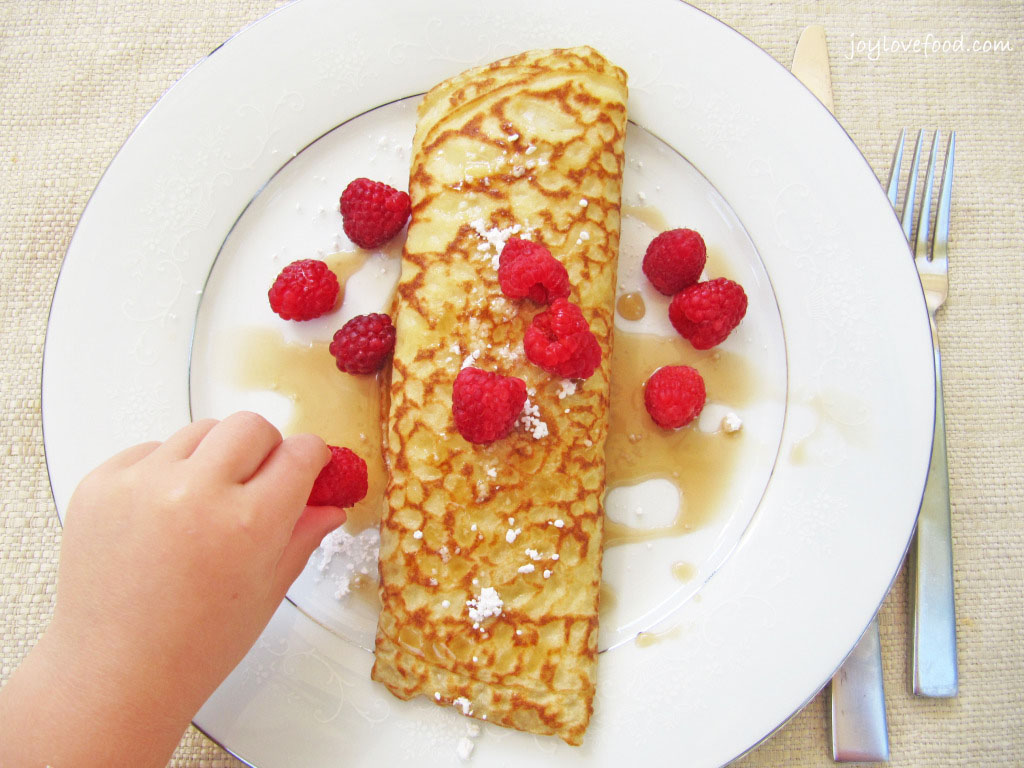 We like to eat these Dutch Pancakes rolled up. They are delicious when sprinkled with powdered sugar and drizzled with maple syrup. I like to top them with fresh fruit or berries.
The raspberries I used in the pictures here were freshly picked by me and the girls at Silferleaf Farm in Concord. The berries were so ripe and delicious that one of my girls couldn't resist stealing one mid photo.
Dutch Pancakes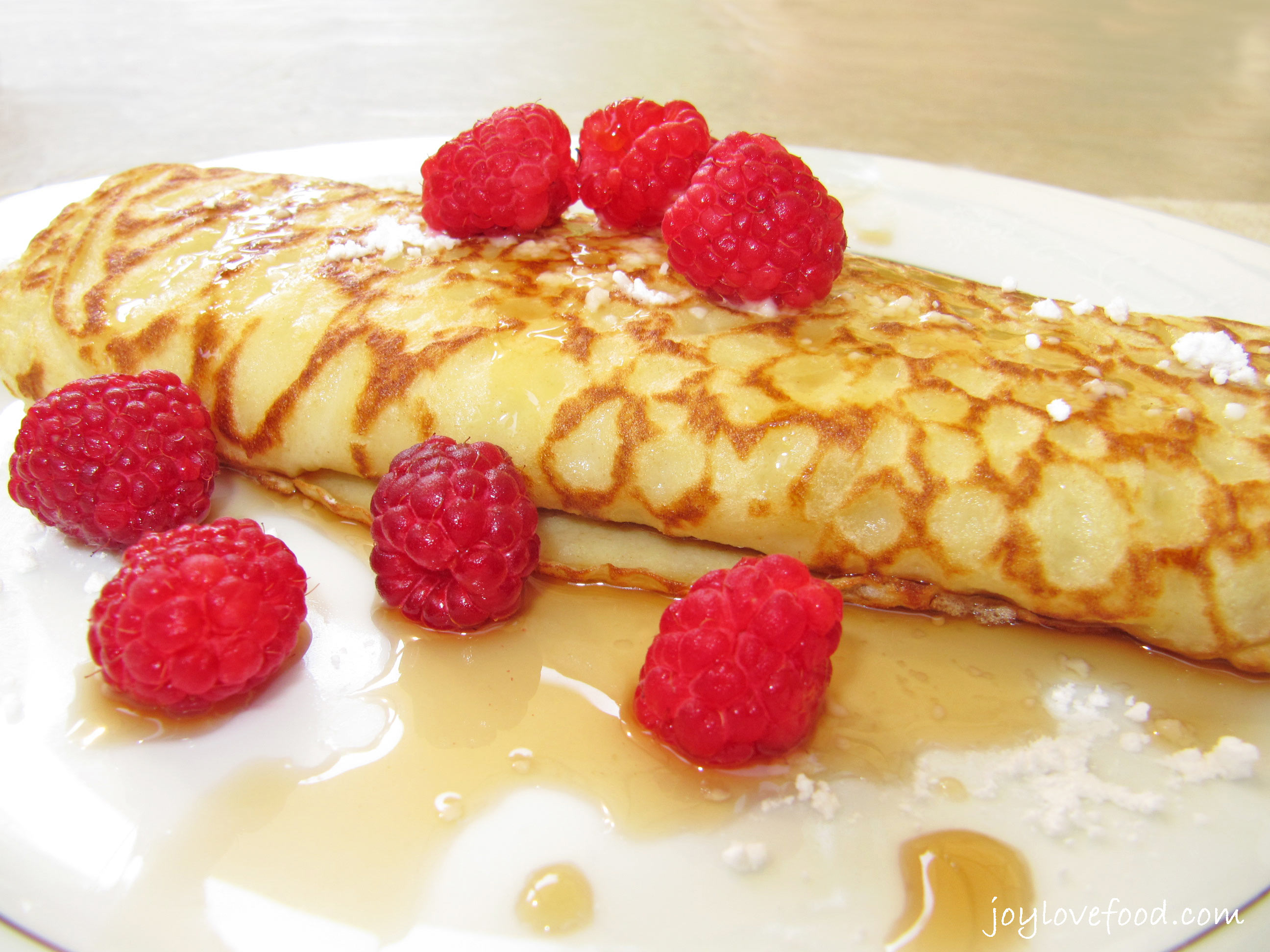 Notes
With the exception of cheese, if you're adding fruit or other ingredients, add them immediately after ladling the batter into the pan. When adding cheese, add as the batter starts to solidify.
For savory pancakes (dinner or lunch) experiment with combinations of ham and cheese, bacon and cheese, broccoli or spinach with cheese, or create your own...
For dessert pancakes, top plain pancakes with fruit and whipped cream or chocolate sauce.
Top cooked pancake with some confectioner's sugar and/or (maple) syrup.

Ingredients
Pancake Batter
2 cups flour (all white or any blend you like)
2 cups + 2 tbsp. milk
2 large eggs
1/2 tsp salt
Fruity Variations
Sliced Apples (e.g. Granny Smith) or
Sliced Banana or
Blueberry or
Topped with Strawberry and Whipped Cream or ...
Savory Variations
Grated Sharp Cheese (e.g. Old Amsterdam, Aged Gouda or Cheddar)
Bacon (cooked and chopped)
Broccoli (steamed and chopped)
Ham
Spinach
Instructions
For the batter:
Combine the flour and salt.
Mix the eggs into the flour.
Add milk slowly (about 1/2 cup at a time) while mixing, getting rid off any lumps in the batter.
For each plain pancake:
Lightly coat frying pan (non-stick or seasoned skillet) with butter (Pam spray works well) over medium-high heat.
Ladle 1/2 cup of batter into frying pan, coating the bottom evenly.
Flip the pancake once all batter solidifies and brown the other side (~15-30 seconds).
© 2023 copyright 2016 | joylovefood.com