A slice of these delicious, cheerful, little Orange Sunshine Mini Loaves is sure to brighten your day.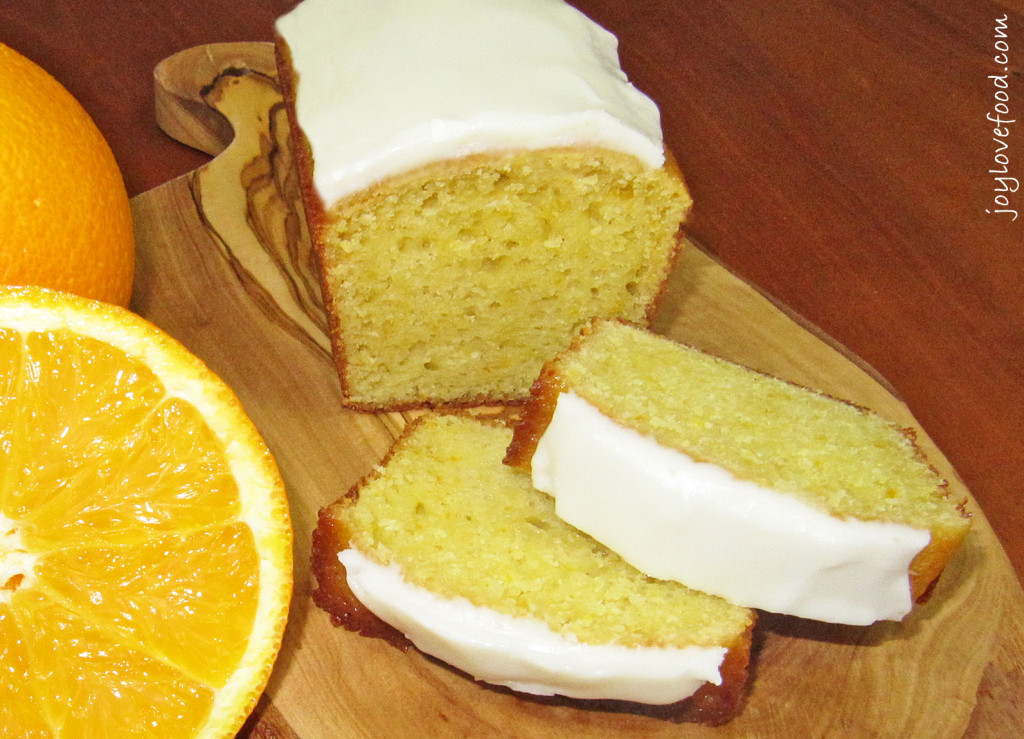 Here's a fun fact about me — my last name is Mooiweer, it is Dutch, and it literally translates into "nice weather" (mooi = nice, weer = weather). We Mooiweers, have a saying, that "Wherever we go, we bring the nice weather!" Funny, right?
Anyway, for that to be true now, your idea of nice weather would have to be, below freezing temperatures and over six feet of snow. Mine certainly isn't! I don't mind the snow, it's the cold that I'm getting tired of and I am dreaming of warm sunny days.
Since spring is still many weeks of away, I have to settle for baking something warm and cheerful. I really loved the Lemon Blueberry Mini Loaves, that I made a little while back, so I decided to make another quick bread using citrus — this time I decided to use orange.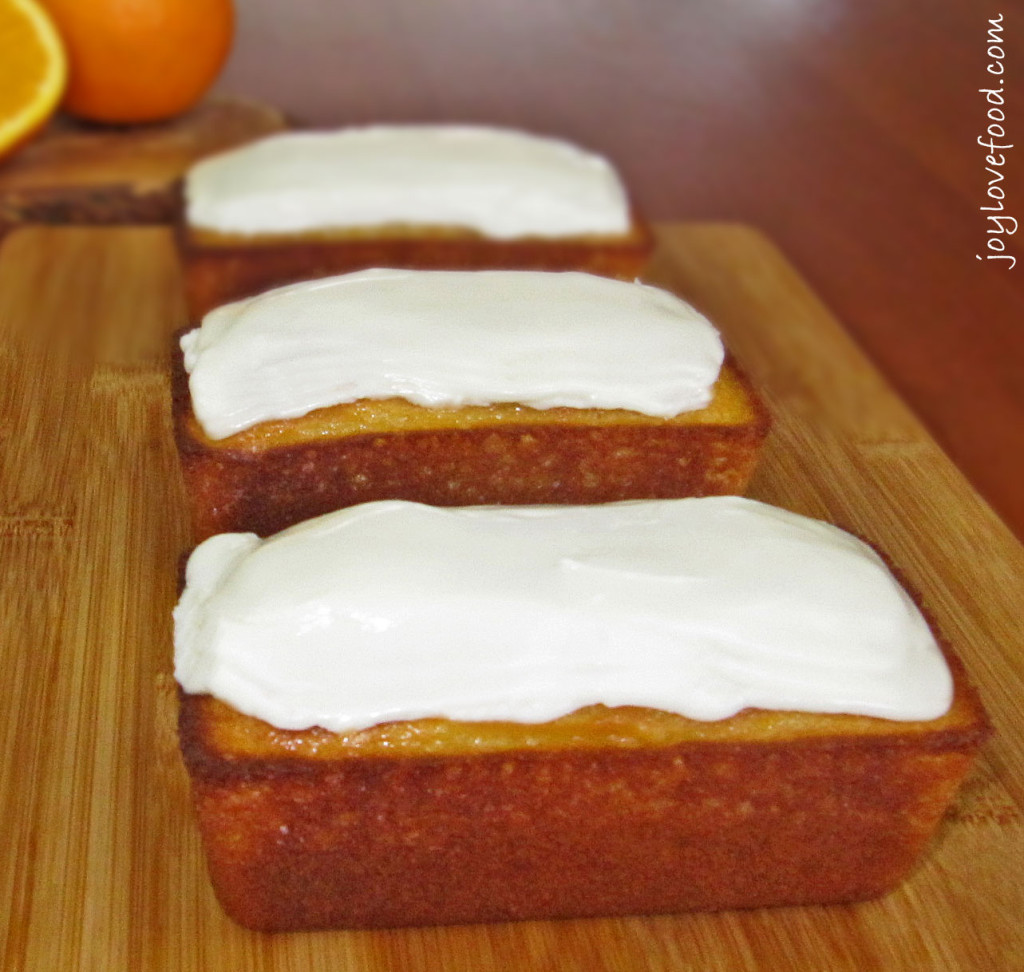 I found this recipe for an Orange Sunshine Loaf from Canadian Living. It sounded wonderful and, I really loved the name. After making my version, I can say, the name is appropriate, these loaves, really are little rays of sunshine. I made a few changes, mainly subbing light sour cream for yogurt and I made mini loaves rather than one larger loaf.
I'm still loving the mini loaves, they are just so cute. And, I discovered, a slice of a mini loaf, fits perfectly in the palm of one of my twin 2.9 year old girls' hands.
Here is an affiliate link to the exact set of mini loaf pans that I purchased from Amazon last December.
I really love these pans, the loaves always come out perfectly. And best of all, these pans are seamless, which means there are no little crevices for food to get stuck into. I have that problem with some of my larger loaf pans with seams, food is always getting stuck in the crevices and I find myself trying to clean them with a toothpick, which is not fun at all. So, I highly recommend these pans.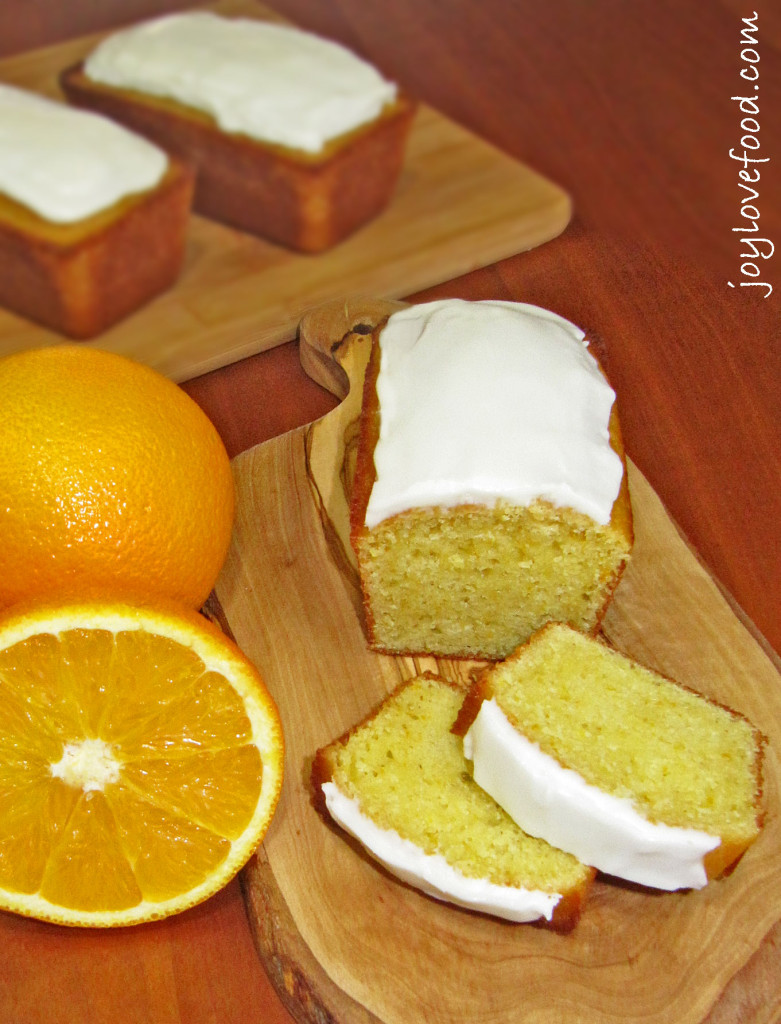 A slice or two of these delicious Orange Sunshine Mini Loaves is perfect in the morning with a cup of coffee or tea, or any time of day when you are craving a little bit of sunshine.
Orange Sunshine Mini Loaves
A slice of one of these delicious, cheerful, little Orange Sunshine Mini Loaves is sure to brighten your day.
Ingredients
for the mini loaves:

3 eggs
¾ cup granulated sugar
1/3 cup vegetable oil
2 teaspoons vanilla
1 ½ cups all-purpose flour
1 tablespoon grated orange zest (from about 1 orange)
1 ¾ teaspoon baking powder
½ teaspoon baking soda
¼ teaspoon salt
2/3 cup light sour cream
¼ cup orange juice

for the glaze:

4 teaspoons orange juice
½ cup + 2 tablespoons powdered sugar
Instructions
Preheat oven to 350°F. Lightly grease three (3) 5 ¾ inch x 3 inch loaf pans.
In a large bowl, using an electric mixer, beat together eggs and sugar until well combined.
Add in vegetable oil and vanilla and beat to combine
In a medium bowl, whisk together flour, orange zest, baking powder, baking soda and salt.
Add flour mixture, alternating with sour cream, to egg mixture, in 3 additions of flour and 2 additions of sour cream, beginning and ending with flour mixture, mixing well after each addition.
Add in orange juice, stir to combine.
Spoon batter into greased loaf pans, filling each pan about ¾ of the way full. Bake in preheated oven for 28-32 minutes or until a tester inserted into the middle of a loaf comes out clean.
Cool pans on wire racks for 10 minutes.
Remove loaves from pans, place on rack and cool completely.
To make glaze, whisk together 4 teaspoons orange juice with powdered sugar; gradually adding sugar by tablespoon.
Spread glaze evenly over loaves with spatula or knife.
Notes
This recipe can be used to make one 8 ½ x 4 ½ x 2 ½ inch loaf. Increase baking time to 40-45 minutes or until tester inserted into the middle of the loaf comes out clean.
http://joylovefood.com/orange-sunshine-mini-loaves/
copyright 2016 | joylovefood.com

This post contains affiliate links for products that I personally recommend available at amazon.com. Please see my disclosure page for more information.