Slow Cooker Chicken Curry – a bowl of this delicious, wonderfully fragrant, creamy chicken curry is sure to warm you up on a cold winter's day.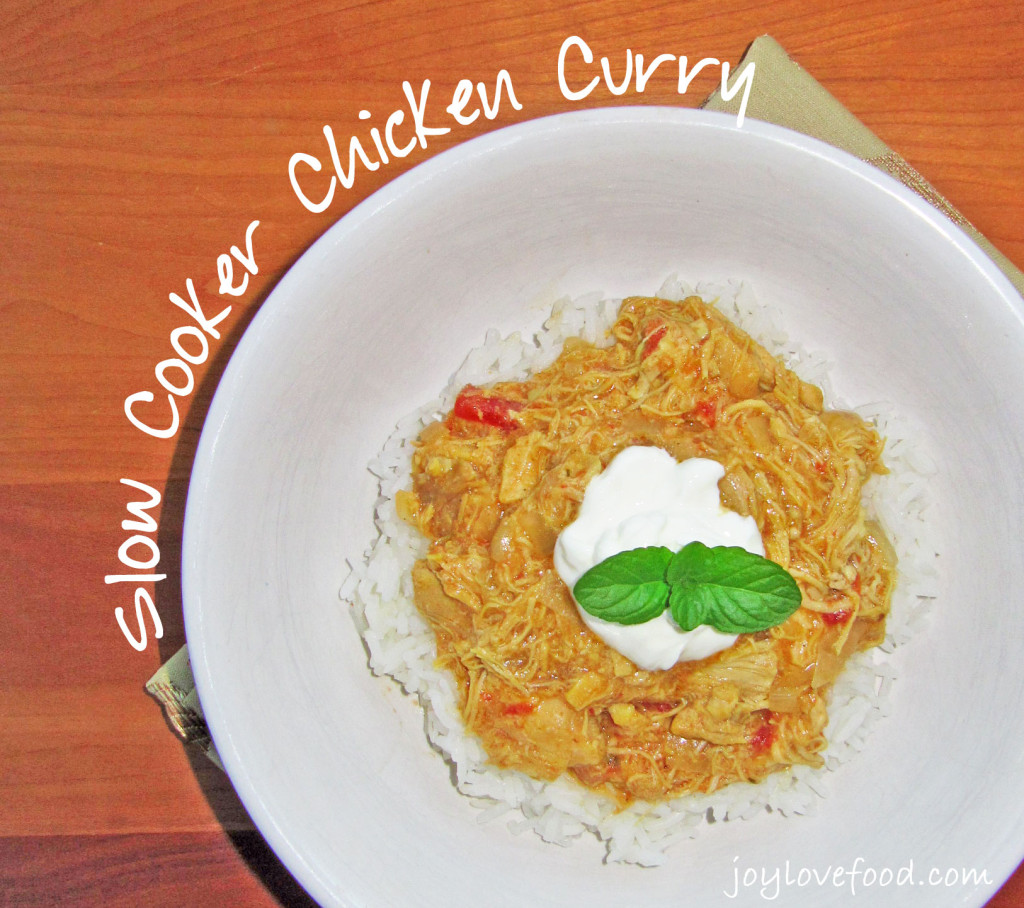 We are in the midst of a very cold and snowy winter, here in New England, and so it's not surprising that I've been focusing lately on comfort foods. Last week I shared my family's favorite soup – Italian Wedding Soup, and earlier this week I shared my husband's recipe for a traditional Dutch comfort food — Dutch Hutspot.
The comfort food theme continues today with another of my family's favorites – Slow Cooker Chicken Curry. I definitely think of curry as comfort food, especially when it is a creamy curry, such as this one. This curry gets it's creaminess from a mixture of coconut milk and Greek yogurt. It is so delicious and I love that it is easy to make and is made in the slow cooker.
On a related side note, I happened to catch an episode of The Taste the other day and the challenge was comfort food. Chef Marcus Samuelsson, who I love (see my Shrimp Piri Piri post), selected chicken curry for his team to make. So, I definitely am not alone in viewing chicken curry as comfort food.
I love all the wonderful spices in this Slow Cooker Chicken Curry. And it is so easy to make, you put everything in the slow cooker and then let it simmer away for hours, filling your house with the delicious scents of cinnamon, cumin and ginger.
The fresh mint added to the sauce at the end really adds a wonderful layer of flavor and freshness to the dish. I like to add a dollop of yogurt to each serving and some additional fresh mint is nice sprinkled on top.
Slow Cooker Chicken Curry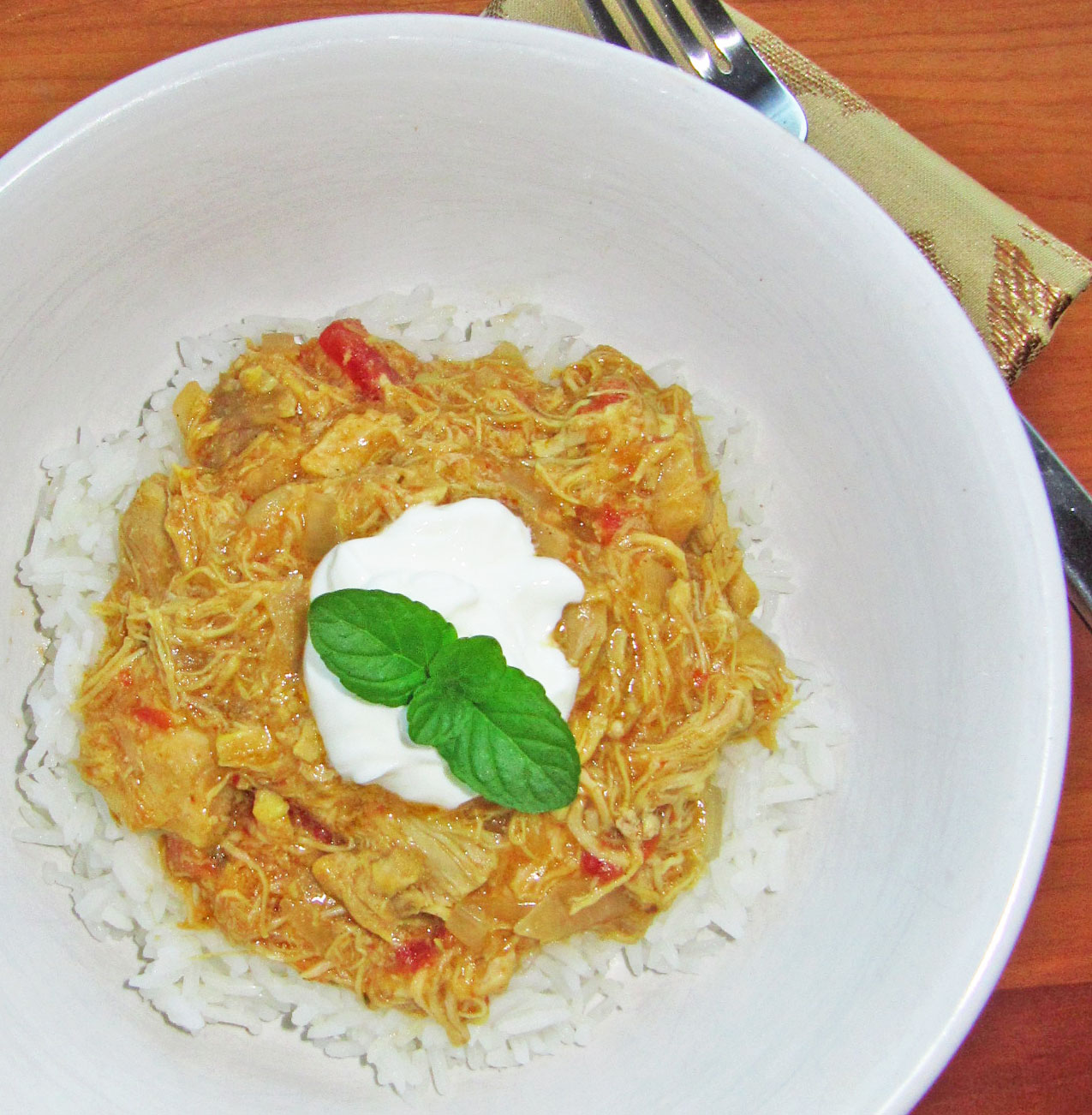 Ingredients
2 ½ lbs boneless chicken thighs
1 cup chopped onion
2 garlic cloves, minced
1 tablespoon minced fresh ginger
1 teaspoon salt
2 bay leaves
1 cinnamon stick
2 teaspoons curry powder
2 teaspoons ground coriander
1 teaspoon ground cumin
½ teaspoon ground turmeric
1/8 teaspoon ground allspice
1 (14.5 oz) can diced tomatoes, undrained
1 (13.5 oz) can coconut milk
½ cup plain Greek yogurt
2 tablespoons chopped fresh mint leaves
2 tablespoons water
2 tablespoons cornstarch
hot cooked rice for serving
additional chopped fresh mint leaves for topping (optional)
additional Greek yogurt for topping (optional)
Instructions
Trim fat from chicken thighs and place in 5-6 quart slow cooker.
Add onion, garlic, ginger, salt, bay leaves, cinnamon stick, curry powder, coriander, cumin, turmeric and allspice to slow cooker.
Pour diced tomatoes and coconut milk over mixture in slow cooker.
Cover and cook on low heat for 7-8 hours or high heat for 3-4 hours or until chicken is fork tender.
Remove chicken from slow cooker and shred with two forks on cutting board.
Remove bay leaves and cinnamon stick from sauce in slow cooker, discard.
Create a slurry by whisking together, in a small bowl, water and cornstarch until cornstarch is dissolved.
Add slurry, Greek yogurt and chopped mint to slow cooker and stir to combine. Cover slow cooker and cook on high for 5 minutes or until sauce is thickened.
Return shredded chicken to slow cooker and stir to combine with sauce.
Serve chicken and sauce over rice and top with a dollop of yogurt and chopped fresh mint leaves if desired.
http://joylovefood.com/slow-cooker-chicken-curry/
copyright 2016 | joylovefood.com

I adapted this recipe from one of my favorite slow cooker cookbooks, Southern Living: Slow-Cooker Cookbook
, and made this recipe in my 6-quart Crock Pot brand slow cooker, which I love. These are affiliate links to the cookbook and similar Crock Pot models available at Amazon: