Jump to recipe
Italian Wedding Soup – a bowl of this delicious and hearty soup is sure to warm you up on a snowy winter's day!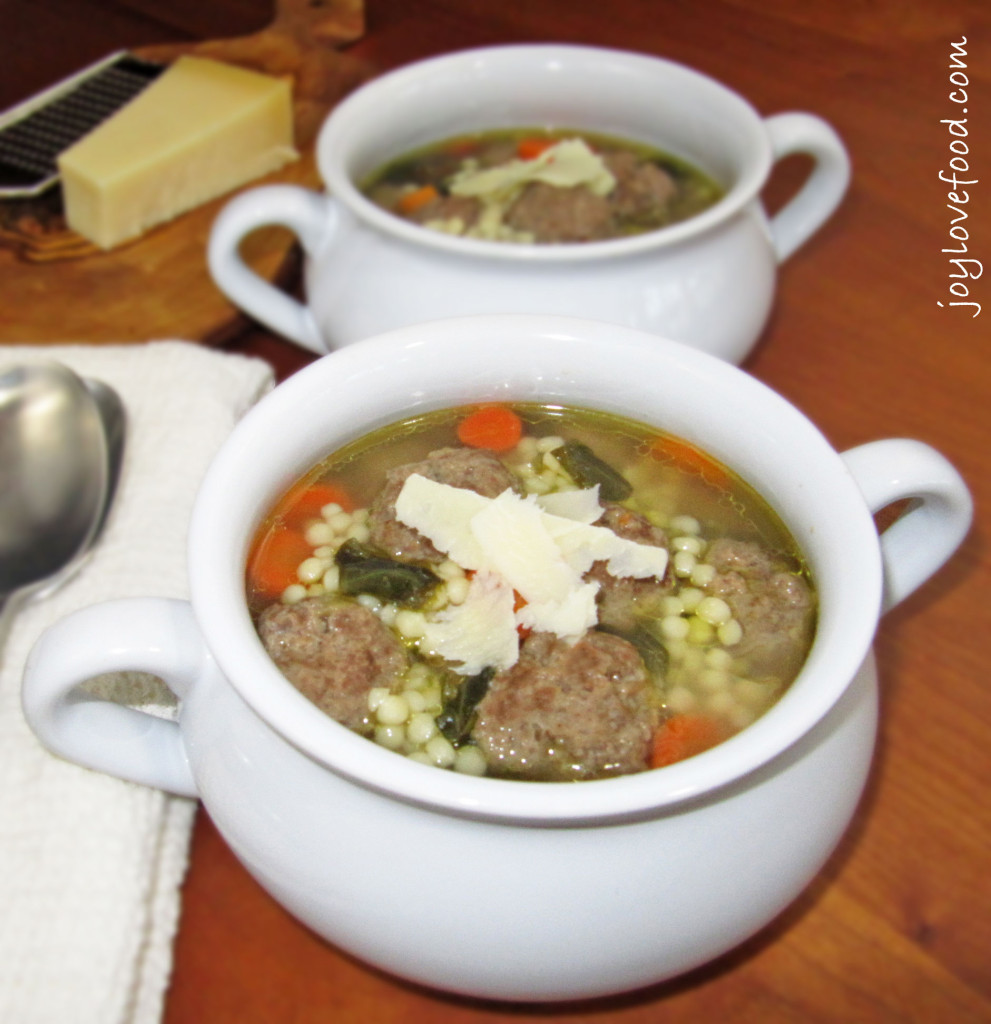 We received 28 inches of snow this past Tuesday and Wednesday, during the Blizzard of 2015, also known as Snowmageddon 2015 (love that name!). And we are getting even more snow as I sit here writing this on Friday morning. Well, there is nothing better after a long day of snow blowing, snow shoveling, snow angel making and sledding in the snow then a big bowl of hot soup!
January is National Soup Month, and I realized that I hadn't posted a soup recipe yet this month. So, with two days left in January, I decided to post my family's favorite soup — Italian Wedding Soup. Everyone in my family, both kids and adults, loves this soup. I love that with the meatballs, pasta and all the veggies, it is a meal unto itself.
I like to make a big batch, so we can have it for dinner one night and I can freeze the rest and we get at least another meal out of it. Also, it's nice to have a container of this in my freezer, that I can pull out for the kids to have, when I'm making something for dinner that only the adults will like.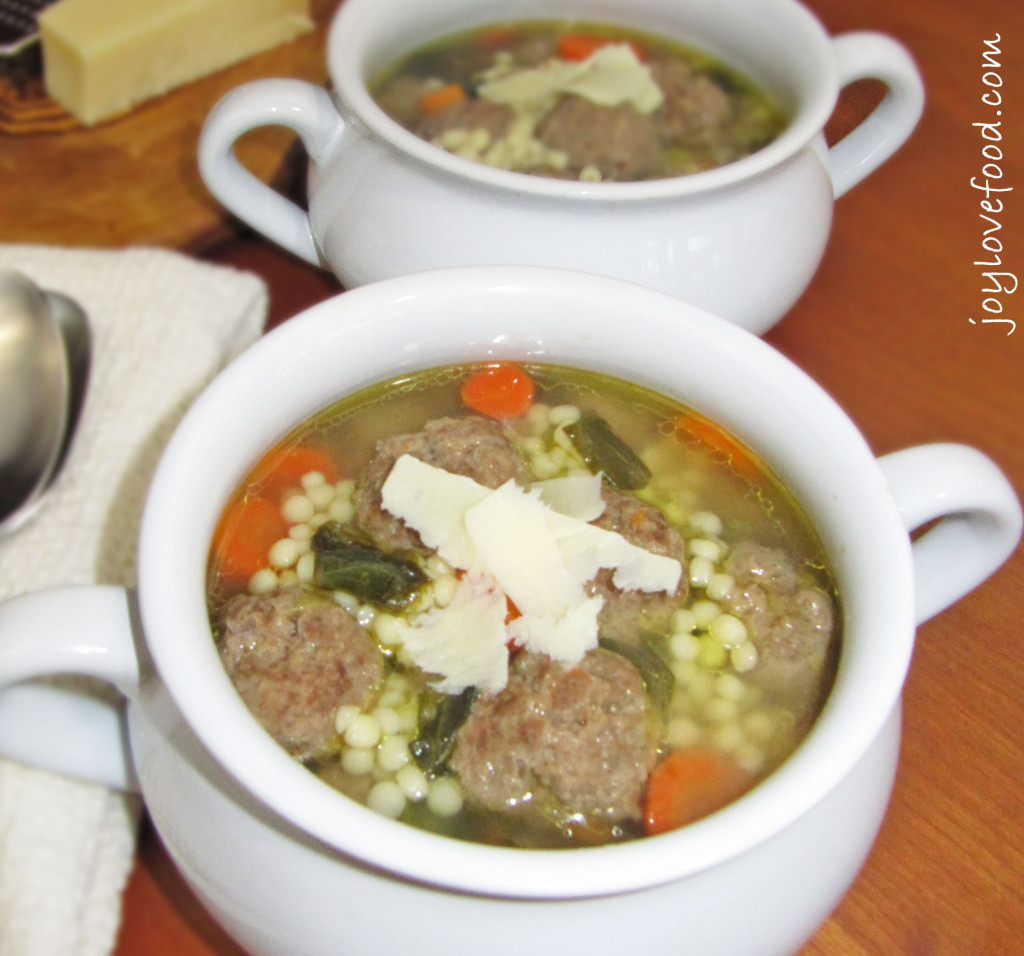 The meatballs are the star of this soup, in fact I often call it Meatball Soup, which was one of the very first posts I did when I started Joy Love Food last September. The main difference between the two soups, is the type of pasta.
For the Meatball Soup, I used Ditalini pasta which is a small tubular pasta. I started using Ditalini, back when my twin girls were starting to feed themselves for the first time, because it is the perfect shape for little fingers to pick up using the pincher grasp.
Now my girls are 2 and 1/2 and are experts at eating soup with a spoon, so I've switched back to using Acini de Pepe, which is a very small pasta, kind of like little beads, and my son's preferred shape for Italian Wedding Soup.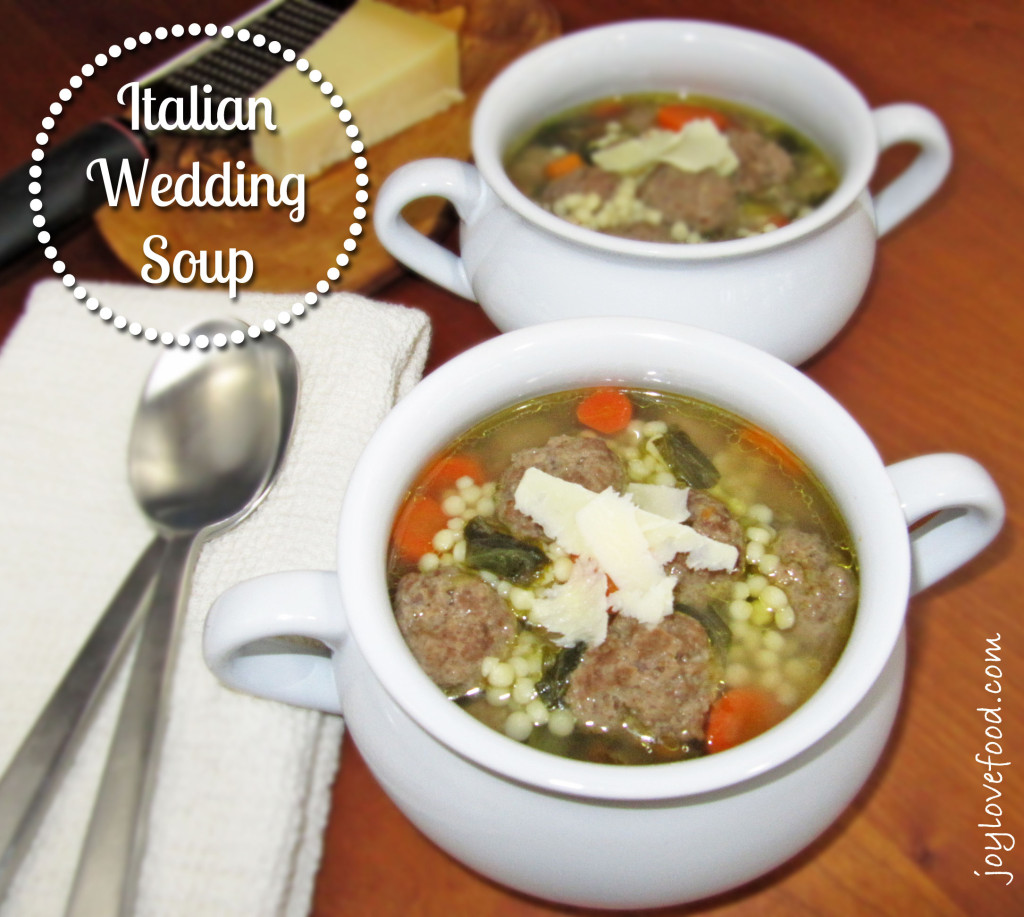 A bowl of this delicious Italian Wedding Soup is perfect for a cozy meal on a cold winter's day. Quite frankly, it's perfect anytime of year, we love soup at my house and I make this year round.
What is your family's favorite soup? Let me know in the comments below!
Italian Wedding Soup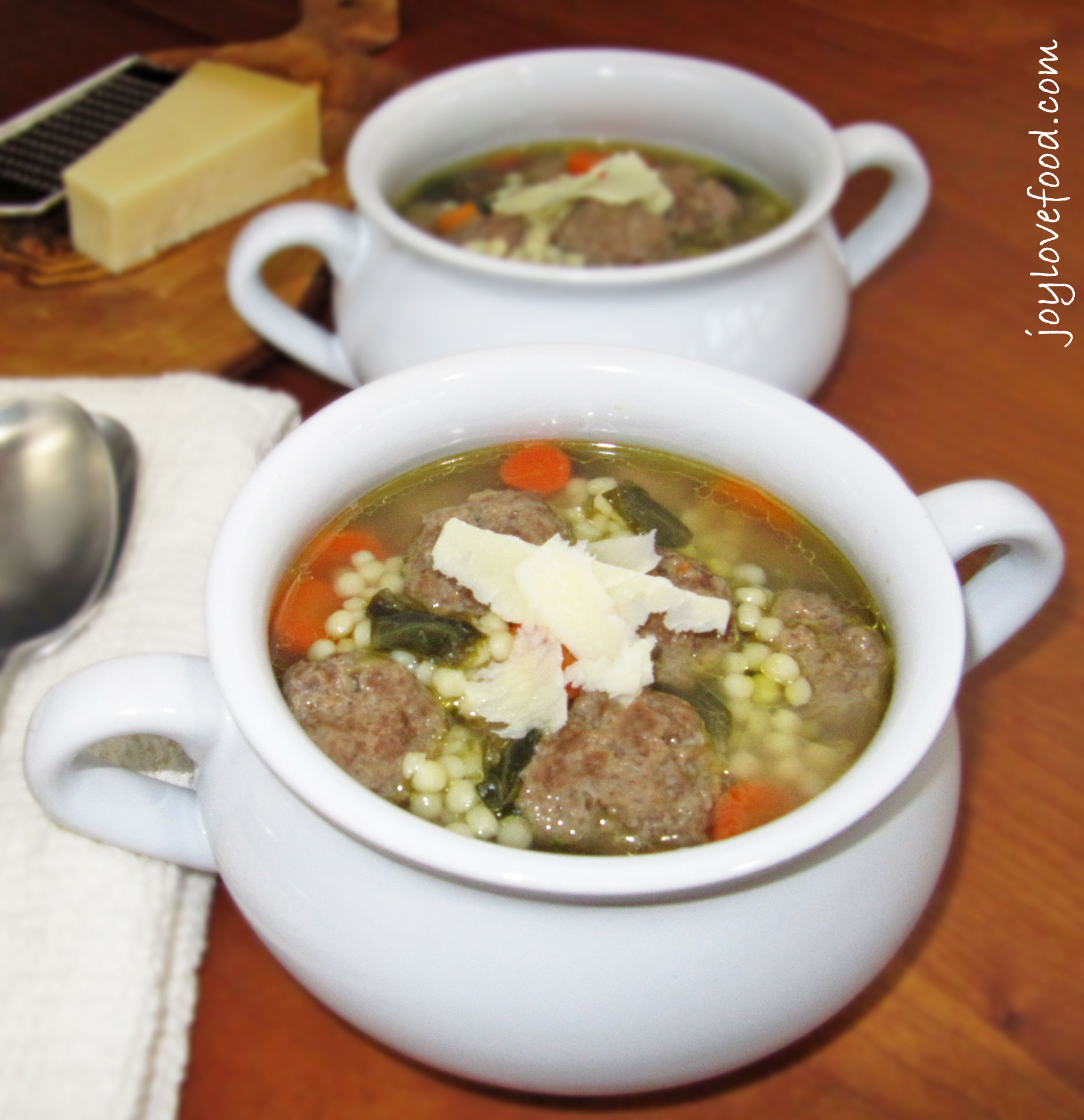 Notes
Leftover soup freezes well.

Ingredients
2 ½ pounds lean ground beef
½ cup dry bread crumbs
¼ cup milk
1 ½ teaspoons salt
½ teaspoon freshly ground pepper
12 cups chicken broth
1 small bunch escarole, leaves torn or sliced into 1 inch x ½ inch pieces (~ 4 cups packed)
1 ½ cups carrots, sliced into ¼ inch rounds (from about 4 carrots)
1 cup uncooked Acini di Pepe pasta
freshly grated Parmesan cheese (optional)
Instructions
In a large mixing bowl, combine ground beef, bread crumbs, milk, salt and pepper. Shape mixture into 3/4 inch balls.
In a large soup pot, heat chicken broth on high heat until boiling. Add escarole, carrots and meatballs. Return to boil, then reduce heat to medium or medium low and boil gently for 10 minutes.
Add pasta to soup pot and return soup to a boil. Reduce heat again to medium or medium low and boil gently for an additional 10 minutes or until pasta is al dente, stirring occasionally to prevent pasta from sticking.
Serve soup, sprinkle with freshly grated Parmesan cheese if desired.
© 2023 copyright 2016 | joylovefood.com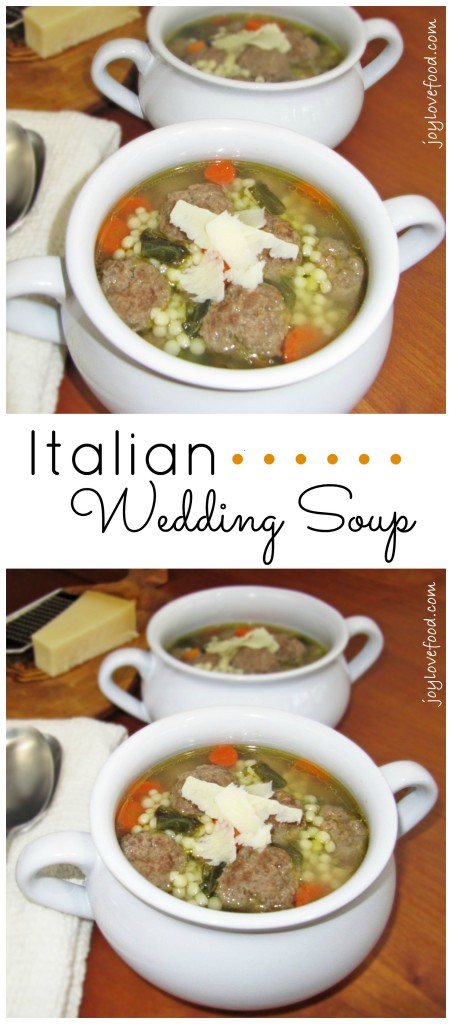 This recipe is featured at:
My 2 Favorite Things on Thursday