Jump to recipe
Creamy, sweet and a little bit spicy, these delicious Blueberry Ginger Smoothies are packed full of antioxidants and fiber, and are perfect for a healthy breakfast or snack anytime.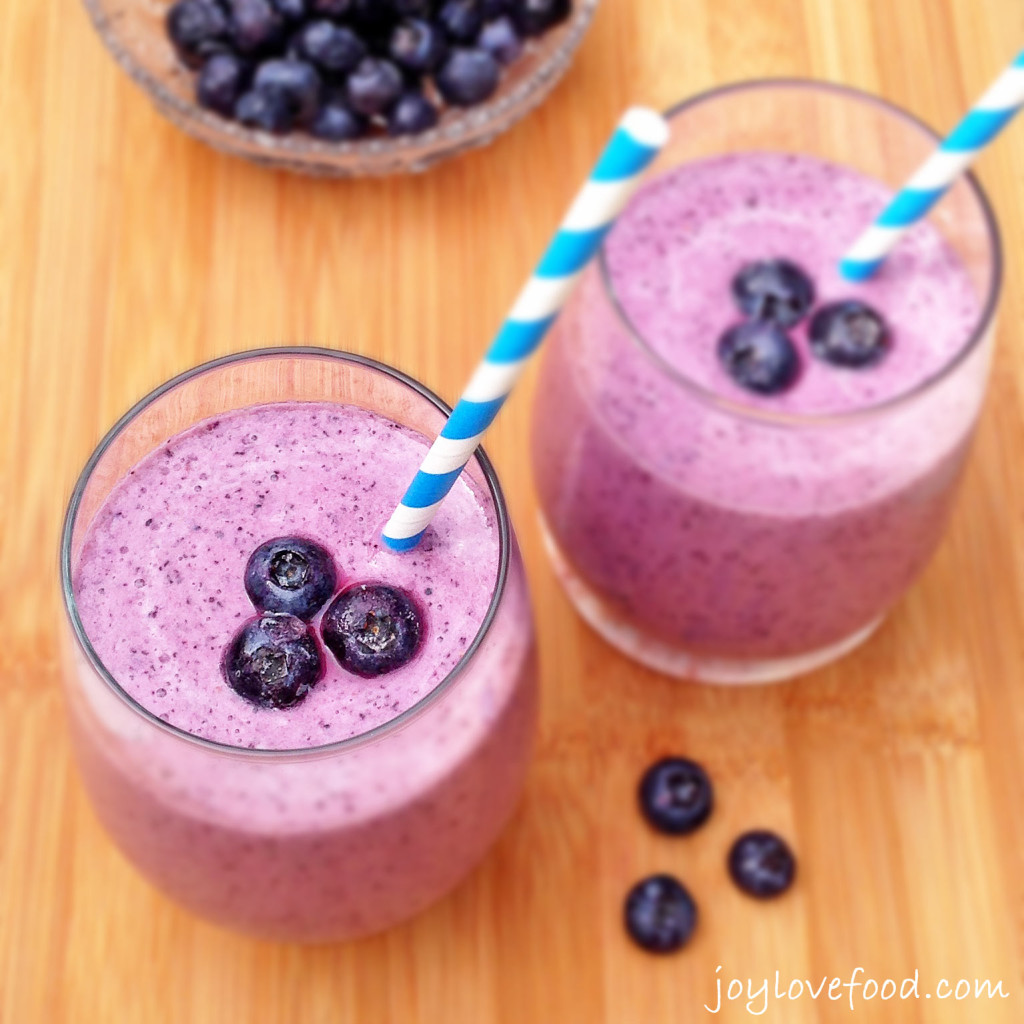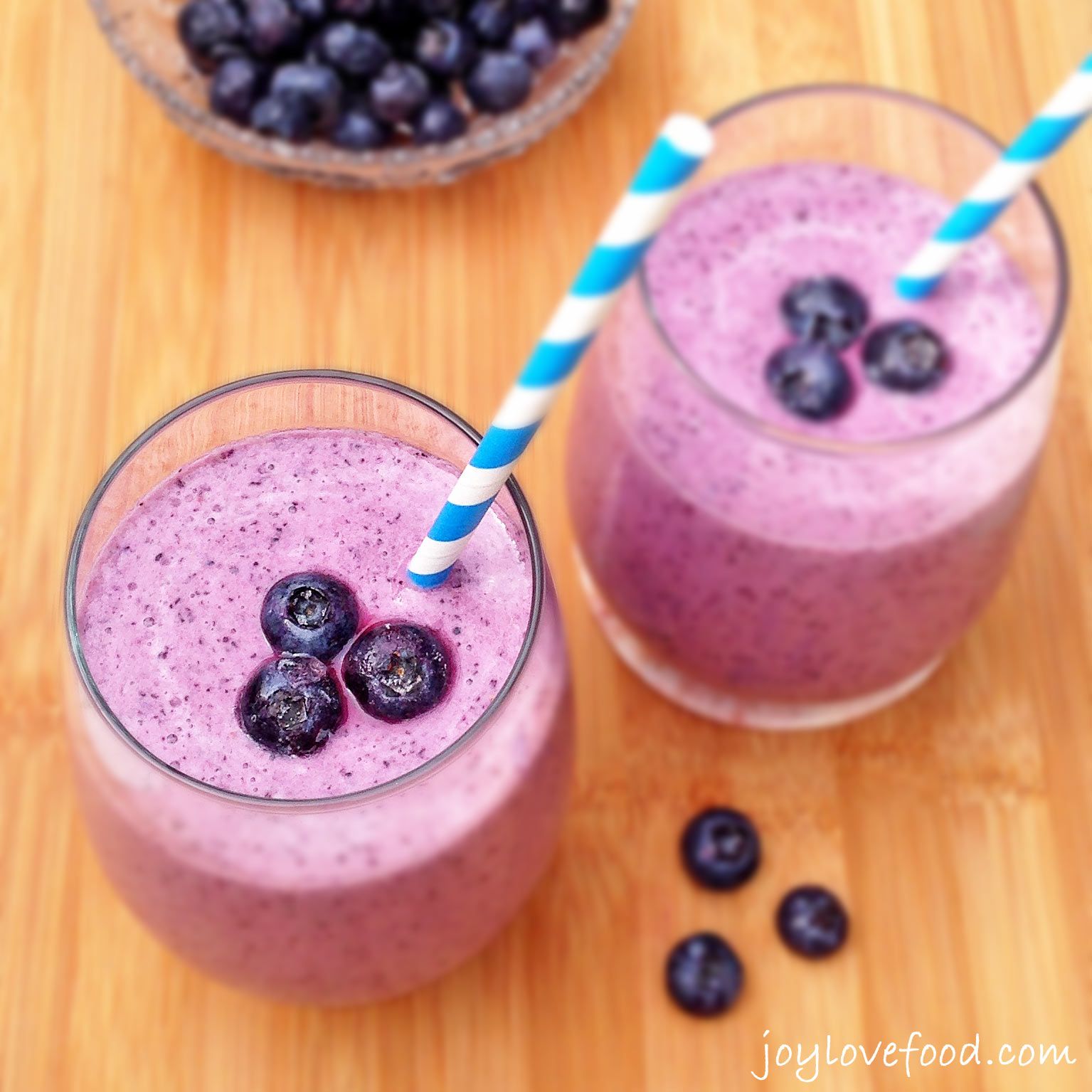 I love smoothies of all kinds and have shared some of my favorites here including my Chocolate Banana Chia Seed Smoothies and my Strawberry Banana Chia Seed Smoothies. Today I'm sharing a new favorite, these delicious, energizing Blueberry Ginger Smoothies.
I love blueberries and ginger, they both have many health benefits. Blueberries are high in antioxidants, fiber and vitamin C. Ginger aids in digestion and boosts metabolism, plus I find that just the smell of fresh ginger fills me with energy.
I love the combination of blueberries and ginger and thought they would go well together in a smoothie. I had some fresh ginger to use up, left over from making Rainbow Carrot Slaw with Ginger Sesame Dressing and some blueberries in the freezer, from a batch that was too tart to enjoy on it's own, so I had my chance. After a quick Internet search, I decided to adapt this recipe from PureWow.
These Blueberry Ginger Smoothies are so delicious — creamy and sweet with a little bit of a spicy kick. The sweet, tart and tangy blueberries go so well with the spiciness of the ginger, honey provides additional sweetness and vanilla extract and cinnamon complement the flavors nicely.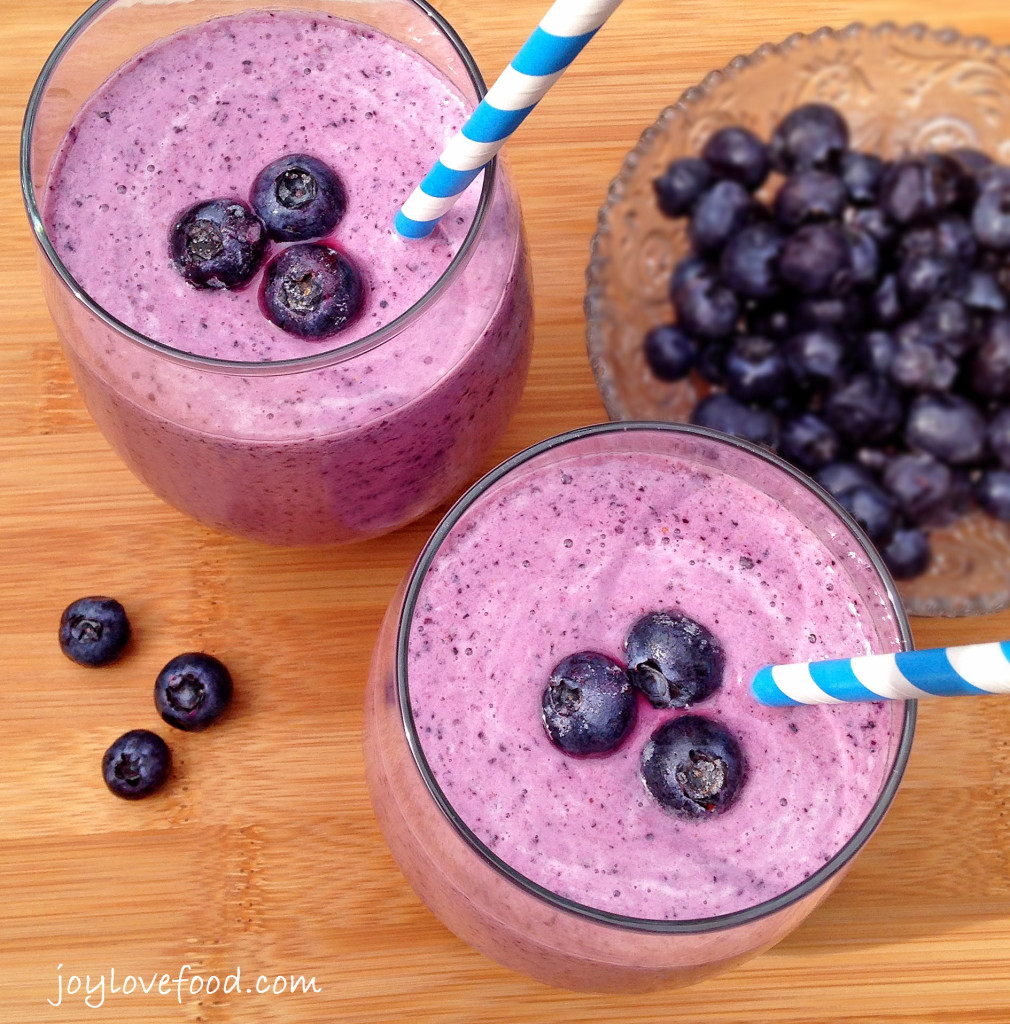 I made a batch of these Blueberry Ginger Smoothies this past Saturday morning when I was in need of an energizing pick-me-up. My family had had a late night the previous night — not a good kind of late night, such as we'd all been out doing something fun — but as in a late night trip to the ER that took over 3 hours.
The previous Friday evening, my three kids were rough housing before bedtime, they were shrieking with laughter and having a great time. I was preparing myself to break-up their fun, it was 8pm and I really needed to get my twin 3-year old girls to bed, when I heard a scream of pain from my 7-year old son. He had managed to get banged into a sharp edge of a piece of furniture and had sliced his left ear lobe open. It wasn't a serious cut, but there was a lot of bleeding and I knew he needed stiches.
A call to his doctor's office confirmed, that yes indeed, he needed to get it stitched up and had to go to the ER. We had to wait for my husband, who was returning from a business trip, to arrive home and he and my son were off to the hospital by 9pm and I finally got my 3-year old girls in bed – they were too worried to go to sleep beforehand.
My son and husband ended up waiting at the ER for over 3 hours — apparently there were many other kids, with more serious injuries, who needed to be treated before my son. Finally they were seen, my son received 5 stiches and they arrived home at 1am.
Luckily, everyone was able to sleep in on Saturday morning, and my son awoke with a cheerful smile, despite his injury and lack of sleep. So, I made a batch of these Blueberry Ginger Smoothies, to get us going, and my husband made a batch of the kids' favorite Dutch Pancakes and all was right again at our house.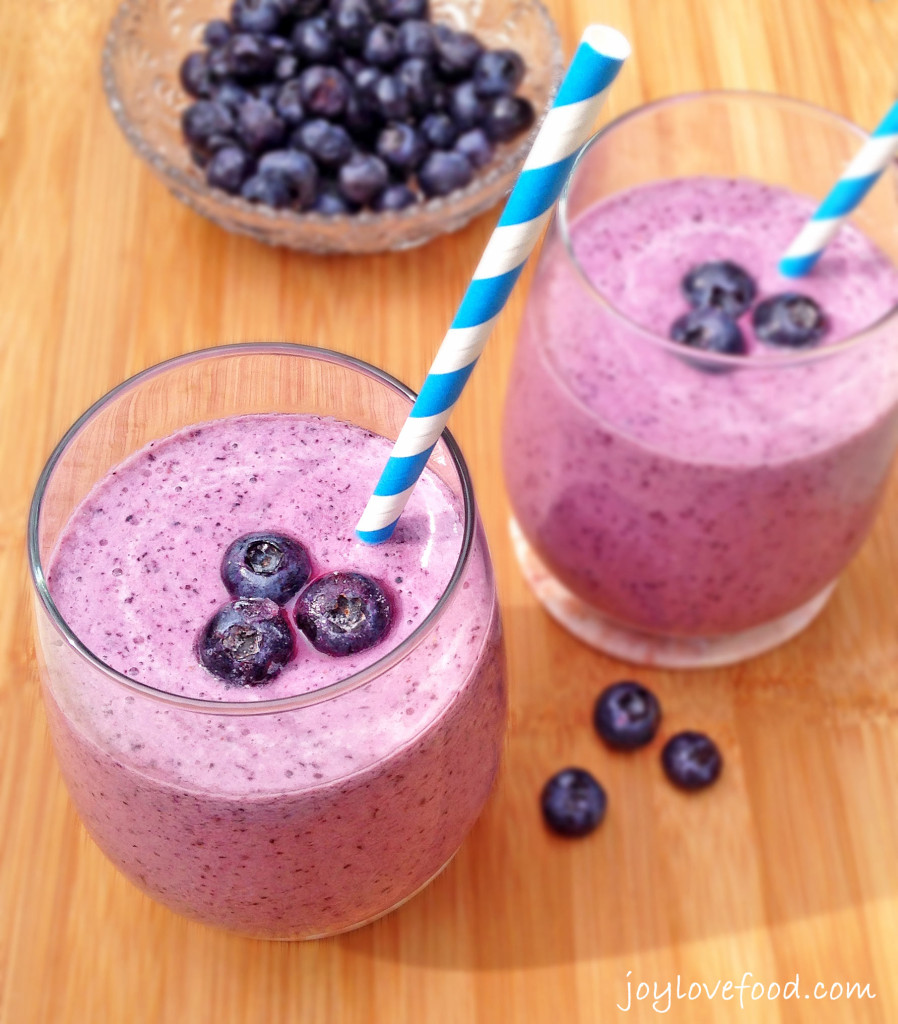 These creamy, delicious Blueberry Ginger Smoothies are packed full of antioxidants and fiber and are wonderful for a healthy and easy breakfast. These energizing smoothies are also great for a light, refreshing snack anytime.
Do you use fresh ginger in smoothies? Let me know in the comments below!
Blueberry Ginger Smoothies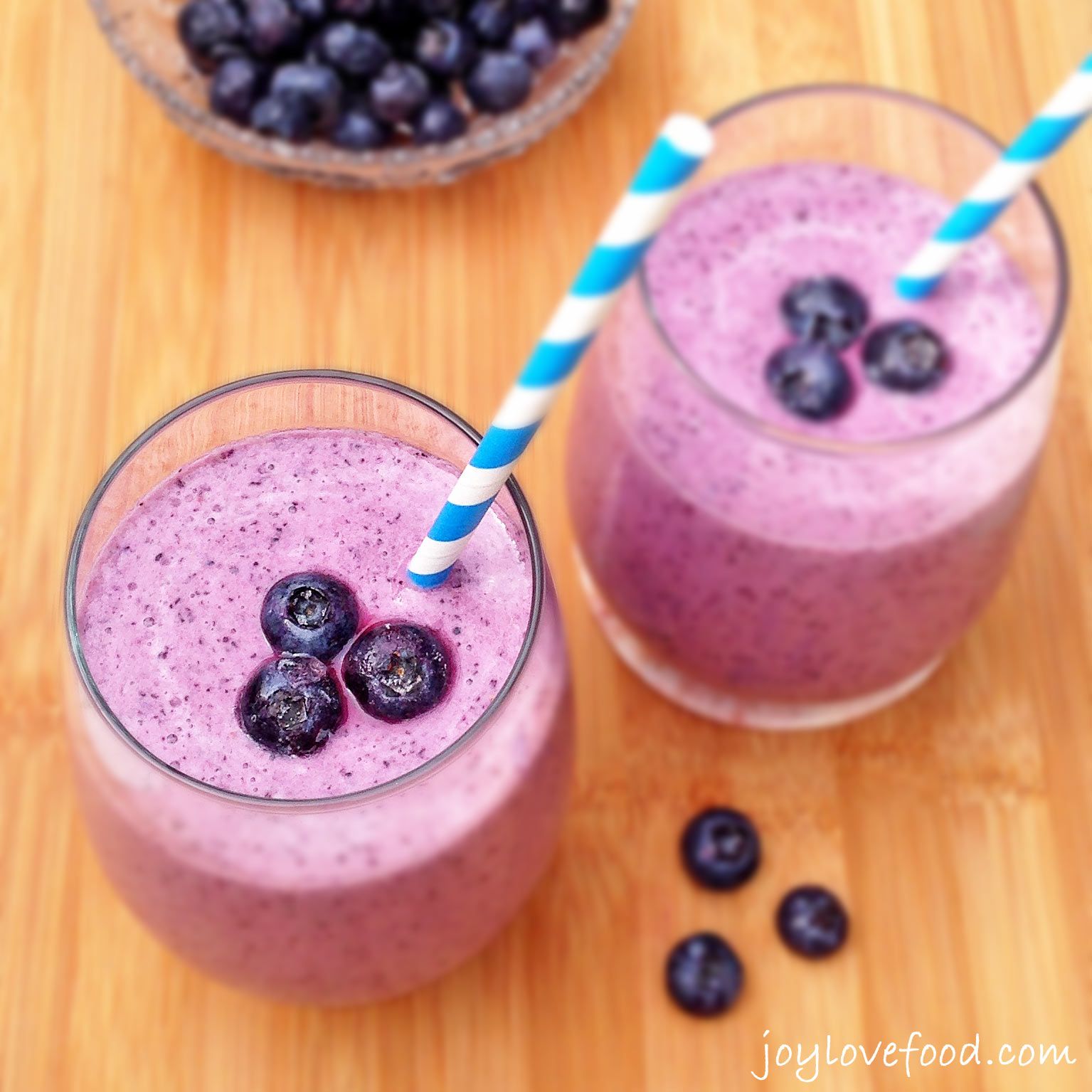 Ingredients
2 cups frozen blueberries
2 tablespoons minced fresh ginger
1 cup low-fat plain yogurt
2/3 cup low-fat milk
2 tablespoons honey
½ teaspoon vanilla extract
1/8 teaspoon cinnamon + additional cinnamon to taste
additional blueberries for garnish (optional)
Instructions
Add frozen blueberries, ginger, yogurt, milk, honey, vanilla extract and 1/8 teaspoon cinnamon to a blender.
Puree until smooth and blended.
Taste mixture and if desired, add up to an additional 1/8 teaspoon of cinnamon to taste.
Pour into 2 glasses of choice.
Garnish with blueberries if desired.
© 2023 copyright 2016 | joylovefood.com

This recipe is featured at:
Merry Monday