Shrimp Piri Piri — Bold and full of flavor, these spicy shrimp are a wonderfully delicious appetizer or snack for your next party or get together!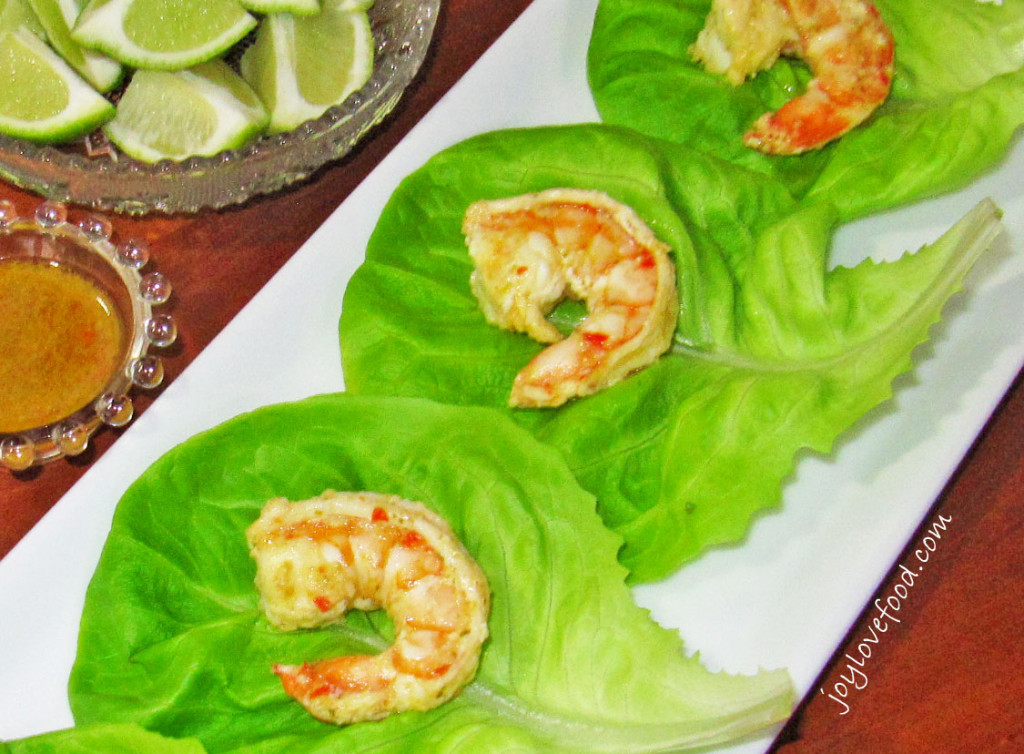 I love seafood, all kinds of fish, shellfish, you name it, I love it. Shrimp is one of my favorites. However, my kids have yet to acquire a taste for it and my husband, though willing to eat shrimp, doesn't love it, so I don't get to make shrimp at home as often as I'd like.
So, I was thrilled when my parents showed up for their visit this past Christmas with a 5 pound bag of jumbo shrimp, which had been given to them as a gift by one of their friends. My parents cooked up beer battered shrimp and steamed shrimp with Old Bay, it was wonderful. And, there was still some shrimp left in my freezer after their visit, for me to make something else.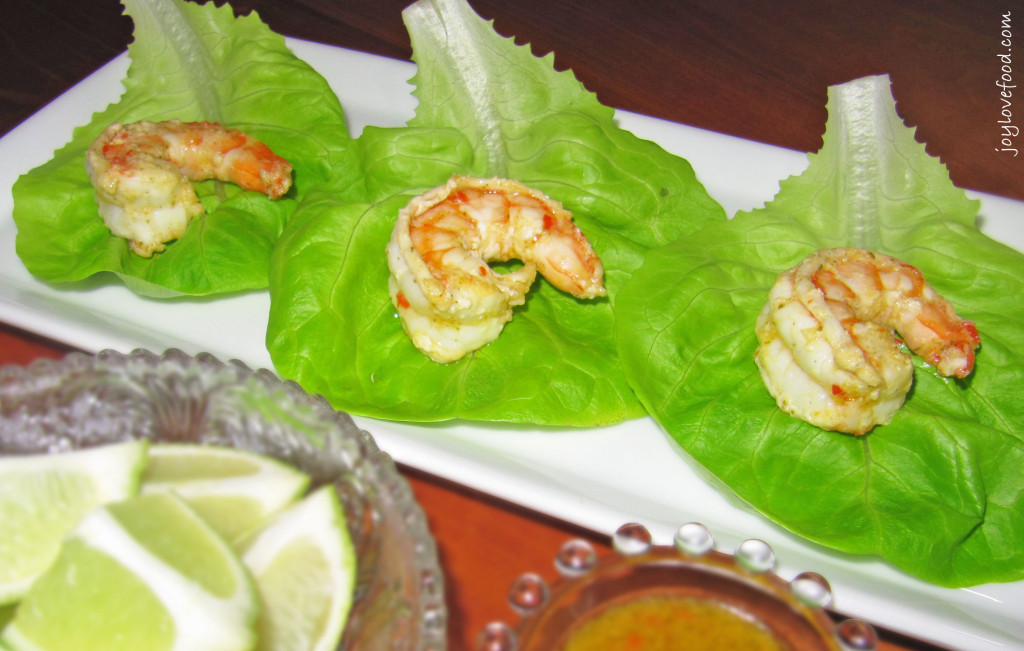 I knew exactly what I wanted to make – Shrimp Piri Piri. I first had Shrimp Piri Piri in Portugal, where my husband and I spent our honeymoon. We stayed at the beautiful Casa Tres Pamerias in Portimão.
We enjoyed the spectacular beaches and went all over the Algarve, sightseeing and enjoying the local cuisine, especially the super fresh seafood. One of my very favorite dishes was Shrimp Piri Piri. It is spicy and so flavorful with just the right amount of heat, it is perfection!
The piri piri, also called the African Bird's Eye chili, is a hot red chili grown in parts of Africa, the term literally means "pepper-pepper" in Swahili. The piri piri is also grown in Portugal where it is very popular, piri piri is also used to refer to the sauce made from the peppers.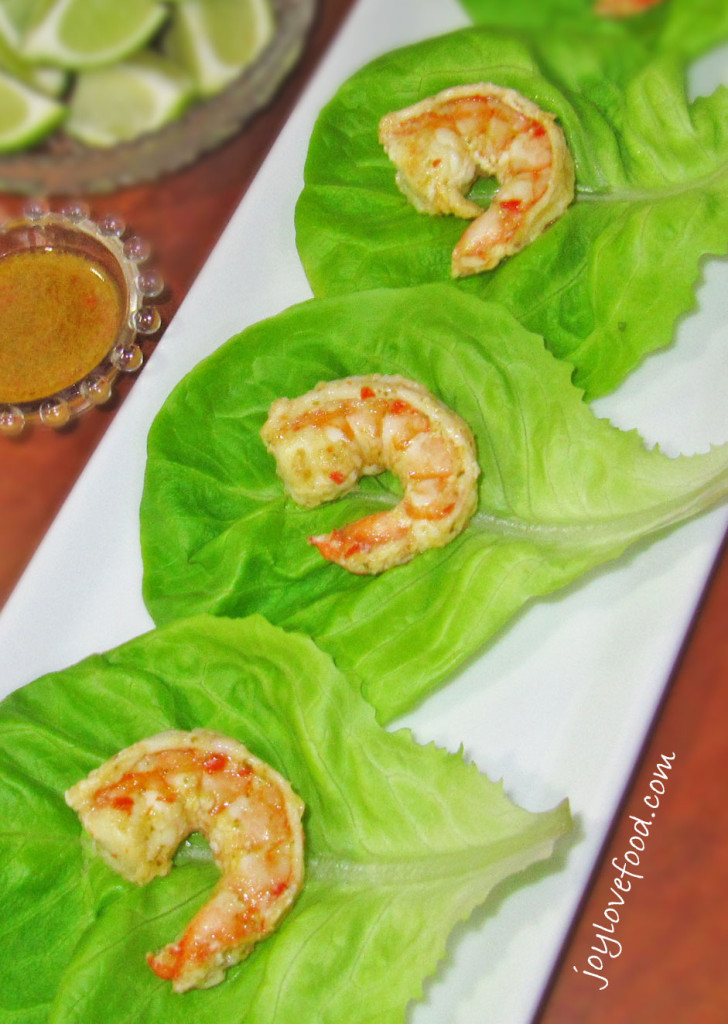 I'd never made Shrimp Piri Piri at home, so an Internet search produced this recipe from Chef Marcus Samuelsson. I love Marcus Samuelsson, he was the chef at Aquavit in New York City when I used to live there in the early 2000s. I would eat at Aquavit every chance I could, the food was amazing, so inventive and delicious.
Marcus Samuelsson is now a celebrity chef and I enjoy watching his various shows on TV. He has a wonderful new cookbook called Marcus Off Duty: The Recipes I Cook at Home
, I want to make everything in it!
Piri piri is so versatile and I love Marcus' version of Shrimp Piri Piri which is served as an appetizer. Each shrimp is wrapped in an individual leaf of Bibb lettuce. It is so delicious this way, the crunch and freshness of the lettuce provides a nice balance to the spicy heat from the shrimp.
In Portugal, I had Shrimp Piri Piri as a main dish, the shrimp and piri piri sauce were served over rice. I loved it that way too, and this version of the recipe could be served that way as well. Piri piri sauce is also wonderful with chicken.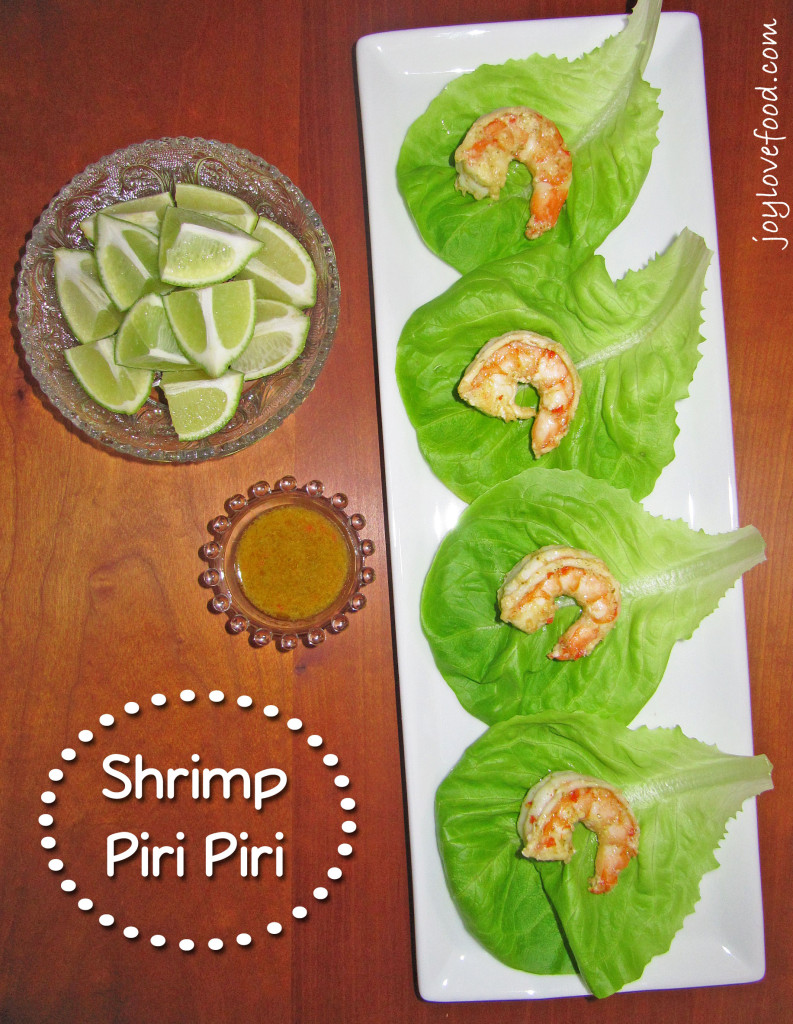 My brother was visiting last week, so I made a batch of this Shrimp Piri Piri to enjoy with him. My parents were visiting this past weekend, so I made another batch for them. Everyone loved it, it is so good!
Bold and full of flavor, these spicy shrimp are a wonderfully delicious appetizer or snack for your next party or get together!
Ingredients
for the piri piri sauce:

8 red bird's-eye chilies or red thai chilies, seeds and ribs removed, chopped
½ cup fresh lemon juice (from about 3-4 lemons)
1 tablespoon chopped cilantro
1 tablespoon chopped parsley
2 garlic cloves
½ cup olive oil

for the shrimp:

4 tablespoons olive oil, divided
24 jumbo shrimp, peeled and deveined
1 teaspoon salt
2 limes, quartered

for serving:

24 Bibb lettuce leaves
reserved 3-4 tablespoons of piri piri sauce (optional)
additional lime wedges for serving (optional)
Instructions
Add the chilies, lemon juice, cilantro, parsley, and garlic to a blender and puree until smooth.
With the blender running add the ½ cup of oil in a slow, steady stream and blend until well combined.
Set aside about 3-4 tablespoons of the piri piri sauce (for drizzling on the prepared shrimp)
In a large bowl, toss the shrimp with the remaining ~ ¾ cup of the piri piri sauce. Refrigerate for 20 minutes.
Heat 2 tablepsoons of olive oil in a large sauté pan over medium heat. Add 12 of the shrimp and cook for about 2 – 2 ½ minutes on each side, or until opaque throughout. Transfer to a plate and sprinkle with ½ teaspoon of salt. Squeeze 4 of the lime quarters (juice from 1 lime) over the shrimp.
Repeat step 5 with the remaining olive oil, shrimp, salt and lime.
Place a shrimp on each lettuce leaf. Serve with reserved piri piri sauce (for drizzling) and additional lime wedges if desired. To eat: fold over the bottom and sides of the leaf to form a wrap.
Notes
Red bird's-eye chilies or red thai chilies are very hot, use caution when handling and be sure to wash your hands thoroughly before touching your face or eyes.
Piri piri sauce can be made ahead and stored in an airtight container in the refrigerator for up to 2 weeks.
Shrimp Piri Piri is also excellent, served over rice, as a main dish.
http://joylovefood.com/shrimp-piri-piri/
copyright 2016 | joylovefood.com
Adapted from Chef Marcus Samuelsson's recipe.
Marcus Samuelsson has a wonderful new cookbook called Marcus Off Duty: The Recipes I Cook at Home
:



This post contains affiliate links for products that I personally recommend available at amazon.com. If you click on one of these links and end up making a purchase, your price will be unchanged, however I may receive a small commission. Please see my disclosure page for more information.